Solo Championship Event #2 - Milwaukee Region SCCA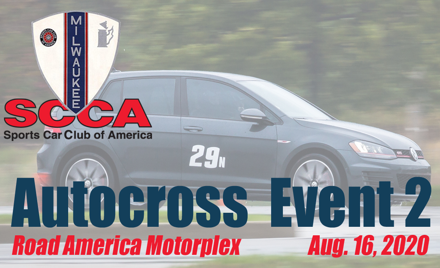 SCCA - Milwaukee Region - Autocross
Sunday, August 16, 2020
Road America Motorplex
,
Plymouth

,

WI
Registration closed August 16, 2020 8:30 AM on August 16, 2020 8:30 AM CDT Registration ends August 16, 2020 8:30 AM on August 16, 2020 8:30 AM CDT Registration opens July 28, 2020 12:00 PM on July 28, 2020 12:00 PM CDT Registration runs from July 28, 2020 12:00 PM to August 16, 2020 8:30 AM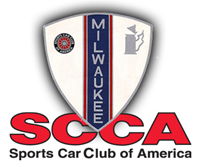 Event Location:
Road America Motorplex
N7390 State Highway 67
Plymouth, WI 53073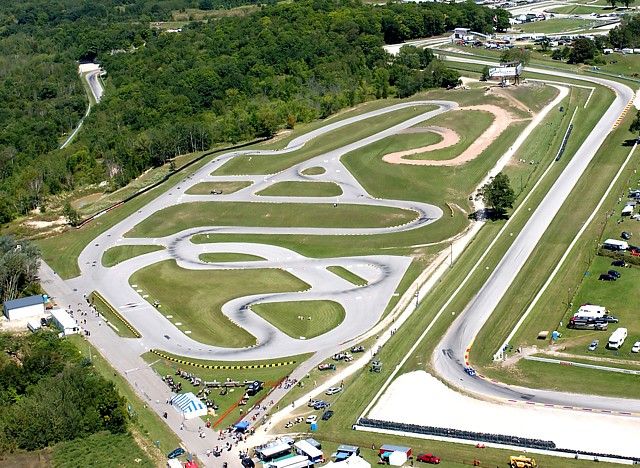 Notice to Participants: 
In light of the current COVID-19 situation, every attempt will be made to minimize the risks of exposure to the virus. New processes and procedures are being developed and will be put into place for events going forward.
Masks required for positions in the trailer, grid workers, gate workers
Masks required in grid when not in vehicle 
Mask recommended when not able to social distance
Cleaning of radios, controllers, trailer items, etc. between individual use
Self - Technical inspection via forms
Ultimately, it is your responsibility to assess the risk to you, both on-track and off, and to make the decision on whether or not to participate. If you are feeling unwell or are experiencing symptoms such as fever, cough, or shortness of breath please stay home. If you have been in contact with someone who has been experiencing these symptoms in the last two weeks, please stay home.
While on site please take the health and safety of your fellow participants, volunteers and staff into consideration and practice social distancing, wear a mask, and wash your hands and/or use hand sanitizer frequently.
If you are diagnosed with COVID-19 within two (2) weeks of attending an SCCA event, we ask that you notify the event Registrar immediately.
Season Sponsor:

Schedule:
7:00 - 8:00am     Registration / Check-in
7:15 - 8:15am     Tech Inspection
7:45 - 9:00am     Course Walking
8:50am              Novice Course Walk
9:15am              Drivers Meeting & 1st Heat Worker Check-in
9:30am              First Car Off

We typically finish up around 5:00pm
There will be a hard registration cut off at 8:00am on the day of the event. Please be prompt! Showing up after that won't allow you time to walk the course. Drivers not familiar with the course often get lost and slow the event down which isn't fair to others.

Entry Fees:
$50 for Annual SCCA member Early Registration (closes two days before event at midnight)
$55 for Annual SCCA member Late Registration
$65 for Non-member Registration (included Weekend Membership)   
Are you new?  During this registration you'll be asked for a car class. Don't worry, we have a couple worksheets to help you determine your car class, reviewing these will help you class your car.  We offer a Novice Class for entrants in their first year,  while registering place Novice (N) in the "Class" field, then the base class in the "PAX" field, and a number.  If you still do not know what class your car is supposed to be in, then select "I Don't Know" in the class list and we will help you in registration.
Tentative Run/Work Order:
Running Heats 2 and 4 ---- Working Heats 1 and/or 3:
SS, AS, BS, CS, DS, ES, FS, GS, HS, SSR, SSC, SM, SMF, SSM, SSP, ASP, BSP, CSP, DSP, ESP, FSP, CP, DP, EP, FP, XP, AM, BM, CM, DM, FM, KM (including Ladies versions of these classes).
Running Heats 1 and 3 ---- Working Heats 2 and/or 4:
Pro, T, STF, STS, STX, STR, STU, CAM-T, CAM-C, CAM-S, XS-A, XS-B (including Ladies versions of these classes).
Note: Novice Class drivers run with their standard class (ie. N-STX would run & work with STX).  Also, Run/Work order is subject to change, in order to balance the heats.  Large classes will not normally be moved.  Any changes to the Run/Work Order will be announced the day of the event.
Event Notes:
We will be entering using Gate 4.   You can use 5977 Co Rd J, Plymouth, WI 53073 if you want enter it into your GPS program - Google Map link
The gate will open at 7am. 
You will need to sign the Road America waiver as you enter at Gate 4.
You will sign the SCCA waiver (adult and minor waivers) at the bridge before entering Paddock area.
Paddock/grid is inside of the Carousel, which is a mix of paved and grass area.  Grid will be in the first two rows, so please don't paddock in those areas.  There will likely be people who need to paddock in the grass as there might not be enough space on the roads. 
If you are looking to jack up your car it might be a good idea to bring some pieces of plywood to put under your jack/jack stands if needed.  Please keep others in mind with regards to this when paddocking.
The concession stand will be open from 11am-3pm at Road America.  We plan to take a lunch break, but like all things it's based on how the day goes.
 
Camping available inside Road America, reservation information can be found on their website. 
Please clean up after yourself, we want to leave it looking better than when we arrived.
Here is a link to a map to assist you in locating Paddock.