SDR-SCCA SOLO CHAMPIONSHIP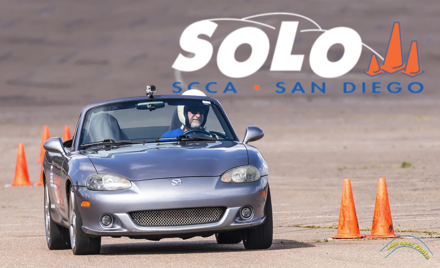 SCCA - San Diego Region - Solo
Sunday, July 16, 2017
Qualcomm Stadium
,
San Diego

,

California
Registration closed July 13, 2017 11:59 PM on July 13, 2017 11:59 PM PDT Registration ends July 13, 2017 11:59 PM on July 13, 2017 11:59 PM PDT Registration opens June 24, 2017 8:00 AM on June 24, 2017 8:00 AM PDT Registration runs from June 24, 2017 8:00 AM to July 13, 2017 11:59 PM

Held under SCCA National Solo Rules and San Diego Region Solo Supplementary Regulations
Welcome to online registration for SDR-SCCA Region Championship Autocrosses,
Priority Work Assignment if you register online.
SAN DIEGO REGION SOLO CHAMPIONSHIP
SUNDAY JULY 16, 2017
SAN DIEGO QUALCOMM STADIUM , SOUTHEAST LOT
REGISTRATION & TECH 7:30 - 12:30
EVENT CHAIRPERSON:Robbie Robinson  lotusrcn@aol.com & Kris Roberts <kris@robertsmania.com> 
REGISTRAR:Rico Morris <ricardo.d.morris@gmail.com>
SAFETY STEWARD: TBA
Run / Work  Format:
HEATS
RUN
WORK

(1) FSL, STX, STU, STP, ASPL, BSPL, CSPL, DSPL, ESPL, FSPL, SM

1
3
JR. KARTS- Jr. A, Jr.B
 
 

(2) FS, STXL, STUL, STPL, ASP, BSP, CSP, DSP, ESP, FSP, SML

2
1

(3) SSP, SSML, SMFL, XP, CP, DP, EP, FP, HCR, HCS, SUL, PAXL

CAM-T, CAM-CL, CAM-SL, AML, BML, CML, DML, EML, FML, KML, FSAEL
3
2
LUNCH (COURSE WALK)
 
 

(4) SSPL, SSM, SMF, XPL, CPL, DPL, EPL, FPL, HCRL, HCSL, SU, PAX

CAM-TL, CAM-C, CAM-S, AM, BM, CM, DM, EM, FM, KM, FSAE

4
6

(5) SS, AS, BS, CSL, DSL, ESL, GS, HS, SSR, STF, STSL, STRL

5
4

(6) SSL, ASL, BSL, CS, DS, ES, GSL, HSL, SSRL, STFL, STS, STR

6
5
PAX INDEX CLASSES: P1 = ( XP,CP,FP)   P2 = (DP,EP)                    M1 = (AM,BM,FM,FASE)   M2 = (DM,EM)
 
 
PAX = All SCCA Open Classes,     NOVICE= All SCCA Open Classes
 
 
COST TO ENTRY-
ENTRY FEE :  $30.00 + MSR FEE.
PAX INDEX CLASSES: If you run in a PAX Index class, PAX, P1, P2, X-run, or Novice, please choose the "CLASS" first and the "PAX" index second.
CHAMPIONSHIP AUTOCROSS: This event is part of a series of 12 - 14 events, where competitors who are members of 1 of the 5 members clubs that comprise the San Diego Region Solo Committee, compete for season championships. New comer are welcome to come and compete agaist some of the best drivers in the SCCA autocross. Cars are separated into classes based on Sports Car Club of America rules for national classes as well as San Diego Region Solo Committee supplemental regulations for local classes. Events are timed and the fastest time in the class wins.


Novices - We at the San Diego Region SCCA SOLO (SDR-SCCA Solo) welcome new participants to the sport.  Our autocrosses are work/run events and our organization is not for profit.  We're all volunteers.  Everyone pitches in and shares in the work as well as the fun.  It is important that you show up to work on time and complete your work assignment.   We realize that getting started can be confusing.  To help you get acclimated, a Novice Coordinator will be there to answer questions and help familiarize you with the course and procedures.  Course walks to help you with learning the course will leave the starting line @8:15am and during the lunch break.  At the completion of the course walk, you'll get a briefing covering course safety and operating procedures.  For more information to help you get started, check out our FAQs@  www.sdrscca.com/
Car Numbers and Class Letters Required!
It is the responsibility of each competitor to know and comply with number and class letter requirements. Here are some general rules to follow:
Number and class letters should be positioned next to each other.
All letters and numbers must be on body panels, not on windows.
All numbers and class letters must use the same typeface and the same color, and this color must provide adequate contrast to the background color.
Numbers must be a minimum or 8" high.
Class letters must be a minimum of 4" high.
Click here for the SCCA National Rules on car identification.
A personalized set of rules compliant magnetic or vinyl numbers and class letters are very inexpensive. We have numbers & class letters at tech inspection for a nominal fee. These can also be obained from a number of different sources online.
For those of you not ready to make the commitment to purchase your own number set, you can easily make your own temporary tape-on numbers using ordinary copy paper and a jumbo marker. Use one sheet of standard copy paper positioned vertically for each individual number and one sheet positioned horizontally for your all your class letters. Use masking tape to fasten to the side of the car. These will be large enough to be easily seen and compliant with the rules.

Classes Have Changed for 2017
For help classing your car, click SCCA.com/pages/solo-cars-and-rules

Please read: 
" 2017 Street Category by Manufacturer"  This is for "STREET" only, 
 "Category Allowances CHEAT SHEET" , very basic on what you can and can not do your vehicle.
CAM-T - Traditional CAM cars 1954-72, 108" wheelbase, 3000 lb minimum
CAM-C - Contemporary CAM cars 1978 and newer, 100" wheelbase, 3000 lb minimum
CAM-S -  Sports CAM cars, two seats, 90" wheelbase 2600 lb minimum

Prepared and Modified Classes will continue to be indexed.
When registering, the first box is to select you local indexed class (PAX, P1, P2, X, NOVICE) or national class. 
The second box (labeled PAX) is only used if you picked an indexed class above. Enter your national class designation there.  Otherwise please leave this box blank.