SDR-SCCA SOLO CHAMPIONSHIP #5-19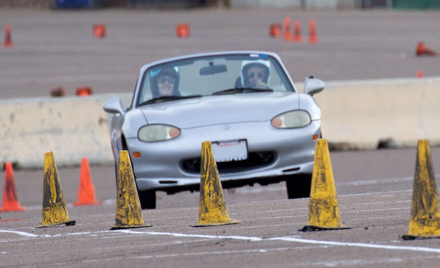 SCCA - San Diego Region - Solo
Sunday, June 2, 2019
SDCCU STADIUM
,
San Diego

,

CA
Registration closed June 1, 2019 5:59 PM on June 1, 2019 5:59 PM PDT Registration ends June 1, 2019 5:59 PM on June 1, 2019 5:59 PM PDT Registration opens April 20, 2019 12:00 AM on April 20, 2019 12:00 AM PDT Registration runs from April 20, 2019 12:00 AM to June 1, 2019 5:59 PM
PRE REGISTRATION
SDR CHAMPIONSHIP AUTOCROSS - SDCCU STADIUM
West Lot SDCCU Stadium
SUNDAY - June 2, 2019
EVENT CHAIR: Daryled Bristol
SAFETY STEWARD: TBD
YOUTH STEWARD : TBD
TECH / REGISTRATION: 7:30 AM to 11:30 AM.   NO LATE ENTRIES
1st Car out at 9:00 AM.  Morning group Registration cut-off is 8:45AM
4 RUNS
ENTRY FEE $30
 Run  
Classes
 Work 
1

CAM-CL, CAM-T, CAM-SL, XP, CP, DP, EP, FP, HCSL, HCRL, SMF, SML, SSM, SUL, AML, BML, CML, DML, EML, FML, FSAEL, KML, PAXL

JA and JB run at the end of this heat.

2
2

CAM-C, CAM-TL, CAM-S, XPL, CPL, DPL, EPL, FPL, HCS, HCR, SMFL, SM, SSML, SU, AM, BM, CM, DM, EM, FM, FSAE, KM, PAX

1
 
                             30 MIN LUNCH BREAK, COURSE & NOVICE WALK
 
3

SS, AS, BS, CS, DS, ES, FSL, GSL, HS, SSR, STSL, STXL, STR, STUL, STPL, STHL, SSCL, SSPL, ASPL, BSP, CSP, DSPL, ESPL, FSPL

4
4

SSL, ASL, BSL, CSL, DSL, ESL, FS, GS, HSL, SSRL, STS, STX, STRL, STU, STP, STH, SSC, SSP, ASP, BSPL, CSPL, DSP, ESP, FSP  

3
We reserve the right to lengthen and or change run/work groups as needed.
Please note, you will still need to fill out a registration card for the event.  These are required for tech and auditing purposes.
Held under SCCA National Solo Rules and San Diego Region Solo Supplementary Regulations
Car Numbers and Class Letters Required!
Numbers must be a minimum or 8" high.
Class letters must be a minimum of 4" high.
Numbers and letters must be a color that contrasts with your car. 
For help classing your car, click SCCA.com/pages/solo-cars-and-rules
This is a work/run event. 
Novices - We at the San Diego Region SCCA SOLO (SDR-SCCA Solo) welcome new participants to the sport.  To help you get acclimated, a Novice Coordinator will be there to answer questions and help familiarize you with the course and procedures.   Everyone shares in the work as well as the fun.  It is important that you show up to work on time and complete your work assignment.  For more information to help you get started, check out our FAQs@  www.sdrscca.com/