Sat, Jul 8 - Sun, Jul 9, 2017
SCCA-CPR Autocross - Cone Killer Classic 12
Mid-State Airport
About this event
WALK-UPS WILL BE ACCEPTED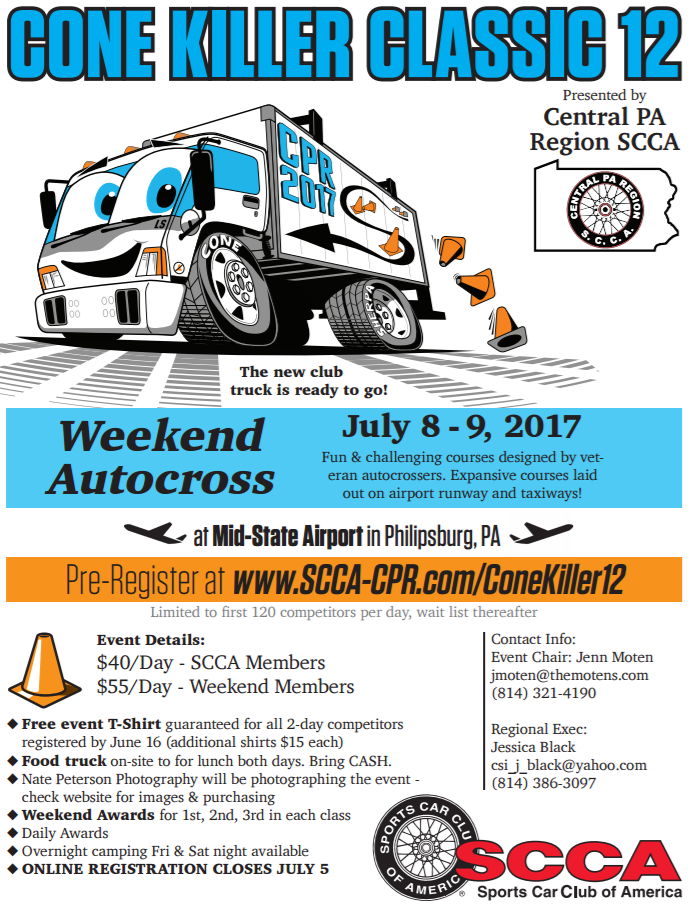 Cone Killer Classic 12 Event Information
Please read our Competition Rules and Site Regulations
Event Schedule

Registration - 8:00 AM - 9:30 AM
Tech Inspection - 8:10 AM - 9:40 AM
Walk course - 8:30 AM - 9:45 AM
Novice Meeting/Walk - 9:00 AM - 9:45 AM
Mandatory Driver's Meeting - 9:45 AM
First car off - 10:00 AM

Cost is $40 for SCCA members and $55 for non-members (per day). Members MUST have their card present for discount. ALL competitors MUST have their driver's license to participate.
Solo Supplemental Rules - Official Regional Amendments to the SCCA Solo Rulebook
FOOD TRUCK on site for lunch both days. BRING CASH as the vendor is unable to process debit/credit cards.
Event requirements
Minor presence/participation at events
All competitors or passengers under the age of 18 must have a minor waiver signed by both parents or legal guardians.
All guests staying exclusively in the spectator area, under the age of 18 must have a minor waiver signed by at least one parent or legal guardian.
If unsure, please read Section 4.13 from the Solo Rulebook. The waiver should be signed in the presence of an SCCA member. If the parents or guardians are unable to attend the event to sign the waiver, please contact one of the officers to make arrangements to have the waiver signed before the event.
Additional Solo Information
Mid-State Airport
Philipsburg, PA
SCCA - Central Pennsylvania Region