San Diego SCCA Novice School - November 23, 2019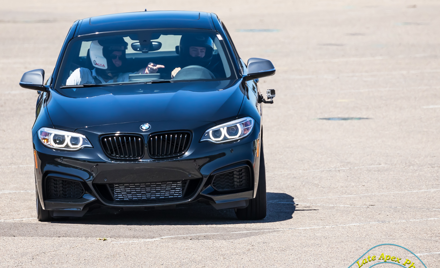 SCCA - San Diego Region - Solo
Saturday, November 23, 2019
SDCCU STADIUM
,
San Diego

,

CA
Registration closed November 20, 2019 8:59 PM on November 20, 2019 8:59 PM PST Registration ends November 20, 2019 8:59 PM on November 20, 2019 8:59 PM PST Registration opens November 2, 2019 6:00 PM on November 2, 2019 6:00 PM PDT Registration runs from November 2, 2019 6:00 PM to November 20, 2019 8:59 PM
 SAN DIEGO REGION SCCA-SOLO COMMITTEE
NOVICE SCHOOL
http://www.sdrscca.com/solo-schedule/
ENTRY FEE:    $75.00    (which includes lunch)
EVENT CHECK IN:   7:30 to 8:00 AM Saturday November 23, 2019
                             at SDCCU Stadium, WEST Lot
PRE-TRACK CLASSROOM SESSIONS:
Beginner skill levels: Thursday November 21, 2019 7:00 to 9:30 PM
Intermediate skill levels: Friday, November 22, 2019, 7:00 to 8:30 PM
EVENT CHAIR and REGISTRAR: CARL MILLER  chaz@energoncube.net 
SAFETY STEWARD: Elliot Shev
INITIALLY LIMITED TO 50 STUDENTS, MORE SPOTS MAY OPEN UP BASED ON INSTRUCTOR AVAILABILITY
ALL entrants MUST BE SCCA Members. (Week End membership is included in your entry fee)
ALL entrants MUST BE SDR-SOLO Members (Week End membership is included in your entry fee)
For those of you that haven't experience the thrill of autocross, your decision to join us at AUTOCROSS NOVICE SCHOOL may just lead to an addiction. Some who try it never leave. Others move on to different forms competition. But there's one thing that all who come have in common: we're a family who has taken our driving skills to a level that makes us some of the most proficient drivers in the country.
The purpose of the Novice Drivers School is to introduce new members to SCCA Solo (aka "autocross") competition.

Autocross is a "lower-speed driver skill contest" where single lap times are used to determine the winner.  Autocross events are usually held in large parking lots or on inactive airport runways.  The courses, defined by orange traffic cones, are designed such that most cars will not be required to be driven in a gear higher than second gear and no faster than driven on the highway.  The emphasis is car control, especially when cornering.  This school is designed for men & women who have less than two years experience.  Participant safety is our number one priority.  SCCA Solo Safety Stewards approve the course and are present the whole day.  Our main goal is that the students have fun and build confidence as they learn:
·    The basics of analyzing the course during the course walk
·    Basic car handling techniques and driving skills
·    Competitive driving strategies.

Cars will be inspected for safety ("Technical Inspection" – a.k.a. "Tech") before being allowed to participate.

The instructors for this school are talented men & women who are experienced competitors – most being multi-time regional and national Solo champions.  We have instructors available with expertise in Front, Rear and All-Wheel Drive cars.

"Sponsors" (parents, spouses, boyfriends, partners, significant others, friends) are encouraged to help out and volunteer as workers to support the event.

Students are encouraged to bring their own helmets that meet current SCCA requirements, which are SNELL 2005 or newer, or for more detailed requirements, see the link below.  For those who do not already own a helmet, loaner helmets will be available.
https://tinyurl.com/y6ugvlkb
What the school is not:
This school is not to intended to teach someone how to drive a car, a "Teen Safe Driving School," or an introduction to driving or learning to drive a manual transmission ("stick shift").  While we do allow students who have only a learner's permit, participants should already have enough experience and competency in their vehicle's operation and basic car controls such that they could pass the state's licensing test with ease.

No Experience Necessary - While you may have never thought much about improving your driving skills, and may have no intentions of participating in racing competition, the things you'll learn about your car and yourself may just keep you out of trouble by giving you the tools to negotiate unanticipated dangerous situations on the road more competently.  By participating in an Autocross event you will become a better driver .......GUARANTEED!

When you arrive - Be sure to sign the event waiver at the entrance to our area.  Park your car in any open spot and come to registration for check-in.  After registering, empty your car of everything you won't be taking with you onto the track, and proceed into the grid area where a grid worker will direct you to your grid spot for the day.

Novices - We at the San Diego Region - SCCA SOLO (SDR-SCCA Solo) welcome new participants to the sport.  Our autocrosses are work/run events and our organization is not for profit.  We're all volunteers.  Everyone pitches-in and shares in the work as well as the fun.  It is important that you show up to work on time and complete your work assignment.   We realize that getting started can be confusing.  To help you get acclimated, a Novice Coordinator will be there to answer questions and help familiarize you with the course and procedures.  Course walks to help you with learning the course will leave the starting line @ 8:15 AM and during the lunch break.  At the completion of the course walk, you'll get a briefing covering course safety and operating procedures.  Once the event begins, instructors will be available to help you as little or as much as you want. We're a very friendly group, so if you have any questions, don't hesitate to ask any of your fellow participants.  A smile and a courteous attitude will go long way toward making you autocross experience a great one.  For more information to help you get started, check out our novice guide @ www.sdrscca.com/

SDR-SCCA SOLO or the facility will not be responsible for damaged, lost or stolen property
INITIALLY LIMITED TO 50 STUDENTS    There will be a wait list once that fills up; please do make use of it.  As we get more instructors committed, or as registered students cancel, we will take as many from the waitlist as we can.  This often happens the morning of the event, so if you're waitlisted, please do come to the classroom session and to the event.  You must be present to be accepted into the event from the waitlist.
PAYMENT:  You must use a credit card to pay for registering online(VISA or MASTERCARD, E-CHECK only).  Your card is charged after the event.
IF YOU HAVE TO CANCEL, do so by November 20, 2019 by 8:59 PM, to make room for those on the waiting list.  After this deadline, cancellation will be considered a "no-show" and will be subject to charge.
The classroom sessions will be held at Independent Motorcars, 5836 Autoport Mall, San Diego 92121.  Please pay attention to official event e-mails coming through motorsportsreg.com for final details about all aspects of the school.