RR - Rehv Moto RR @ Laguna Seca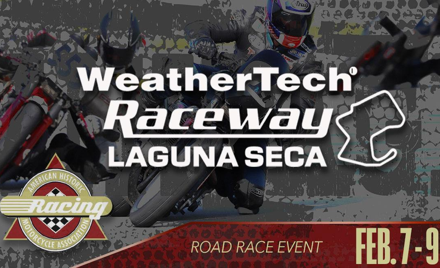 AHRMA
Friday, Feb 7 — Sunday, Feb 9, 2020
WeatherTech Raceway Laguna Seca
,
Salinas

,

CA
Registration closed January 29, 2020 11:59 PM on January 29, 2020 11:59 PM CST Registration ends January 29, 2020 11:59 PM on January 29, 2020 11:59 PM CST Registration opens December 24, 2019 7:00 AM on December 24, 2019 7:00 AM CST Registration runs from December 24, 2019 7:00 AM to January 29, 2020 11:59 PM
PLEASE NOTE: This is a No Refund – No Credit event.  Once you pay for your entries, there will be no refunds and / or credits.
All Road Race credentialed AHRMA Full Members in good standing are welcome to sign up to race; however, there will be an entry cap and restrictions on the number of visitors/crew allowed to join you in the paddock during the race weekend. AHRMA is not promoting this as an "open to the public event" this year; therefore, we will not be selling paddock passes to the general public.  Note, that this facility is an "open to the public park" and charges a nominal fee to enter; therefore, the public may attend if they pay the gate fee for entry to the park, but will not have paddock access.
The facility has a strict no pets in the paddock policy.
Move In / Move out
Move in:  Thursday   
9:00 AM for AHRMA Officials
10:00 AM for AHRMA Sponsors
11:00 AM for everyone else with credentials
Move out: Sunday 6:00 PM, no exceptions, ALL must be out of the paddock and garages.
Garages 
There are a limited number of garages approximately 15'x30' with power and two (2) roll up doors, available to move in after 6:00 pm Thursday, and out by 6:00 pm Sunday. Rent is $750 for the duration. Parking in the paddock directly across from the garages is reserved for the garage renters only. Your parking area is restricted to the width of your garage, so be nice to your neighbor. Don't steal his space – if there are too many of your cars/trucks etc. to fit, then park a few vehicles at the designated park only area and walk or ride with your buddy. Contact Tony Pentecost for reservations 256.506.8254.
Paddock Space Assignments
This is going to be a very popular event and paddock space is first come first serve. NOTE: do not park across from the garages unless you rented one.  There are NO SHOWERS in the paddock.  There is NO POWER in the paddock.  Bring your QUIET generators …if too loud? It will be turned off and/or confiscated!
Sound restrictions for your bikes and anything with a motor
This is a STRICT 105 DB event. Three (3) strikes and your vehicle is out for the entire event weekend.  That means strikes accrue.  There is no re-set each day.
We will be conducting a sound check during Friday practice allowing three (3) attempts to pass the sound requirement. Saturday's practice will allow for one (1) or possibly two (2) attempts. * Noncompliant motorcycles or side cars will not be allowed to race for the balance of the event.
You must practice with each vehicle you plan to use and pass the sound check in order to race; otherwise your machine will not be allowed on the grid. A machine in violation during the race may cause a stoppage of the entire race. If you are the cause, at the discretion of the RR directors and/or the Referee you may be ejected from the event and face potential added penalties if found in violation of the policies – i.e. if you didn't practice and snuck out there anyway, or you made a change that affected sound levels after being found in compliance.
*Note: Depending on the weather and attendance, there may be only one (1) round of practice on Saturday and Sunday There will not be two (2) rounds either day.
Paddock entry Information
Racers, crew and immediate family must pre-purchase paddock credentials.  All paddock credentials are pre-sale only and will not be available for sale at the event! When you register to race, be prepared to select how many passes you will require.  You will be allowed to purchase the number you usually buy; however, if you request more than you usually do, be ready to explain why.  Upon arrival, there will be a designated area to pick up your credentials.
Camping in the Paddock or in the Park
To camp In the Paddock the cost is $25 per night.  Purchase when registering in MSR.  Please note – Paddock camping DOES NOT HAVE SHOWERS OR POWER!
To Camp in the Park contact: 831 242 8200   Use the link below to view the facility camping map
https://www.weathertechraceway.com/sites/main/files/file-attachments/non-event_camping_guide_web_updated_5-7-19.pdf?1558384999
The park surrounding the track has numerous camping spots, some with power. There are bathrooms showers and dump facilities.
Gas: Fuel is available at the track. 
GPS Coordinates: 36.580141, -121755213
Track Address: 1021 Monterey Salinas Highway, Salinas, CA 93908
Gate Fee: $40.00/all days; $30.00/two days (Saturday and Sunday); $20.00/one day (Sunday)  (Must Purchase in MSR when registering.)
Concessions: Yes.
Website: https://www.weathertechraceway.com/