About this event
Last year I was diagnosed with a rare Stage IV Kidney Cancer, on New Year's Eve 2020, at the age of 29 & it was the worst day of my life...

But instead of letting the day get me down this year, I've decided to CELEBRATE my 1 year cancer anniversary by giving back to Driven to Cure who has given so much to me this year, and by snagging a bit of seat time in the Mach-E while I'm at it :). I hope you'll join me!

On New Years Day, join us for a 52-mile drive for research. I'll be driving a route in Austin but I encourage everyone to join in virtually if you don't live in the area by registering & planning a route in your city. Participation is easy, all you need to do is:
Register online ($35 registration fee will be donated to Driven to Cure)
Plan your route
Set your New Year's Resolutions along the way
Stop & take pictures along your route to document & record your resolutions to win points
Share your route & resolutions in the event hashtag #NewYearsDrive (Optional)
I'll be picking my favorite resolutions, photos & awarding points from Instagram using the event hashtag, #NewYearsDrive for shout-outs & awards!

A full list of points will be announced a few days before the event. But here are a few of the early categories: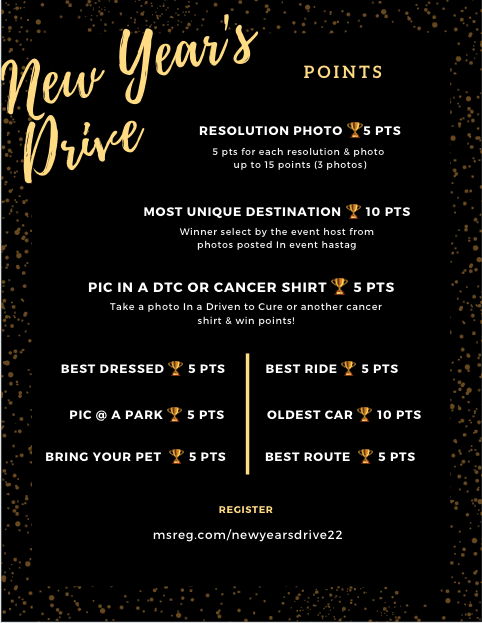 The Austin route has been switched to a virtual route as well due to rising covid cases. I was greatly forward to meeting everyone on our Austin route, but unfortunately - I have scans a few days after our drive. So due to the rise covid cases, we're switching the Austin route to a plan your our route as well since I have to be extra cautious not to get sick that week so my scans don't get pushed.

I will be starting a route at Cabelas in Buda at 3:00pm & anyone is welcome to carivan w/us along the route. We just won't be making a pitspot at Salt Lick for food & won't be able to socialize along the way as we had hoped (but you're more than welcome to!).

Here is the Austin route we will be taking:
https://www.google.com/maps/dir/Cabelas+Dr,+Texas+78610/30.2350745,-97.7567303/Red+Bud+Isle/30.2623978,-97.8887576/30.1312281,-98.0092269/30.0844183,-97.8267362/@30.1755231,-97.9474771,12z/data=!3m1!4b1!4m23!4m22!1m5!1m1!1s0x865b52f4ea756d0b:0xa99dc11eb8eb932b!2m2!1d-97.8275723!2d30.0845169!1m5!3m4!1m2!1d-97.7457696!2d30.2601581!3s0x8644b506eb4a9ecd:0x81265fd759432e9f!1m5!1m1!1s0x865b4aac90d190c3:0xc4add3ec4062dcdf!2m2!1d-97.7868386!2d30.2908494!1m0!1m0!1m0!3e0
Route Planning Tips
If you aren't in the Austin area - join us virtually for a New Years Drive. Here are a few tips for planning your route:
Map a 52-mile route (a mile for each week of the year) & plan one or two stops along the way
Stops can be anywhere - your favorite location, a trip down memory lane, coffee shop, lunch, grandma's house, the race track... literally anywhere you'd like to stop & snag a photo to document your resolution
Plan a route w/friends or family
Most importantly, have fun!
New Year's Eve last year was the worst day of my life, join me this year for our New Year's Drive & let's make this New Year's the best one yet!
Plan your route
Virtual, TX