Porsche Owners Club @ Laguna Seca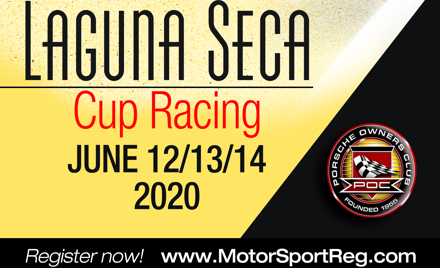 Porsche Owners Club
Friday, Jun 12 — Sunday, Jun 14, 2020
WeatherTech Raceway Laguna Seca
,
Salinas

,

CA
WeatherTech Raceway Laguna Seca,  Friday Practice plus Cup Racing!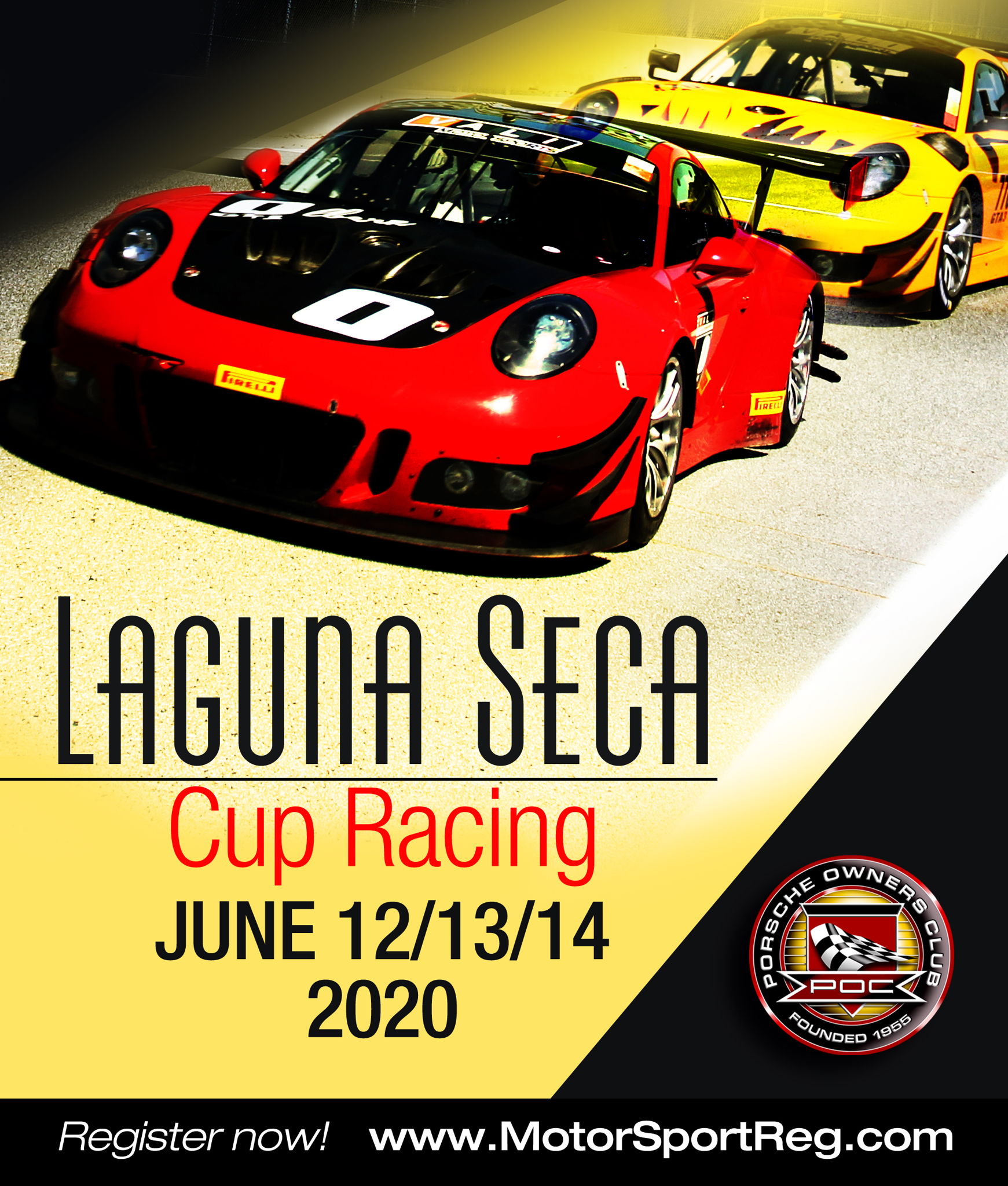 Come join us for an exciting weekend of Cup Racing at the historic Laguna Seca road course. This event has a 105dB maximum sound limit that will be strictly enforced.The event will have a single Cup racing run group and attendance will be limited.
The Friday practices will be three thirty minutes sessions. All sessions will have combined Red and Orange groups.
On Saturday there will be one practice session, a split qualifying session (between the Orange and Red groups) and 1 combined Cup race. The Sunday sessions will be the same as Saturday.
Please note that a 2020 POC membership is required, you can renew or join on the registration page. 
Friday/Saturday Morning Check-In: Check-in will be available Friday, Saturday, and Sunday mornings in the registration garage at 7:00 AM. Track entry gates will stay open until 10 PM for trailer parking access.
Garages: There are 10 garages available to rent at $400 per day for Friday, Saturday and Sundays. They will be held on a first come, first served basis also can be split for two cars to share the cost. 
Vehicle tech inspection should be performed at an official POC Tech Inspection Station before you get to the track to avoid check-in delays and last minute repairs. Tech inspection at the track will be provided by PRO Motorsports and Vali Motorsports starting at 7:00 AM. The cost is $20 payable to POC.
Tire service: Tire service will be provided by Vali Motorsports. 
Fuel: Leaded and unleaded race fuel will be available at the track all days.  Purchases can only be made by using a credit card.
Camping: Overnight (dry camping) may be available in the paddock area on Friday and Saturday nights. The cost will be $125 per night and we'll need a commitment from 10 campers/motor homes to make this work.  For information about the Laguna Seca campgrounds please call 888 588-2267.
Lodging: Due to restrictive new policies (they want guaranteed payment for all rooms up front) we will not have a "host" hotel for this event.
Thursday Load-In: Main gate is expected to open on Thursday afternoon at 6:30 PM for paddock entry and set up.
Friday & Saturday: Mandatory driver's meetings both mornings at 8 AM sharp in front of the classroom. The track goes hot at 9 AM all 3 days.
POC contacts:
Director of Motorsports: Joe Wiederholt (858) 525-5278 or motorsports@porscheclub.com
Ron Palmer Club President (858) 568-8071 or president@porscheclub.com
Chief Driving Instructor: Dwain Dement 949-633-9455 or 949-770-2888  cdi@porscheclub.com
Competition Director: John Momeyer (661) 478-9561 cd@porscheclub.com
This event is hosted by Speed Ventures.