About this event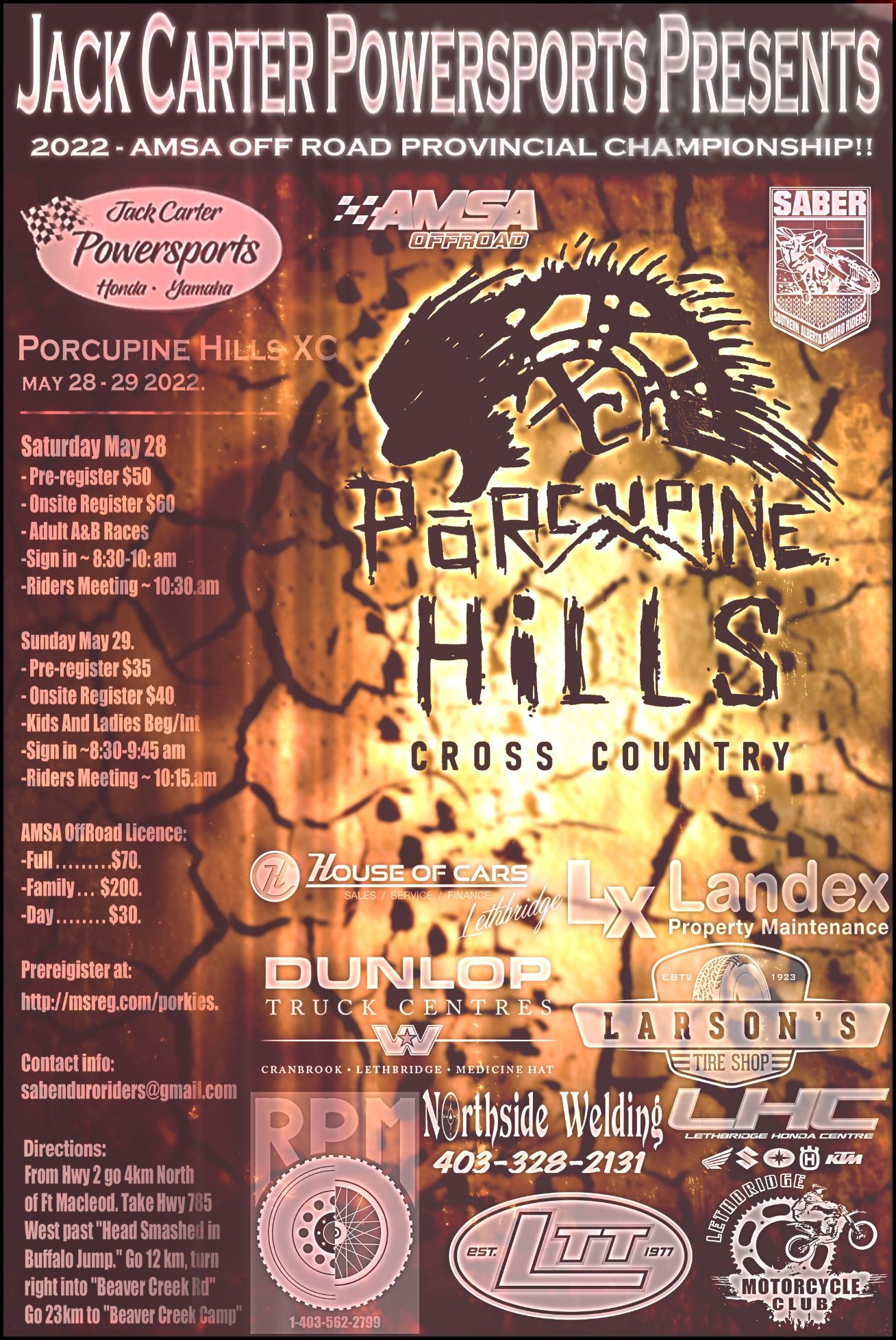 LETHBRIDGE MOTORCYCLE CLUB presents the 2022 Porcupine Hills XC
PRE-REGISTER NOW ......First 100 racers for the Saturday classes will be given a coveted event shirt!
DAY RACERS REGISTER ONSITE ONLY.
RACE LOCATION: Please follow the directions on google maps that take Hwy 2 to Hwy 785 past Head Smashed in Buffalo Jump to the turn off at Spring Point. DO NOT attempt to follow directions from the North side of Hwy 520 into the PLUZ.
https://goo.gl/maps/MtuZF1EqA86vhZPv9
Event requirements
If you have a licence that was carried forward, and are having issues registering for the event. It could be that we created your account with a different email. Please send us a message before creating a new account. Thnx
Follow all steps please!
Step 1) ALBERTA OFFROAD LICENCE - you must have an active licence to pre-register for the event.
Step 2) SIGN EVENT WAIVER ONLINE- to pre-enter online, you must also sign the event waiver online before moving to STEP 3. Be sure to complete the signing process by going into your email and clicking the confirmation link.
Step 3) RACE ENTRY - select a class and make payment. For riders racing both Kids Expert/Junior or Ladies Junior/Ladies Intermediate, please check both classes on the same entry form.
Step 4) RACE DAY - you pre-entered; therefore, go directly to the scoring team with your helmet to receive/confirm your RFID scoring tag is working. Bring a fueling mat for the pits if you have one, to mitigate environmental spills. ALL DOGS ON LEASH.
AMSA Offroad
Ogden Calgary, AB