Points Event #4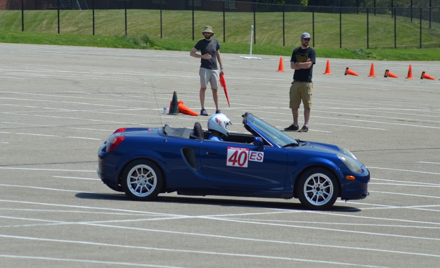 North Hills Sports Car Club
Sunday, May 3, 2020
North Park Swimming Pool Lot
,
Allison Park

,

PA
Imagine if you will, a track meet on wheels. You approach the starting line one at a time, helmet on, firmly belted into your car. You look onto a large parking lot that has been transformed into a complex serpentine course with the addition of a large number of traffic cones and white gypsum lines. Your challenge is to try to drive through this course as quickly as possible without hitting the cones. Each displaced cone adds two seconds to your score. Essentially it's you against the clock, figured to 1/1000th of a second.
Autocross is a low budget, low pressure sport in which almost anyone can participate, usually in the same car they drive to work. It is a safe, fun way to experience the thrills of competition driving.
The North Hills Sports Car Club was founded in late 1957 and formally incorporated in July of 1958. The original members of the club were in the forefront of the post World War II sports car revolution.
A reciprocity agreement is in effect with the Northern Ohio Valley Region of the Sports Car Club of America. NOVR members shall, upon presentation of a current membership card, be charged the member fees at autocross events. 
On-line Registration Fees
Members: $26.68 (Includes MSR Fees)
Non-Members: $31.95 (Includes MSR Fees)
On-Site Registration Fees (Cash or Credit Card)
Members: $25.00
Non-Members: $30.00