POC @ Streets of Willow, January 12-13, 2019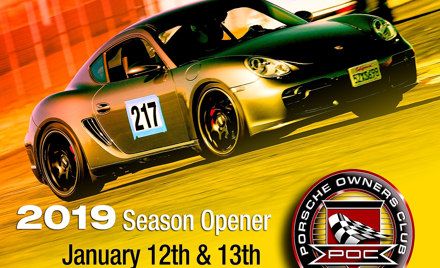 Porsche Owners Club
Saturday, Jan 12 — Sunday, Jan 13, 2019
Willow Springs Int'l Raceway
,
Rosamond

,

CA
Registration closed January 13, 2019 11:59 PM on January 13, 2019 11:59 PM PST Registration ends January 13, 2019 11:59 PM on January 13, 2019 11:59 PM PST Registration opens December 1, 2018 12:00 AM on December 1, 2018 12:00 AM PST Registration runs from December 1, 2018 12:00 AM to January 13, 2019 11:59 PM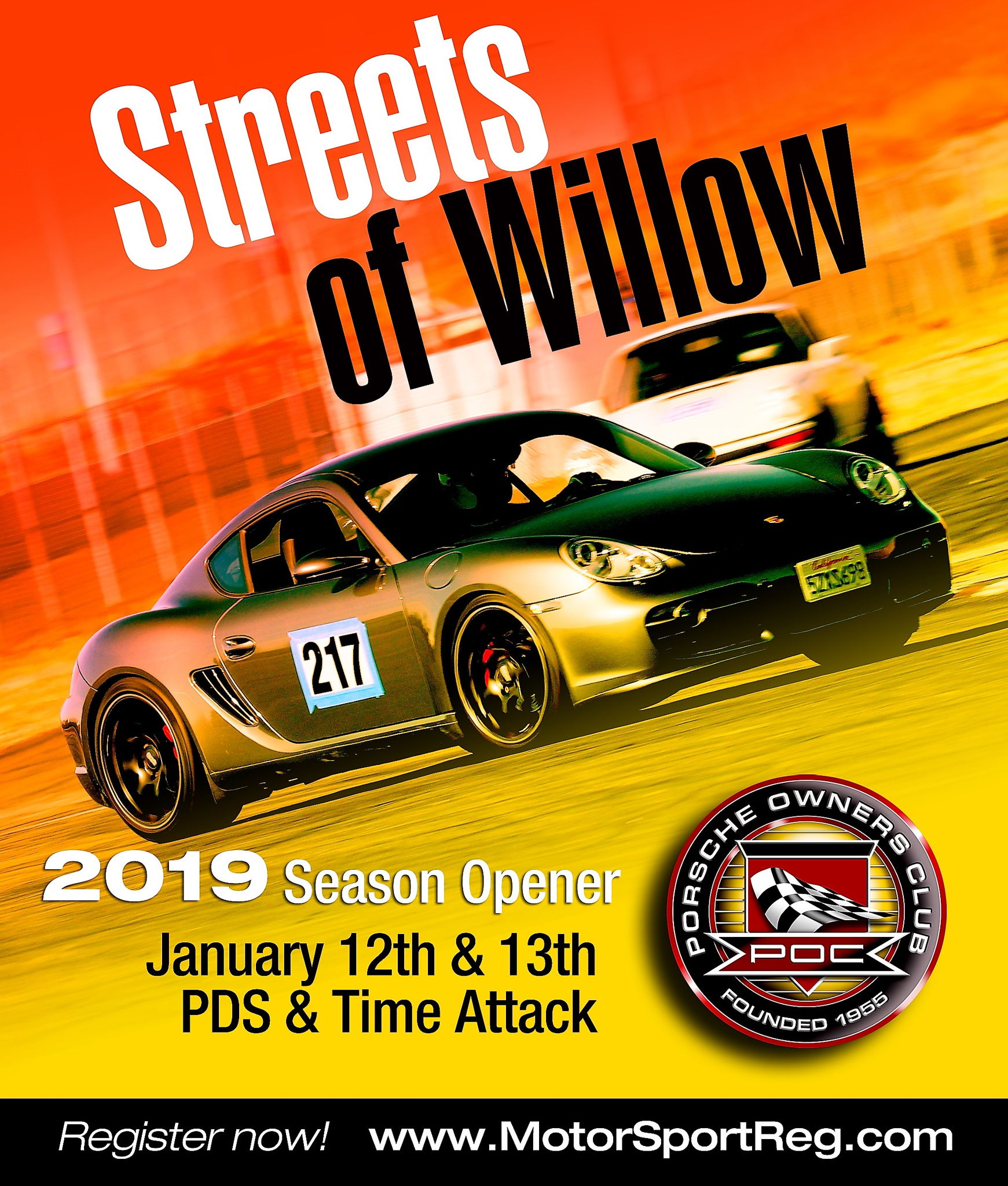 The PORSCHE OWNERS CLUB
Presents the 2019 Performance Driving Series & Time Trial
PDS Events # 1 & 2 and Time Trial Events # 1 & 2
STREETS OF WILLOW Road Course in Rosamond, California
January 12-13th, 2019
Saturday Clockwise Direction
Sunday Counter-Clockwise Direction 
This event limited to the first 75 entries received
Jan. 2019 Streets Schedule.pdf
Join us for the Porsche Owners Club's June event at The Streets of Willow. The weekend will feature our Performance Driving Series along with our Time Attack classes. This event is expected to be very popular and may sell out quickly so please register ASAP as we are limited on space. There are currently three Time Trial groups and two PDS run groups scheduled. Each run group is scheduled for four on-track sessions. Those wishing to enter their results in both events may do so at an additional fee. "Same-Day" registration only available if spots are not filled – event will likely sell out prior. Please note the EARLY BIRD PRICING OFFER ends December 8th at midnight. Event cancellations must be received by January 4th at midnight for a refund.
New Car Classification System! The POC completely revamped our car classification system last  year (2018). These new classes are weight/WHP based using the Porsche factory HP listings. To help with the process I would like all new registrants to send me a simple list of any modifications made to the car and the DOT rating on the tires you will be using. The DOT tire ratings are most important as only tires with a  >/= 200 UTQG rating are allowed in the Stock classes. POC's 2018 General Competition Rules (GCR's) have incorporated the new classification system in RED starting in paragraph 15.0:       POC 2018 GCR - General Competition Rules - 12 24 17 - VFinal - 5 (2).pdf
My email is: jrgordonsenior@msn.com
Check-in: Gates open at 6:30 AM. Check-in and Tech- 7:00am-8:00am
Driver's meeting: 8:00 AM, sharp. The Drivers Meeting is mandatory and all drivers must attend. If you miss the meeting, you are subject to a loss of scheduled track time.
Entry information: "Early Bird Special" entry fee for POC Members running both days is $295. After December 28th the prices rise to $345. for both days. POC Membership is required for entry and available during the registration process. Entry for the event must be completed via motorsportsreg.com. The POC will be providing a free lunch for this event.
Students:  Only 30 students can be accepted for this event.  All PDS/TA Students must be pre-registered and must contact: Dwain Dement (Chief Driving Instructor) at: (949) 633-9455 by Jan 6th (mandatory). Dwain@visionmotorsports.com .  Please supply the Chief Driving Instructor with your prior track driving experience and type of car you will be driving. Requests cannot be considered after this date and Instructor assignments cannot be made at the track if you have not contacted Dwain by Jan. 6th. There will be two mandatory 30 minute classroom sessions on Saturday for new drivers and anyone else who would like to attend. Absolutely no walk-in Students!  First time Students, please bring a copy of the Driver's Manual to the track (it's available on the website - please read it prior to the event).
POC Experienced Instructors Needed!  Please contact Dwain Dement at: (949) 633-9455 as soon as possible with the days that you are attending. 
Drivers & Cars: Limit of 2 drivers per car! This is a POC Points Event open to all makes of road cars. Complete waiver forms must be signed online during registration or at the track. Temporary car numbers will be issued if you do not have a permanent car number.
Vehicle tech inspection should be done at an official POC Tech Inspection Station before you get to the track to avoid check-in delays and last minute repairs. All non- Porsche cars participating in PDS must be Tech inspected at the track. Tech inspection at the track will be provided by PRO Motorsports and Vali Motorsports starting at 7:00 AM. The cost is $20, payable to POC.
Safety equipment: Long sleeve cotton shirts and pants, shoes with socks, SNELL SA10' or newer helmet and street belts are the only requirements for Stock, Improved and Prepared classes. (Some loaner helmets will be available). GT4 & above and highly modified non-Porsche cars require Nomex driving suit, socks and gloves as per POC GCR's. Go to www.porscheownersclub.org to download the G.C.R.'s should you have any questions. Also check the Express Menu on the P.O.C. site for additional information on the track. At this track we highly recommend fresh brake fluid and sufficient brake pads....
Loaner Helmets: Loaner helmets will be available for rental at the track. If needed, please add a helmet rental to your online registration to expedite the process.
Transponders: All entries running for time MUST use a transponder (one per driver), no exceptions.  Please help us expedite registration at the track by adding a transponder rental to your entry prior to the event!  We will run five groups based on lap times and experience.
Exhaust: Closed exhaust in stock classes. Open exhaust OK where class legal.
Run groups are as follows:
Yellow PDS2    All Students and slowest Driver/Car combinations
                         (Beginner level passing rules)      Point-By Only Passing                                                                                                      
White PDS1     Experienced Student Drivers or Fastest Student for 2 Students using the same car
                         (Beginner level passing rules)       Point-By Only Passing                                                                                                               
Blue TT2          All TT Students and slower TT Driver/Car combinations
                          (Moderate level passing rules)  Point-By Only Passing   
Orange TT1     Faster TT Licensed Drivers and All Time Trial Students
                          (Advanced level passing rules)   Open Passing
Red TT0           Fastest TT Licensed Drivers with open passing and car classification
                          (Open passing rules)  Open Passing
Passing:  Left side only with a point-by in specified sections for all groups, except for Red TA0 which will have safe open passing allowed.
Track Time: Each run group will be scheduled for 75 minutes of track time. Please see the event schedule for detailed information.
Results & Awards: Results and acknowledgments will be made at the end of each day in the STREETS building from 4:25pm-5pm. "Fastest Time of the Day" will be awarded along with track records and class victories.
Lodging: Marriott Springhill Suites, 1811 West Ave. J-12, Lancaster, CA 93535.  Ph.: (661) 729-2390.
Holiday Inn express, 43719 17 Street West, Lancaster, Ca 93534                         Ph. (661) 951-8848
Please ask for the POC room rate! Help support the club and state at a host hotel.
Call now for reservations!  Ask for the POC discounted room rates and by staying at the Host Hotels you are helping the Club cut cost.
Questions: John Gordon, Director of Motorsports
          Phone: (310) 990-9449
          Email:jrgordonsenior@msn.com
         CHIEF DRIVING INSTRUCTOR
Dwain Dement
dwain@visionmotorsports.com
(949) 633-9455