About this event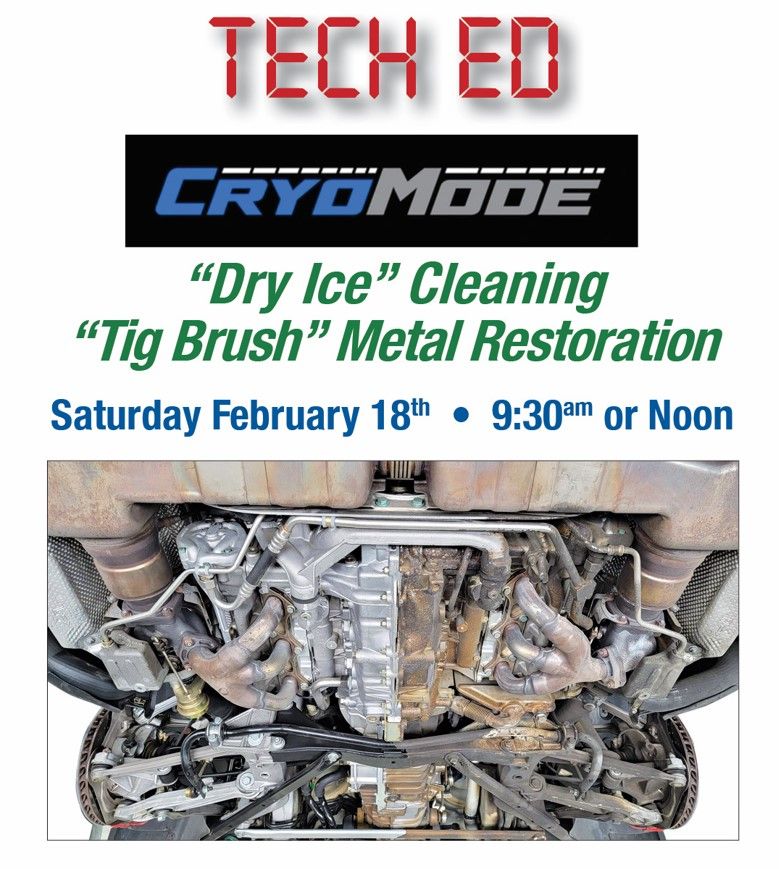 Registration is OPEN!
This TechEd will be at CryoMode
This TechEd has 4 goals… Demystify what this technology DOES, HOW and WHY – What it COSTS – It's ADVATAGES - Who is the CUSTOMER.
"Dry Ice" cleaning is becoming a MUST if you are selling an expensive preowned vehicle or if you are building a car or restoring a car. Gone are the countless hours of masking and disassembling parts. Gone are the grimy hours of scraping gunk. Gone are the toxic chemical cleaners and the mess caused by media blasting sand, glass or walnut shells.
Welcome to the world of carbon dioxide snowballs traveling at extremely high rates of speed, knocking dirt and grime loose and onto the floor. The dry ice pellets then magically disappear into thin air. Dry ice cleaning produces unmatched results on virtually any surface: steel - aluminum – plastics – rubber – leather – cloth - upholstery and even electric components
This TechEd will cover:
"Dry Ice" Cleaning
"Tig Brush" Metal Restoration
CryoMode protective coatings
SEEING magic happen UP CLOSE, in small groups
What services are available for what applications
What do these services cost? They are surprisingly more affordable than you think
Who is the customer? Who will really appreciate what this technology does?
Who should attend this TechEd?
Car guys who love their cars
Car gals who love their cars
People who enjoy maintaining their cars
People interested in practical, affordable new technology
Concours aficionados
Racers
Car builders
Event Details
FREE TechEd
Saturday February 18th
Attendance will be limited

We will have a "Wait List" if needed

Choose 1 of 2 viewing sessions.
9:30 am to 11:00 am
12:00 pm to 1:30 pm

Coffee - Water - Donuts will be provided
Bring a folding chair
Several days before 2-18-22…
"MSR" registrants will receive an email confirming their reservation
If you want to be with your friends in one viewing session
Have ONE person register for your group, do NOT register individually.
One person will be limited to registering a total of 3 people.
Location:
CryoMode
13131 Mukilteo Speedway #105
Lynnwood, WA 98087
To Pre-Register
Scroll…

DOWN this page

Click on… "Register now" Black Button
Follow…

"Prompts"

in RED boxes

Pre-Register
Registration ends Friday, February 17, 11:59 PM PDT
Questions:
Sincerely,
John P. Mueller
Technical Education Chair
Porsche Club of America - Pacific Northwest Region
Event requirements

All attendees are welcome. You do not need to be a member of the Porsche Club ...but you really should consider it. It's about the people.
PNWR Tech Ed - CryoMode
Lynnwood, WA
PCA - Pacific Northwest Region - Tours & Social Events
More events from this organizer