About this event
The Board of Directors and leadership team of the AZPCA cordially invite you to participate in our 43rd annual Concours d'Elegance, known as Phoenix Flight 43, on November 5th and 6th, 2021 at Riverview Park in Mesa.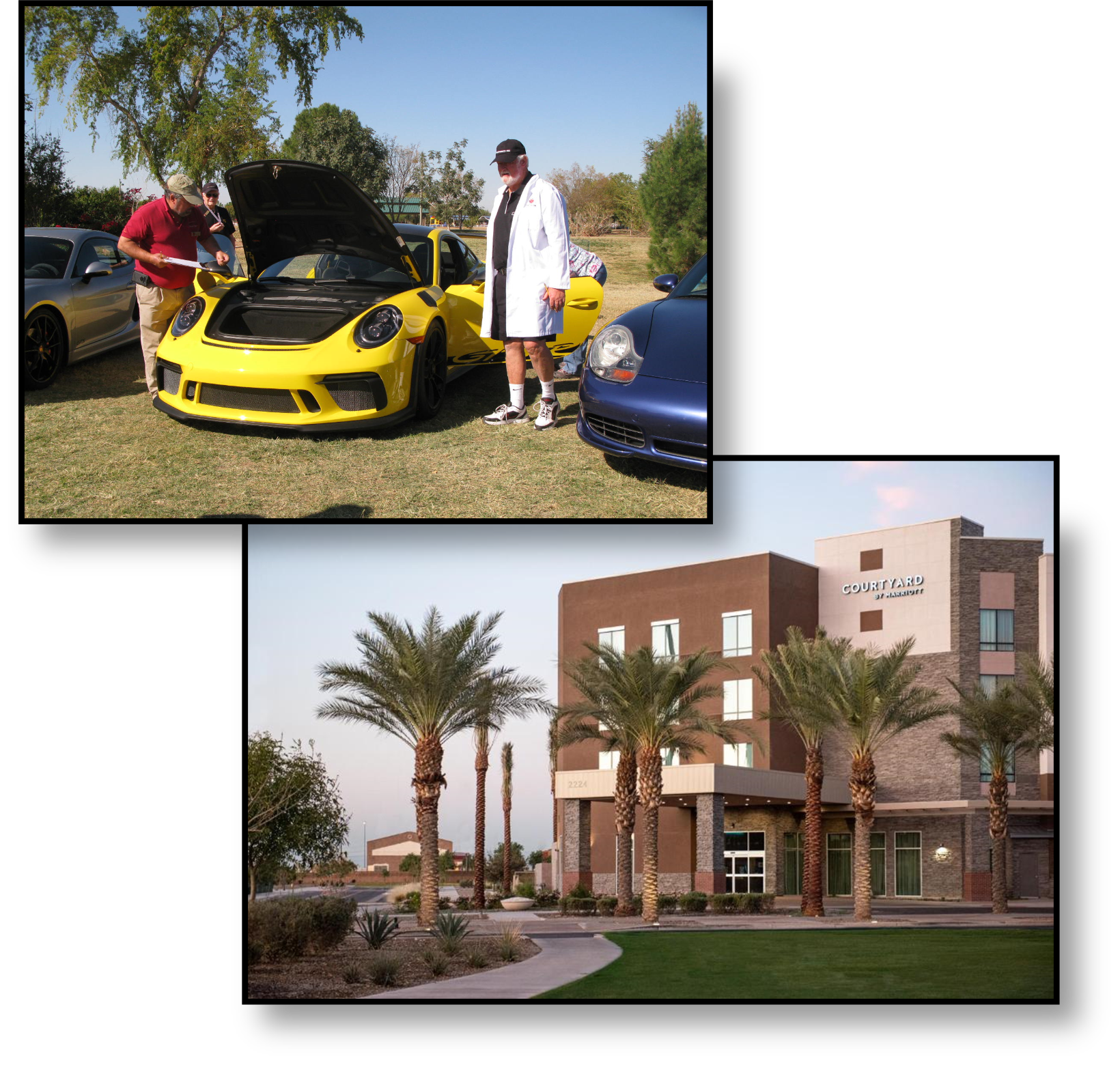 Festivities commence on Friday evening, November 5th at The Courtyard Mesa at Wrigleyville West, located at 2224 West Rio Salado Parkway in Mesa at 5:00 pm. Join us in their new event space, The Niche at Riverview, in the Salado Room for a welcome reception featuring a buffet dinner and a cash bar to help us kick off the weekend!
On Saturday, November 6th at 1pm, we will commence with the Concours d'Elegance car show at Riverview Park with judging and display of an awe-inspiring array of Porsches. After judging is completed on late Saturday afternoon, we will reconvene at The Niche at Riverview Salado Room for dinner and presentation of awards.
The Sheraton Mesa Hotel at Wrigleyville West, adjacent to The Courtyard, has reserved rooms at a $109 + tax discounted rate for our out-of-town guests for Friday and Saturday nights. Book a room at our exclusive group rate using the link below or you can call the hotel directly at 1-480-664-1221 and be sure to mention the Porsche Club of America, Arizona Region group rate. The address for the Sheraton is 860 North Riverview, Mesa.
Sheraton Mesa Hotel at Wrigleyville West (lodging)
860 N. Riverview Mesa, AZ 85201
Courtyard Mesa at Wrigleyville West (Friday and Saturday socials)
2224 W. Rio Salado Parkway, Mesa, AZ 85201
Riverview Park (Saturday Concours site)
2100 W. Rio Salado Parkway, Mesa, AZ, 85201
NOTE: No entries will be accepted after the Oct. 29 deadline.
Details for this event may be found on the AZPCA website: https://az.pca.org/event/flight-43/
Event requirements
Registration for Phoenix Flight 43 closes at 8:00 PM on Friday, October 29. Your registration status will be confirmed by email. Payment is by credit card only and will be billed at the close of registration. You may cancel or change your registration selections up to close of registration on Oct. 29.
Registration steps on MotorsportReg.com:
Complete your personal and car information during the MotorsportReg.com login process (you can log in with the same account that you may have used previously).
Select options to enter your Porsche in the Concours d'Elegance, in a judged category or Display only (unjudged). Be sure to read all explanatory notes to ensure your registration is accurate.
Select options to attend the Friday evening reception and Saturday evening awards luncheon.
Select options to purchase event apparel.
Make your payment (your credit card will not be charged until registration closes on Oct. 29).
We look forward to seeing you at Flight 43!
More events from this organizer