PCA-SDR Time Trial — Buttonwillow Double Points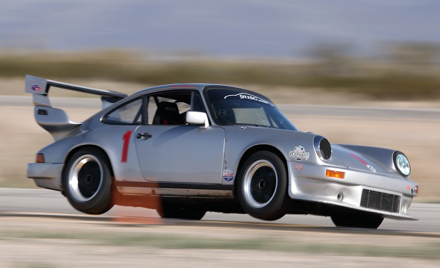 PCA - San Diego Region
Saturday, Nov 7 — Sunday, Nov 8, 2020
Buttonwillow Raceway
,
Buttonwillow

,

CA
Registration closed October 31, 2020 7:59 PM on October 31, 2020 7:59 PM PDT Registration ends October 31, 2020 7:59 PM on October 31, 2020 7:59 PM PDT Registration opens October 12, 2020 9:00 AM on October 12, 2020 9:00 AM PDT Registration runs from October 12, 2020 9:00 AM to October 31, 2020 7:59 PM
Porsche Club of America – San Diego Region welcomes you!
Join us as we wrap up the exciting 2020 season at, what is for many, Southern California's favorite track:  Buttonwillow Raceway Park, Saturday & Sunday, November 7th & 8th.  This event will consist of three Time Trial run groups.  Time Trials, which have driving prerequisites, work like a Driver's Ed event during practice, but feature Transponder timing during all sessions with times posted online and optionally sent to your mobile phone immediately thereafter, as well as available in the Club's permanent record database at the conclusion of the event.  In addition, on Saturday and Sunday afternoon, optional Timed Runs are available, giving you clean laps in which to record an official time for the event.  

We plan to run configuration #13 clockwise the entire weekend (subject to change depending on conditions).

THIS IS A SOLO DRIVER EVENT ONLY DUE TO COVID-19 RESTRICTIONS.  Pre-tech will be mandatory and social distancing practices will be followed during this event.

The base price for this event (assumes early registration, no need to rent anything, proper credentials, etc.) is $290 for the weekend   Expected track time per entrant exceeds 3 hours, and traffic is anticipated to be low so everyone should be able to get tons of flying laps.  Our $/hour ratio is among the lowest of any group, especially when you factor in the quality aspect.  You may sign up for one or both days, though two day registrations take priority over one day registrations.  See the Payment section below for more info.

To register we require that you join the PCA - San Diego group here on MotorsportReg.com (note:  this just means adding PCA - San Diego to your list of Clubs on MotorsportReg; it does not make you a member of PCA).  Regardless of which region of PCA you belong to or if you don't belong to PCA at all, you must join the SDR group on this web site (again, doing so will not make you a member of PCA).  This will be done as a step in the registration process.  Non-Porsches that meet our rules are welcome!!!

Physical Damage Insurance:  Insurance for your car is available for this event via Lockton Affinity, LLC, PCA's exclusively endorsed insurance provider.  Note that liability coverage is not included and Time Trial Timed Runs now appear to be insurable for an additional charge.  This insurance is strictly optional.  Be sure to read all the fine print.  For more info click here and search for Buttonwillow November 7-8.


Lap Times and Event Info on your Mobile Phone:  You may sign up for our mobile phone timing and notification system as part of your registration for this event.  For a Standard subscription (lap times for your car, notifications of postings for your run group, and important announcements), simply check the box that says you do not want a Custom subscription.  Even if you do not wish to take advantage of this service, you MUST have your mobile phone number on file with MotorsportReg in the Mobile/Cell field.  Having your mobile number in any other field while leaving the Mobile/Cell field blank amounts to not having your mobile number in the system.  Your registration is not valid until this has been completed and others registering after you will be prioritized ahead of you.  To check or input this, sign in, then click the "My Account" tab in the Dashboard, then click "Edit profile", then click "Edit My Information".  Enter your mobile phone number into the field titled "Mobile/Cell" – even if you already have it in other fields – then click "Save My Information".

Event Hotel:   The TT event hotel for our Buttonwillow weekend is the fabulous Motel 6 Buttonwillow Central at 20645 Tracy Ave, Buttonwillow, CA  93206 (note for those who haven't been to Buttonwillow in a while:  this is our usual hotel, briefly known as the Red Roof Inn previously, the Willow Inn & Suites before that, and possibly the Four Seasons Buttonwillow before that).  $49.99 max, and you must mention the Porsche Club room block when you phone.  Rate and room block expire October 26 or when sold out, whichever comes first.  Reservations may be made by calling (661) 764-5121.  If the hotel is full there are several other lodging establishments at the Buttonwillow exit.  Check Google Maps for locations.  There is a second Motel 6 in town, at 20638 Tracy Ave, (661) 764-5153 (but the hotel may be a bit less fabulous).  Or, if you prefer potentially more luxurious accommodations you may wish to consider the Club Race event hotel, which is the Best Western Plus Wasco Inn & Suites, 1704 Highway 46, Wasco, CA  93280, (661) 758-1111.  $125.00 max, and you must mention the PCA San Diego room block when you phone).  Alternatively, there is the Best Western Heritage Inn, 253 Trask St, Bakersfield, CA  93314, (661) 764-6268.  The Inn is 5 miles south of the TT event hotel and we do not have a room block, but we have it on good authority that it is a star or two better in quality than the TT event hotel.

Camping at the Track:  Camping at the track is available.  The track has electrical and water hook-ups only.  There are two potential costs, $30 per person payable to PCASDR to cover 24 hour security/in-out regardless of where you camp at the track Friday and/or Saturday nights, and potentially a second charge payable to the track if an RV pad is rented.  You MUST call the track on your own to reserve an RV pad.  The track will then charge you separately in addition to the amount PCA charges.

Garages at the Track:  The track has a limited number of garages for rent.  Please phone the track to make arrangements.

Friday arrival at the Track:  You will not have access to the paddock until after 6:00 pm on Friday due to a large non-PCA group using the facility.  Please plan accordingly.

Late Registration:  You must register with credit card on file by 11:59 pm October 24, to receive the discounted online rate; after that a $50 late fee applies through October 31.  Online registration closes at 11:59 pm October 31, after which even higher on-site registration fees apply, if available.

Payment:  You MUST use a credit card to pay if registering online, VISA, MasterCard, Discover and now AMEX.  For complete event pricing details proceed with registration steps.  You will have a chance to confirm (or abort) after you make your selections.  Card billed AFTER the event.

Cancellation Fee:  There are potential fees associated with cancelling after various dates.  Please see the full cancellation policy at the bottom of the next page.
Transponder Damage/Loss Fee: If you have rented a transponder and damage it or do not return it to the registrar by 2 days after the event you will be charged $750.

If you have a question about this event, please contact the Registrar at:  preregAway@pcasdr.org.