PCA-SDR Cayenne/Macan Off-Road Adventure Tour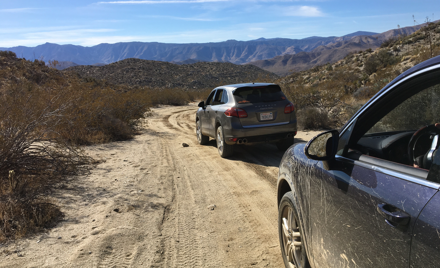 PCA - San Diego Region
Saturday, February 3, 2018
Chariot & Oriflamme Canyons
,
Banner

,

CA
Registration closed January 30, 2018 9:00 PM on January 30, 2018 9:00 PM PST Registration ends January 30, 2018 9:00 PM on January 30, 2018 9:00 PM PST Registration opens January 5, 2018 6:00 PM on January 5, 2018 6:00 PM PST Registration runs from January 5, 2018 6:00 PM to January 30, 2018 9:00 PM
Want the chance to experience the off-road capabilities of your Porsche Cayenne or Macan while navigating the canyon trails outside of Julian in the historic country with your fellow PCA-SDR club members?  Then this event is for you!
This Adventure Tour's plan is to enjoy a half day outside the Julian area, passing along the dirt roads through the Blair Valley and Pinyon Mountain Valley areas.  The planned route consists of varying terrain of mostly single car-width dirt roads that at times may require very low speeds in the 1-2mph range to manage due to the tight turns, uneven surfaces, steep grades, and slippery rocks or deep dirt/sand.  This Tour is not intended to be a rock crawling or mud-hole event or high-speed rally, instead it's more along the lines of a back-country adventure with the objective to enjoy off-pavement roads to experience the very capable off-road abilities of the Cayenne or Macan as well as to learn to carefully proceed through varied types of terrain.  
This tour provides the driver with the adventure and challenges of careful, slow off-road driving while providing an experience to travel through some historic mining country outside of Julian near Borrego which is full of desert and mountain vegetation and interesting rock formations.  Family members of all ages are welcome to come along to enjoy the ride and scenery, though keep in mind the course is bumpy and the grab handles will get plenty of usage!  There will be a couple stops along the way for pictures and to enjoy nature, as well as to experience a Native Indian Cultural Preserve.
Required equipment should include at a minimum all-season tires with plenty of tread, as low profile high-performance street tires pose a greater risk of wheel damage or a flat tire from hitting sharp rocks.  The roads are primarily gravelly dirt roads with ruts and areas of deep loose dirt.  If rains have preceded the event there may be areas of mud which can often be avoided if desired.  The second part of the tour climbing up part of Pinion Mountain will have narrower trails with some rocky regions.  Overall the trails are not difficult but require an attentive driver to avoid obstacles like protruding big rocks and the attention to proceed cautiously when appropriate.  Staying centered on the trail should avoid the accumulation of "off-road racing stripes" (scratches in the body and wheel paintwork from sticks and branches that are usually removed with polishing if they do occur).  Vehicles equipped with air suspension and higher profile tires should have an easy time making the drive versus those with steel spring suspensions and the limited ride height these vehicles have.  If all goes favorably, at the end of the route, a healthy car wash session should be all that is needed to return your Porsche SUV to its garage queen status and remove any evidence of its off-roading adventures, with only your pictures and memory of the experience remaining!  

The event is rain or shine unless heavy rains have been occurring in the days leading up to the event, as the trails may get very muddy, limiting passage of vehicles with limited ground clearance and less off-road oriented tires.
Saturday February 3 2018 Planned Schedule: 
8:00am meet at Dudley's Bakery ( http://www.dudleysbakery.com ) in Santa Ysabel outside of Ramona off Old Julian Highway 78 for coffee, to buy sandwiches, and use the restroom!  Address: 30218 CA-78 (Julian Rd), Santa Ysabel, CA 92070
8:30am-8:45am Tour briefing and waiver signing in parking lot on the West side of the building.
9:00 AM Pull out of Dudley's heading East towards Julian.
Part 1 trail head reached at around 9:35am
Trail-head to Morteros Trail Cultural Preserve: 30 minutes
Preserve to Blair Valley Campground for bathroom break: 20 min
Part 2 Trail up Pinyon Mountain: 45 min
Pinyon Mtn down to pavement: 35 min
Around 2 hours of Off-road driving is planned!
The above schedule and route may change depending on the weather and trail conditions - that's what makes this is an adventure!