PCA-SDR Cayenne/Macan Off-Road Adventure Tour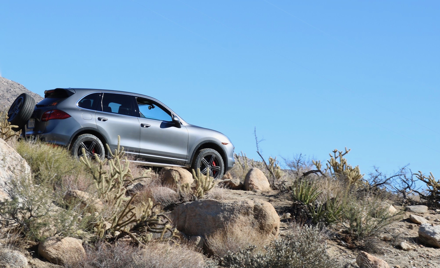 PCA - San Diego Region
Saturday, February 9, 2019
Anza-Borrego Desert State Park
,
Ranchita

,

CA
Registration closed February 7, 2019 11:59 PM on February 7, 2019 11:59 PM PST Registration ends February 7, 2019 11:59 PM on February 7, 2019 11:59 PM PST Registration opens January 14, 2019 12:00 AM on January 14, 2019 12:00 AM PST Registration runs from January 14, 2019 12:00 AM to February 7, 2019 11:59 PM

Saturday February 9th, 2019
Cayenne/Macan Off-road Adventure Tour
This February the PCA-SDR's Cayenne/Macan Off-Road Adventure Tour will head again to the Anza-Borrego Desert State Park to run the action-packed trails that were run in December, but this time we will drive them the opposite direction, providing a more challenging uphill route versus last time's primarily descending path.  The Tour's plan is to enjoy a half day of off-road driving along a route that consists of varying terrain of mostly single car-width dirt and rock trails with some wider sand wash areas.  The trails are very scenic especially during the rainy season and will mostly require very low speeds to manage due to the tight turns, uneven surfaces, steep grades, and slippery rocks or deep dirt/sand.  The best part of this event as a whole is the opportunity to share this adventuresome drive with the whole family while learning about the very capable off-road abilities of the Cayenne or Macan.
The event will have about 2.5 - 3 hours of off-road driving which will include a couple stops for pictures, enjoying the view with friends and family, and for exploring along the way.  After the drive we will take a short pavement drive and meet up at The Roundup Grill across from Lake Henshaw for a delicious lunch where we can all sit together and share stories of the drive.  The lunch is not provided by the Club; you will order and pay your own meal.
Required equipment should include at a minimum all-season tires with plenty of tread, as low profile high-performance street tires pose a greater risk of wheel damage or a flat tire from hitting sharp rocks, and have a high chance of getting stuck trying to manage the trail's uphill traction-limited stretches.  The roads are primarily narrow rutted dirt roads with areas of deep loose dirt and sand.  Portions of the trails will have steep elevations with protruding rocks that will require more precise vehicle placement to ensure proper clearance.  If rains have preceded the event there may be areas of mud which can some times be avoided if desired.  The trails are not overly difficult especially thanks to Porsche's Traction Control programming, but an attentive driver is still necessary to avoid obstacles that could be of harm like protruding big rocks or thick paint-scratching twigs.  Vehicles equipped with air suspension and higher profile tires should have an easier time making the drive versus those with steel spring suspensions and limited ride height, as those vehicles will need to be more careful.  If all goes favorably, at the end of the route, a healthy car wash session or two should be all that is needed to return your Porsche SUV to its garage queen status and remove any evidence of its off-roading adventures, with only your pictures and memory of the experience remaining!  
We will communicate with each other during the drive using FRS type radios/walkie-talkies.  If you do not have an FRS radio, please consider buying some of these handy radios.  Inexpensive versions, such as these, will be adequate for our needs: 
https://www.amazon.com/dp/B06WW88CFH/ref=sspa_dk_detail_5?psc=1&pd_rd_i=B06WW88CFH
If you have any spare FRS radios, please bring them along just in case someone does not have a radio to use.  Set your FRS radios to use channel 07, with privacy code/CTCSS code 01 (not DSC).  If you're not sure how to set them up, bring your radios and we'll help you dial them in before the drive!

The event is rain or shine, but if heavy rains have been occurring in the days leading up to the event, the trails may get muddy and slippery and may limit passage of vehicles with limited ground clearance and street/road focused tires and wheels.  And since this trail will be more challenging in general due to its uphill nature, please examine your equipment accordingly.  If you have equipment concerns about your Cayenne or Macan, please contact the event organizer to discuss!
If you are coming from out of town or even out of CA, staying in the town of Julian or Borrego Springs would put you close to the start and finish of the event.  Other close by hotels would be in the town of Ramona.
A small registration fee is to be charged for this event on a per-vehicle basis to offset the costs of organization.  
Saturday February 9, 2019 Planned Schedule: 
8:00AM meet at Dudley's Bakery ( http://www.dudleysbakery.com ) in Santa Ysabel outside of Ramona off Old Julian Highway 78 for coffee and drinks and snacks, and to use the restroom!  Address: 30218 CA-78 (Julian Rd), Santa Ysabel, CA 92070.  The Bakery opens at 8:00AM.
Please get everything organized and be ready to depart before the briefing starts at 8:15 SHARP.
8:15AM SHARP-8:40AM Tour briefing, participant introductions, radio checks, and waiver signing in parking lot on the West side of the building.  Set your FRS Radios using channel 7, privacy code 01.
8:45AM Pull out of Dudley's heading North on the scenic Hwy 79; 35 miles/40 minutes to trailhead.
9:30AM Arrive at the Adventure Tour trailhead at Tamarisk Grove Campground and start tour - engage that Off-road mode and let's enjoy the ride!  We'll stop a couple times along the route for 10-15 minutes for pictures and to hang out.  Keep listening on the radio, and call for any assistance if needed!  If you see someone ahead of you needing assistance, please call out on the radio as well!
12PM: Reach the end of the trail.  
12:00PM Depart for the 23.1 mile/26 minute pavement drive to the Roundup Grill across from Lake Henshaw.
12:30PM  Lunch at the Roundup Grill.  
Around 2.5-3 hours of Off-road driving is planned!
The above schedule and route may change depending on the weather and trail conditions - that's what makes this is an adventure!