PCA OCR Performance Driving School with Craig Stan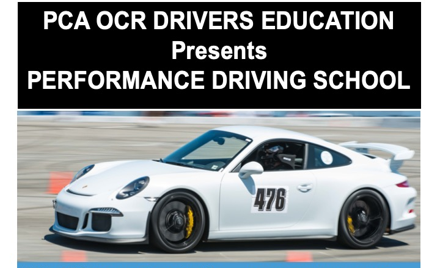 PCA - Orange Coast - Driving Events
Wednesday, May 6, 2020
Streets of Willow Springs
,
Rosamond

,

CA
We ran the first Performance Driving School last October in conjunction with PCA OCR.  Program was well attended, received great reviews, and been asked ever since when we are going to do it again.  Well, here it is.  Craig Stanton is one of sports car racing's top coaches, so lucky to have him and don't waste this opportunity to learn from the best!
The Performance Driving School is run by Craig and his team.  There is no pre-requisite for participating in the Performance Driving School.  Novices are very welcome.  Nobody is asked to drive faster than their level of comfort, and safety is our top priority.  The agenda for the program includes both classroom and in car training with the objective of learning more about your car and it's capabilities with a series of defined exercises, lead-follow laps, and open lapping sessions.  The program is being held at Streets of Willow at Willow Springs International Raceway in Rosamond, CA.  The iconic Streets track is well suited for learning performance driving with a wide variety of corners and altitude changes that requires technical driving skill to master.  The program is designed for Novice – Intermediate driving enthusiast looking to have more fun driving their car.  Even advanced drivers can benefit from the program to sharpen their skills and lower their lap times.  The Performance Driving School day long program includes lunch, track time, and full day of instruction for a cost of $325.
If you have four or more track days and just looking for track time, we will have open lapping run groups divided by experience level.  Craig and instructors will offer an optional classroom session where he will share his experience of driving Streets and tips to getting the fastest lap times.  The instructors will also be available to drive demo laps as time allows.  The HPDE day of open lapping sessions includes lunch, track time, and coaching tips for a cost of $225.
Helmets are required and there are a limited number of loaner helmets.   
Vision Motorsports is the day's sponsor.  Vision will provide tire management (pressures & temperatures) services for all program participants so you won't have to guess how to set your tires to work best at the track.
Please contact me if you have any questions.
Jim Salzer
Email: jsalzerdc@gmail.com
Mobile: 949-300-1731