PCA National Tech Tactics- Sunday, December 3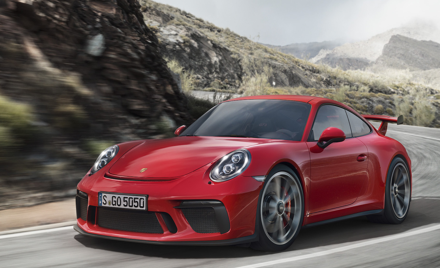 PCA
Sunday, December 3, 2017
Porsche Training Center - Eastvale
,
Eastvale

,

CA
Registration closed November 28, 2017 11:59 PM on November 28, 2017 11:59 PM EST Registration ends November 28, 2017 11:59 PM on November 28, 2017 11:59 PM EST Registration opens October 15, 2017 3:00 PM on October 15, 2017 3:00 PM EDT Registration runs from October 15, 2017 3:00 PM to November 28, 2017 11:59 PM
Registration for Tech Tactics West 2017- Sunday, December 3.
Tech Tactics is a day dedicated to Porsche technical information. This event is for the casual information gatherer to the every day Porsche mechanic. Get the latest technical information directly from the source.
Tech Tactics is a PCA National event and will be hosted at the new PCNA Training facility in Eastvale, CA. This facility is perfect for a "hands on" type of event. This facility is used to train Porsche technicians on the intricacies of the new Porsches. It is equipped with the state of the art classrooms with lifts and drive train assemblies which will be available for our event,.  Tech Tactics West will be limited to 125 entrants per day. The day will consist of lectures by PCNA Specialists, members of the PCA Technical Committee, as well as special guest speakers. 
Rusnak Pasadena Porsche will have a parts store available for your convenience.
The event is limited to 125 entrants. The registration fee of $75 includes continental breakfast, lunch and complimentary event t-shirt. Registration opens at 8AM, opening introductions begin at 830 with the first speaker going on at 9AM and we will be complete by 5PM .
When you register, look at the topics covered under each 'colored' class.  If you pick RED, you will attend those classes. Since we want to keep the size of the classes manageable, switching classes will not be allowed.  This will ensure an ideal experience for each 'student'.  If the colored class you wish to attend is sold out, you may get on a wait list or choose another color or try the other day. 
Tech Tactics 2017 Eastvale Facility Speaker list:
Bode, Steve: Dr. Colorchip
Topic: Paint chip and scratch repair
Available for demo and application during event. If you are interested in trying this on your car, please drop Steve an email at stevebode8@hotmail.com to assure he has your color on hand.
Bonilla, Pedro: Pedro's Garage/PCA Tech Committee
Topic: Basics of Braking
Pedro is the newest member of the PCA Tech Committee focusing on the Boxster/Cayman. He has undergraduate studies in Mechanical and Civil Engineering. Post-Graduate Master's Degree in Business Management. Founder and CEO of TechnoLab Solutions, remanufacturing firm under contract with OEMs. Founder and CEO of Technolab and the founder and CEO of PedrosGarage.com.
Racing Resume
National Karting Champion - 1973 & 1974 (Dom. Rep.)
National Enduro Champion - AMA Sanctioned, 250 & 500 cc 1981 & 1983 (Dom. Rep.)
Rally, Road Racing, Club Racing, DEs, AXs, Slalom, Gymkanas, Hare & Hound, Enduro, Motocross
2007 AX P14 (4) = Class Champion  - PCA Zone 12 Gold Coast Reg.
2008, 2009, 2010 & 2011 AX P07 (4)  Class Champion - PCA Zone 12 Gold Coast Reg.
Burris, Bill: PCA Tech Committee
Topic: TBD (Backup - Available for one on one Q&A)
Bill was car crazy from the beginning as evidenced by his purchase of a broken down, rusted out 356 as a teenager in 1976.  After graduating college he served as a service technician at Porsche dealerships in San Diego, later joining Volkswagen of America as a technical instructor.  Recruited to Porsche Cars North America in '83, Bill moved into field management; today he's on Toyota's corporate sales team and is one of PCA's 911 technical advisors.  A voting member of the Society of Automotive Engineers, Bill still aspires to know half of what Allan Caldwell has already forgotten.
Calder, Steve: Michelin
Topic: Michelin Tire Technology
Steve received a mechanical Engineering degree from Virginia Tech 1996. After graduation he joined Michelin and spent four years as an industrial engineer at a tire plant. Then Steve became a test driver at the Michelin Proving grounds. Five years ago he hung up his driving shoes to become a Product Category Manager for Michelin high performance tires.
Caldwell, Allan: PCA Tech Committee
Topic: TBD (Backup - Available for one on one Q&A)
Allan is a former aeronautical engineer who has owned nine Porsches since 1958. Actively engaged in military aircraft research and development over a forty year career, he discovered that basic engineering fundamentals apply directly to the ownership, operation and maintenance of Porsches. Allan's helpful articles began appearing in Panorama as early as 1972. He joined the PCA Tech Committee in 1989 and has been the Technical Advisor for both 914 and early 911 models. He is presently the Technical Editor of Panorama.
Callas, Tony: Callas Rennsport/PCA Tech Committee
Topic: Behind the Scenes in Stuttgart
Tony is one of the newest members of the PCA Tech Committee. Tony owns and operates Callas Rennsport in Torrance California, a shop specializing in all aspects of Porsche & BMW Service and Restoration.  Prior to opening his shop Tony worked at multiple independent Porsche repair facilities in the Southern California area including Edelweiss Porschaus and Pete Zimmerman Service.  Earlier in his career Tony also worked at various dealerships and is factory trained in Porsche, Audi, VW, and BMW. Tony started at his father's shop in Austin Texas, where Tony's father introduced him to Porsches and professional racing at a very early age.
Professional Accomplishments:
1992 to present Shop Owner of Callas Rennsport.
Founder of the Porsche Aftermarket Organization, P-Gruppe
Founder of Porsche Technical Assistance Group
Porsche trainer with The Knowledge Gruppe
Keynote speaker at assorted annual PCA Meetings
Freelance Speaker at PCA events including the Parade and Tech Tactics
Technical writer for various PCA Newsletters
Technical writer for Panorama and Excellence Magazines
Bosch Master Technician Degree
Motorsport Accomplishments:
2004-2007 IMSA World Challenge Cup Team Manager
2001-2002 Clayton Cunningham Race Team – American LeMans
2001 Le Mans GT Winner & Mechanic of the Year
1998-2000 Team Reiser Callas Racing – Principle
1997-1998 Team Roock – Crew Chief
1996 Team Rohr – Head Mechanic
1987-1988 Team Jim Bell – American Indy Series Mechanic
1987-1988 Team Alex Tradd – Trans Am Racing Mechanic
Dong, Derrick: PFC Brakes
Topic: Theory of Braking
Derrick has long association with motorsports. For the last seventeen years, he served the PFC Brake Company as Director of Motorsports. He has a total of 40 years of professional racing brake experience including 22 years as technical liaison with Tilton Engineering.
Gamroth, Jeff: Owner/Operator Rothsport Road & Race, Inc.
Topic: Gunther Werks 400R
Jeff owns and operates Rothsport Road & Race, Inc.. in Sherwood, Oregon. Rothsport was founded in 1997 to satisfy a need to create a shop where Porsche enthusiasts of all kinds could enhance their driving experience. Jeff's Porsche experience started when he was 15, while working on his neighbor's 1967 911S. From there, he spent 15 years working at two independent Porsche repair shops, where he started his career in racing, both amateur and professional.
Rothsport is now known worldwide as a premier Porsche specialist shop which also manufactures innovative products for the marque.
Jeff's Porsche History:
1983-1987        Built and maintained SCCA GT2 914-6
1986-present    Races in PCA, SCCA, NASA and Vintage racing
1991-1994        Brumos Porsche fly-in crew member for the Bridgestone Super Car Series
1997                Competed in 24 Hours of Daytona
1997                Competed in 12 Hours of Sebring
1998-2004        Alex Job Racing crew member and eventual Crew Chief
2002                Crew Chief on class winning Porsche in 24 Hours of LeMans
2002                IMSA Mechanic of the year
2017                NORRA Mexican 1000 - Rothsport brought two rally cars that finished 3rd & 4th in class
Gerwag, Abe: CRP Industries
Topic: CRP Product Demos
Abe is the Vice President of Innovation for CRP Industries. CRP Industries is a leader in the automotive parts and industrial products sector. They provide some of the most recognized brand names in these markets, including ContiTech automotive & industrial synchronous belts, Rein Automotive parts, Pentosin technical fluids, AJUSA gaskets and head bolts, Reinflex high-pressure thermoplastic hose, TUDERTECHNICA rigid mandrel hose, and Perske high-speed motors.
Kucaveca, Mike: PCNA
Topic: Porsche Collision Techniques
Mike has spent his career in the collision repair industry, focused on returning damaged vehicles to pre-accident condition. His career started in the workshop, and after ten years honing his skills, he moved into the technical training field, helping other technicians improve their skills and learn new concepts. For the last nine years he has worked at PCNA, training technicians, motorsports teams and also insurance companies. In addition, he manages the Porsche Approved Collision Center Program, which seeks to improve both the quality and experience that Porsche customers receive when in need of repairs to their vehicle.
Lennon, Andrew: Porsche Cars North America - PCNA
Topic: GT2RS Presentation
Andrew started his career as an automotive technician while studying mechanical engineering before proceeding with technician training through the Porsche Technology Apprenticeship Program (PTAP). After graduating from the program in 2005, Andrew joined the Technical Support group of Porsche Cars North America. He has held various positions within PCNA over the past 12 years involving Technical Support, Regulatory Affairs, and E-Performance. In January 2015, Andrew completed Gold level certification in the Certified Porsche Technician program before accepting the role of Product Manager for Sports Cars at PCNA.
Merz, Nathan: PCA
Topic: State of the Porsche Collector Car Market: Up, Down or Sideways
Nathan is a lifelong car fanatic and has been especially passionate about Porsche since acquiring his first 911 at age 16. Over the past 25 years he has owned nearly every iteration of Porsche imaginable and has a particular passion for the rear engine, air-cooled models. 10 years ago he combined his various interests and skills and founded Columbia Valley Luxury Cars with the vision of sharing his passion and expertise with other like-minded enthusiasts. He is a teacher at heart and views his job as helping his customers fully understand not just the car they might be buying but the Porsche culture, history and market. On a personal level he is an avid collector of all original cars, parts and literature and enjoys Concours both locally and nationally. He is a presenter on the Topic of Buying/Selling, Valuation, Pre-Purchase Inspections and the Market to various regions within the PCA..
Nam, Peter: Founder & CEO Gunther Werks & Vorsteiner
Topic: Gunther Werks 400R
Vorsteiner, a 15+ year old luxury automotive aero and wheel manufacturer, sold in 46 countries around the world and regarded today as the largest supplier of tuning products for Lamborghini, Ferrari, Porsche, BMW and McLaren cars in the world.
It was Peter's passion for Porsches, and having owned many GT3's and GT3 RS's, that led him to create Gunther Werks. His vision of creating the ultimate air-cooled Porsche in the mold of a modern day GT3 RS, has led to the creation of the first Gunther Werks restoration with the 400R program for the 993.
Peters extensive knowledge of composite and wheel manufacturing expertise, product design & development through the use of clay modeling, CAD design and 3D printing were all used during the development of the 400R program. 
With his eye for design, and his meticulous attention to detail, the final product has been received with acclaim, especially from the Porsche community. Praised for the level of detail in the restoration, and with the lines of the car that remain faithful to the original, so much so that it could be mistaken for something that had been created by the factory.
 
Powell, Chris: PCA Tech Committee
Topic: TBD (Backup - Available for one on one Q&A)
Chris has been a Porsche Enthusiast since 1963, and has been a Porsche Technician since 1974, working at the dealership in Seattle, then an IMSA GT racing team from 1978-1984 (934, 935, 924 GTR, 962). Since then he has run his own Porsche-only repair shop in Bellevue, Washington. He has a degree from Harvey Mudd College in chemistry, and has been a member of the PCA National Tech Committee since 2005.
Smith, Peter: PCA Tech Committee
Topic: TBD (Backup - Available for one on one Q&A)
Peter has been a Porsche Certified Factory Tech for 35 years and is a Gold Meister Tech and High Voltage Expert. He is also factory trained on the 918 and Carrera GT. Peter has been on the PCA National Tech Committee since 1999.
All attendees must be pre-registered. There will be NO ON-SITE REGISTRATION.
Location:
PCNA Eastvale Training Center
12567 Bellegrave Ave
Eastvale, CA 91752
Host Hotel:
Holiday Inn Express
1550 Circle City Dr
Corona, CA
951-479-4000 
Porsche Rate $ 109.00 + tax (incl. breakfast) Reservation code: #PCG.or http://tinyurl.com/techtactics2017