About this event
We need to cancel this event due to the recently issued California Department of Public Health's Guidance for Private Gatherings.

https://www.cdph.ca.gov/Programs/CID/DCDC/Pages/COVID-19/CDPH-Guidance-for-the-Prevention-of-COVID-19-Transmission-for-Gatherings-10-09.aspx
**********************************************************************
EVENT DESCRIPTION:
Boo! PCA-LA presents Porsches & Pumpkins: Costume edition!

This is a fun, safe, & family- and pet-friendly PCA-LA event in the spirit of Halloween! We encourage you to 'dress up' your Porsche, yourself, and/or your pet (if you're bringing one), especially as we will be photographing these fun morning festivites. Prizes will be awarded for the most creative car and non-car costumes, so come and show your festive spirit in style!

Locally baked, morning pastries and coffee will be catered for this event; however, please bring your own coffee thermos/ mug, hand wipes, and/or sanitizer if possible, due to COVID-19 safety guidelines and in an effort to be more sustainable. Note: if you are bringing a pet, please clean up after them if applicable. 

Porsches & Pumpkins will take place in a large outdoor parking lot and restrooms will be available on site for use. We look forward to seeing you there!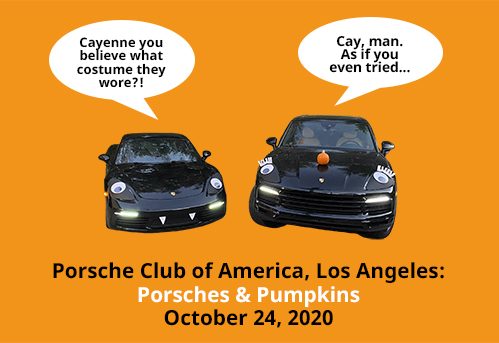 EVENT DETAILS:
Date: Saturday, October 24, 2020
Time: 9-11 AM PST
Location: Hollywood (large outdoor parking lot). Final location will be sent in confirmation email.
 
COVID-19 SAFETY:
Face masks and social distancing are mandatory when you are outside of your vehicle. We will follow the California COVID-19 guidelines for campgrounds and outdoor recreation.
SOCIAL MEDIA:
We would love to see your photos and videos of our events! Please tag @porscheclubla and hashtag #porscheclubla #pcala if you would like to be featured or re-posted on our social media pages. We look forward to seeing you there!
Event requirements
Please use the online registration form (next page) to indicate the number of guests as well as the name(s) of your guests, if applicable. Event fee is per car.
To avoid registration issues, please be sure your Motorsport Reg profile includes your PCA member number, name (as registered with PCA) and  birthday.
Note: Birthdays are required as drivers for PCA events must meet a minimum age requirement per insurance requirements.
Los Angeles
Los Angeles, CA
More events from this organizer