OVR Points Event 3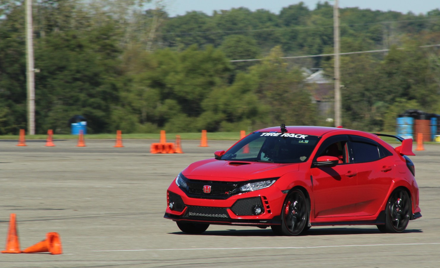 SCCA - Ohio Valley Region - Solo
Sunday, June 3, 2018
National Trail Raceway
,
Hebron,

,

Ohio
Registration closed June 1, 2018 9:00 AM on June 1, 2018 9:00 AM EDT Registration ends June 1, 2018 9:00 AM on June 1, 2018 9:00 AM EDT Registration opens May 13, 2018 8:00 AM on May 13, 2018 8:00 AM EDT Registration runs from May 13, 2018 8:00 AM to June 1, 2018 9:00 AM
Welcome to the Ohio Valley Region 
[Website]  [Facebook]  [Forum]
If you want to run an event with us, but have no idea how to fill out this form.. DON'T WORRY! We can help you.. email us at OVRSOLO@gmail.com and we can help you with the process! If you have a credit from a previous event please email us BEFORE registering.
If you like to drive hard, then Solo is for you! During autocross competition, drivers compete against the clock as they navigate technical courses. Each driver is given at least three chances to post their best time. It's fast, it's fun, and nearly anyone can afford to participate.
If you'd like to race in the next autocross event, your car and a helmet are pretty much all you'll need to get started. Autocross competition is broken down into a number of classes so that virtually any car can be competitive. So whether you own a Corvette or a Civic, you can be sure you'll have a great time. 
If this is your first time, or first season, attending an autocross event, be sure to register as a novice. In addition to competing against other drivers in your class, you'll also be indexed together with all of your fellow novices. This will allow you to compete for the fastest time against both new and experienced drivers. Additionally, registering as a novice for this event (and future events) puts you in the running for the year-end novice championship.
For more information about race dates, location and entry fees, check out the Solo schedule of events and the Solo supplementary regulations. We want to see you there!
We use bar-code scanning equipment, this helps with both accuracy and efficiency, registration now REQUIRES ALL SCCA Members to input your SCCA Member #, and bring your membership card to the event when you check into registration.

***Your SCCA Member#, First & Last Name MUST match your national SCCA Membership exactly***
***IMPORTANT NOTE FOR PARENTS: Minor waivers require signatures from BOTH parents. Minor waivers are required for minors that will be in "hot zones" at the event (i.e. grid, course). Since the shelter at National Trail Raceway is in between hot zones, there must be a minor waiver on file for minors in the shelter area. A separate spectator viewing area away from the hot zones will be marked, which will not require a waiver to be in. The minor waiver form is available here: http://cdn.growassets.net/user_files/scca/downloads/000/014/422/SCCA_Minor_Notary_1068_09_15.pdf?1461713772

2018 OHIO VALLEY REGION Event Schedule
7:30AM
Site Open
7:30 - 8:30AM
Walk-in Registration
7:30 - 8:45AM
Online Registration Check-in
7:30 - 8:45AM
Tech Inspection Open
8:30 - 9:15AM
Course Open for Walking
8:45AM
Tech & Registration Closed
8:45 - 9:15AM
Mandatory Novice Course Walk and Meeting
8:45 - 9:15AM
Mandatory Formula Jr Course Walk and Meeting
9:20 - 9:40AM
Mandatory Driver's Meeting for

ALL Drivers

9:40AM
Drivers report to the Grid
 9:40AM
Workers report to Worker Chief
9:45 - 10:00AM
1st Car on Course