About this event
Our second competition event of the 2021 season will be May 2 at Pungo Airfield in VA Beach. This event will require pre-registration, and will have a cap of 60 participants maximum to maintain social distancing. $30 for SCCA members, and $40 for weekend members. Event operation will per our COVID-19 supplementary event regulations to comply with state and SCCA social distancing and other precautionary recommendations/requirements to ensure a safe fun event. We're excited to be able to hold events again! #funwithcars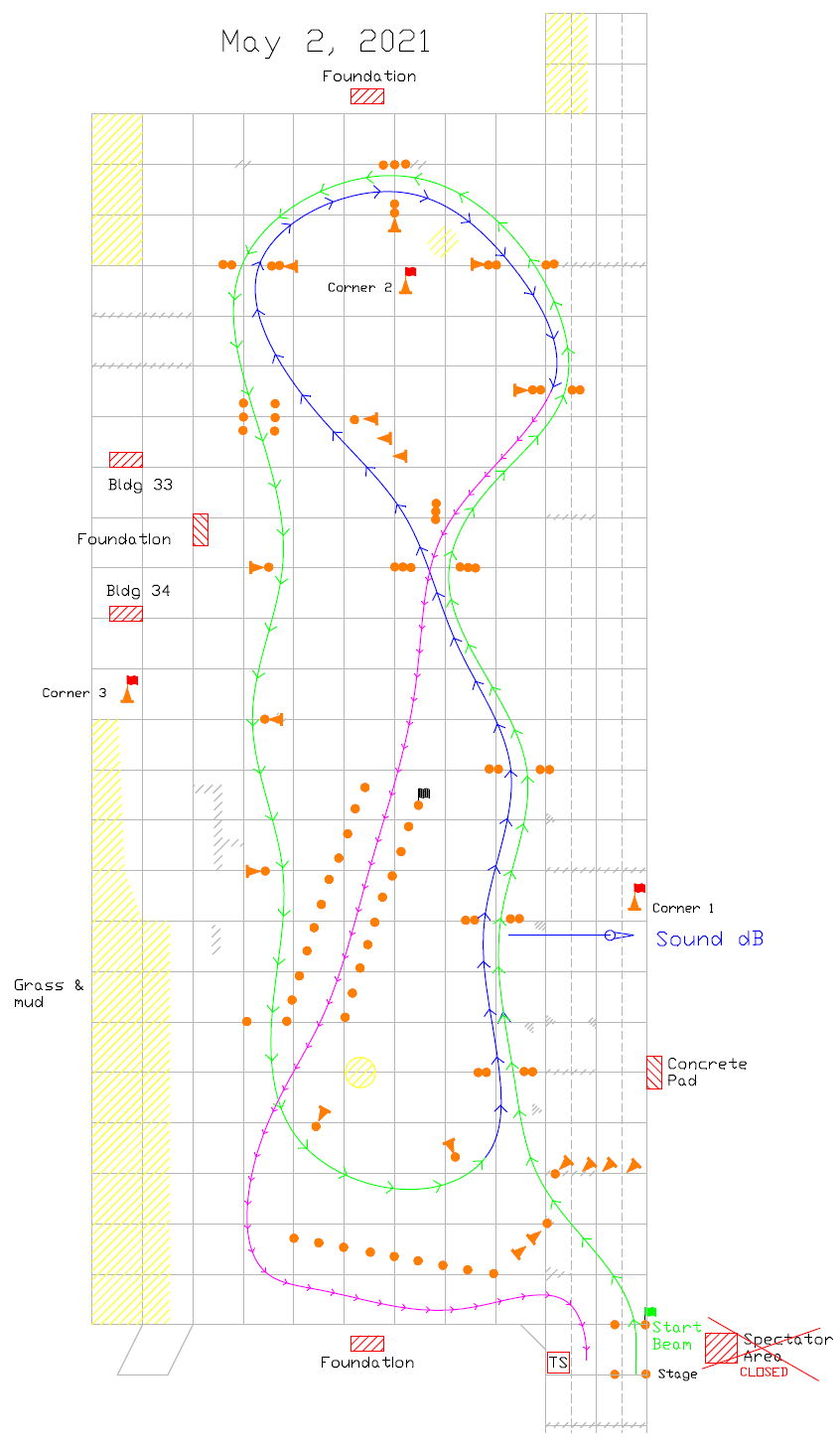 Event requirements
There are special restrictions for this event due to COVID-19. All competitors are required to bring their own helmet, face covering, and hand sanitizer. Please read the supplementary regulations for this event in their entirety!
ODR-SCCA
COVID-19 Supplementary Event Regulations
Effective May 2, 2021

1) ENTRY REQUIREMENTS
a) The following requirements are firm and non-negotiable. Failure to adhere will result in ejection from the site.
b) Competitors experiencing COVID-19 symptoms such as fever, cough, or shortness of breath are not permitted entry. Full refunds will be provided to anyone unable to attend due to medical symptoms.
c) Only competitors that have pre-registered and pre-paid may enter the site. No spectators, crew, or walk-up registrants are permitted. Due to difficulties in safely training new participants, only a limited number of first-event novices will be permitted for this event.
d) Wristbands will not be provided. All competitors must stop at entry and sign the waiver before being permitted to proceed to paddock. Pens will be provided for each competitors and will not be re-used.
e) All competitors must provide a helmet. Loaner helmets may be reserved in advance for the event on a first-come/first-served basis, and cannot be shared. Email odrsolochair@gmail.com if a loaner helmet is required.
f) All entrants are required to maintain a minimum 6' social distancing while on site. Exception: household members.
g) All entrants are required to use face covering at all times while on-site.
i) Exception 1: Face covering may be removed briefly while eating or drinking.
ii) Exception 2: Face covering is not required while inside car.
iii) Exception 3: Competitors wearing a helmet may perform servicing between runs, but may not leave the vicinity of their car without face covering.
iv) Exception 4: Courseworkers will not be required to wear face covering while active working and social distanced from other course workers.
v) Exception 5: Persons that have been immunized with the final shot at least two weeks prior are not required to wear face covering.
h) All competitors must carry hand sanitizer. Hand sanitizer will be provided if competitors do not have.
i) Competitors must park with sufficient paddock spacing to maintain social distancing.
j) Passengers are not permitted, with the exception of household members.
k) Participants that have been immunized with the final shot at least two weeks prior may ride or drive with another person, even if that person has not been vaccinated. Windows must be rolled down.
l) ODR-SCCA reserves the right to modify these regulations for safety as required.
2) TECH
a) Drivers will tech inspect portions of their own car with tech chief as observer.
3) GENERAL OPERATIONS
a) All frequently touched surfaces will be frequently disinfected including the portable restroom handle and seat, flags, and radios. At a minimum, cleanings will occur between heats.
b) All competitors will use hand sanitizer after touching potentially contaminated surfaces.
c) Heats will be limited to 10-17 drivers to maintain social distancing in grid.
d) Dual drivers must drive different heats. This is necessary to accommodate minimum cooldown for smaller heats. This also permits the vehicle to be disinfected between drivers.
e) Vending is presently prohibited by Virginia Executive Order and will not be provided. All competitors must bring their own food and beverages.
f) Worker stations will operate on a modified basis:
i) Have each worker assigned specific cones.
ii) Gloves will be provided for courseworkers: note that gloves are a mitigation measure, and courseworkers must still take care not to cross-contaminate.
iii) One car on course at a time to minimize red flags
iv) Vests will not be used. Competitors are recommended to wear bright shirts and avoid red.
v) Cone calls will be made via hand signals: "safe" for no cones, one hand in the air for a cone, and an X for off-course. Corner captains will be required to stand beside red flags and radios, but will not use them unless necessary.
vi) Course workers are encouraged to use gloves while courseworking, and to frequently hand sanitize.
Pungo Airfield
Virginia Beach, VA
SCCA - Old Dominion Region
More events from this organizer