The Great American Mountain Rally Revival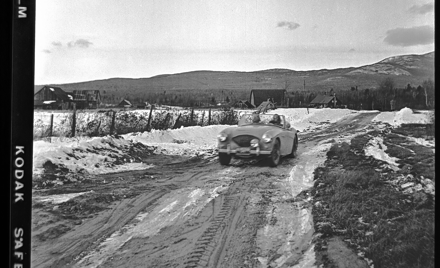 New England Vintage Road Rally
Friday, Oct 23 — Monday, Oct 26, 2020
Trapp Family Lodge
,
Stowe

,

VT
Registration closed September 6, 2020 11:59 PM on September 6, 2020 11:59 PM EDT Registration ends September 6, 2020 11:59 PM on September 6, 2020 11:59 PM EDT Registration opens August 9, 2020 8:00 AM on August 9, 2020 8:00 AM EDT Registration runs from August 9, 2020 8:00 AM to September 6, 2020 11:59 PM
PLEASE NOTE, OUR EVENT IS STILL ON LINE TO RUN!
Because of the Covid 19 situation we are postponing registration until August to see what the situation is.
Please check back to see about any additional information.
Hope to see you in October.
Be Well
History of the Original Great American Mountain Rallye 1953-1957
The flag dropped on the very first GAMR on Thanksgiving Day of 1953 and the rally continued every November through 1957. Described in the April 1956 issue of Auto Age as "America's longest, toughest, and coldest rallye," the races attracted driving teams from across America, Europe and Scandinavia. Conducted the weekend of American Thanksgiving, the rally typically featured challenging snowy weather through New York's Adirondack, New Hampshire's White, and Vermont's Green Mountains. Tire chains were an absolute must!
In its day, the Great American Mountain Rallye attracted top teams from around the world.  The Rootes team entered Sheila van Damm in 1953 and 1954.  The late great Stirling Moss also competed in this rally in 1954.  The great Maurice Gastonides, the 1953 Monte Carlo Rally winner, was a competitor as well.  One year, multi-time world driving champion, Juan Manual Fangio was the official starter.
This year will be the third running of the "Revival".  Our first two years were huge successes; and we plan on this year being as good; or better than last!
GAMRR 2020
GAMRR is a Hybrid rally incorporating a "Tour" and a Regularity Rally traversing approximately 400 miles.  There will be a course to follow through northern Vermont utilizing a Tulip style of instructions and a short map reading section.   
Friday a short run throughout the Stowe area will allow entrants to familiarize themselves with the timing system before the first full day of rallying on Saturday.
Saturday's rally follows the 1955 route over Smuggler's Notch to the Canadian border and then heads south through the chain of islands and along the shore of Lake Champlain before its return to Stowe. 
Sunday's event swings to the south - again following a route from the 50's – this time from 1956.   You'll encounter 4 mountain passes during its counterclockwise loop.
The rally is similar to the Monte Carlo Historique (300 + cars driving around southern France over 5 days.  Many 'cool' cars with drivers who want to enjoy the idea that they are in a competition; even though they may not be overly concerned with winning.  Many have service crews and meet up with friends or other competitors along the way. There are controls 2 or 3 times a day to keep the cars from getting too spread out (It is a rally after all).  They get together at night to trade stories.) 
A true TSD (Time Speed Distance Rally) utilizes checkpoints (controls) throughout the entire route and thus requires you to 'stay on time, all the time'  It is not our intention to create a rigid "structure" like a TSD; we feel you should be able to adjust your speed faster or slower as you want, provided you are not in a Regularity section.  You can even make a couple of short stops along the way - but there is a general time schedule throughout the day that you need to follow.  It's a relaxed 'rally' that will allow you to interact with other entrants during the day's competition and afterwards to share stories at the bar.
There are a number of sections throughout each day where you have to roll up your sleeves and try to stay exactly on time.  These are the Regularity sections.  In these sections we will be employing a modern system of GPS timing, eliminating the need for numerous Control Workers.  The timing system also enables us to have as few or as many controls as we see fit.  The scoring will be performed via an automated system, which will allow a timelier reporting of daily scores.
We do, however, want to maintain the flavor of the original rally and thus we will be limiting the technology that can be used by contestants.  In theory if the technology did not exist in the 1950's or early 1960's it is not allowed (with a few exceptions) for GAMRR 2020. 
Registration will open at the end of May.
REGISTRATION WILL BE LIMITED TO 30 CARS
Classes: (Subject to Change)
Original: Cars that could have competed in the 1950's GAMRs (model year 1957 or older)
Classic: Cars of model years 1958-1978
Modern: Cars of model years 1979 or newer
More info: https://www.facebook.com/historicrallyrevival/
Itinerary is subject to change as the rally is finalized.
As we enter the third year of this revival rally, we are incorporating "lessons learned" during the first two years.
We are dedicated to keeping this event in the spirit of the original events of the 50's with just a touch of modern-day conveniences.
We are certain you will enjoy it!