About this event
Motor State Distributing, Lane Automotive and Allstar Performance Products
Present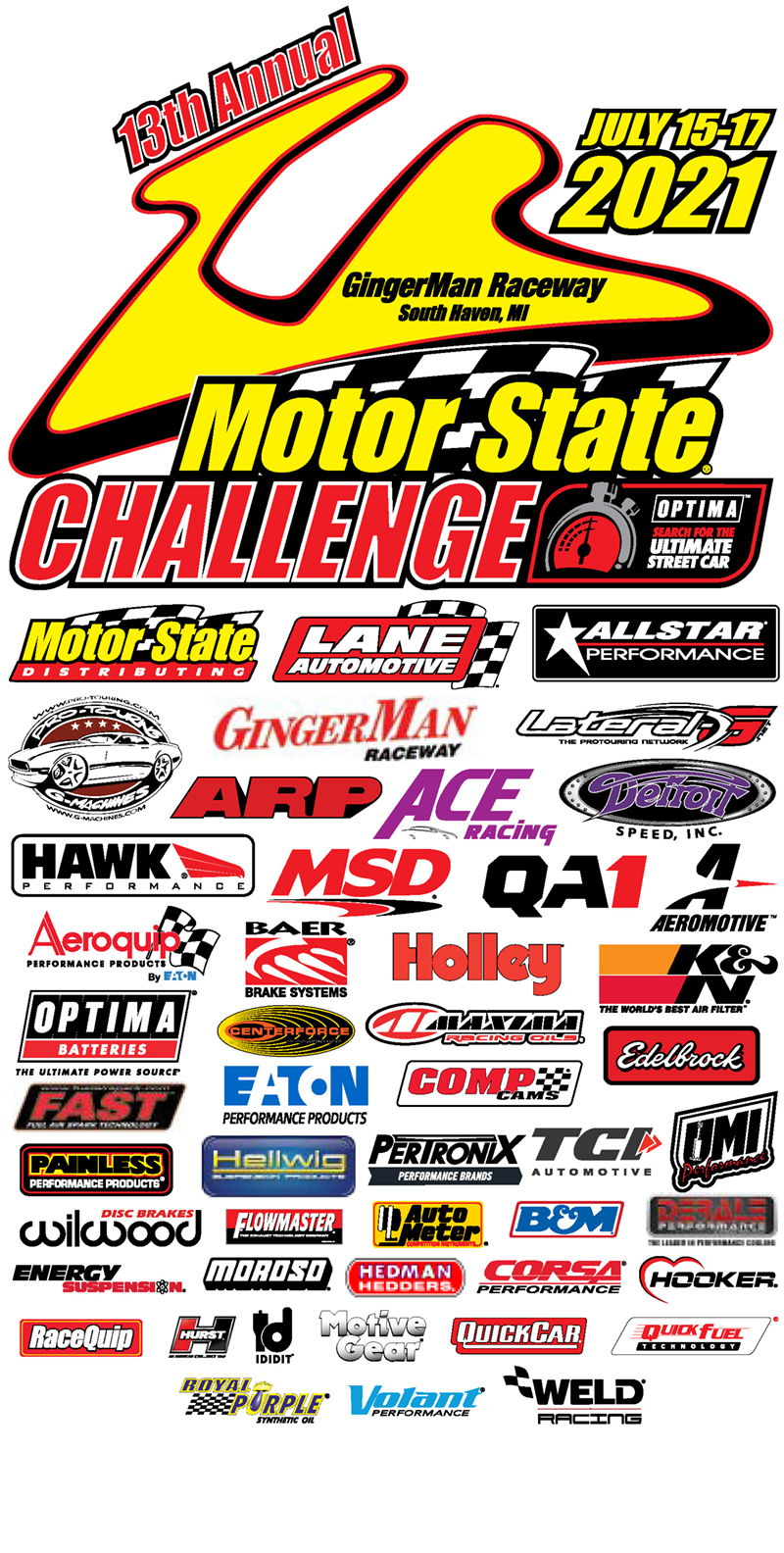 | | | |
| --- | --- | --- |
| Primary Sponsors | | Associate Sponsors |
| | | |
13th Annual Motor State Challenge, Optima Search for the Ultimate Street Car Open Event
The 2021 Motor State Challenge will once again see a division of the competition with two model year groupings - 1988 and Earlier and 1989 and Later - across three classes: standard, Manufacturer, and the new QA1 "#GoDriveIt" class. In addition, we will continue to have the non-competitive "Touring Group" class, which has no year boundaries and is not scored or timed.
Manufacturers participating in the event will be competing in the "Manufacturer Category" and are not eligible for prizes and giveaways, however they will compete in the "Manufacturer's Shootout" for the overall "Motor State Challenge Manufacturer Champion" trophies (Vintage and Late Model). Manufacturers will be assigned spots using the same criteria as all other competitors; therefore, they will be mixed within the established run groups.
A "Manufacturer" is considered any competitor who designs, builds, and sells parts that enhance the performance and/or look of a vehicle. This includes, but is not limited to, all vendors selling products through Motor State Distributing.
A "Manufacturer Vehicle" will be classified as any vehicle built and owned by the Manufacturer and driven by the Manufacturer, employee of the Manufacturer, or assigned driver of the Manufacturer. If the Manufacturer shares the vehicle with another driver, that vehicle will still stay classified as a "Manufacturer" vehicle.
The QA1 #GoDriveIt class is a timed competition open to any type of car or truck as long as it meets all of the requirements listed under Eligible Vehicle, with the additional requirement that it be driven to and from the event. Please note that if a vehicle is unable to complete the return trip after the event due to a breakdown, it would not be disqualified.
Participants in the #GoDriveIt class are also asked to document their trip by posting images to the #GoDriveIt social media page and tag them with #GoDriveIt #MotorStateChallenge2021 #QA1 and #MotorState. In addition to the standard points awarded for the timed competition, bonus points are awarded based on distance driven. See the scoring section for details.
We will do our best to match participants in groups with like skill level and speed.
GingerMan is a very open track with many safe run-off areas. It will still be stressed that you not let your speed exceed your skill level. With proper spacing and passing procedures, everyone will enjoy a safe outing with plenty of track time.
The GingerMan track day features road course hot laps without a speed regulating pace car. Timed sessions will be run for approximately 15 minutes each. Session duration is at the discretion of the SCCA race director. Since we're not limiting speed in the time trial groups, we will limit track time to prevent heat related malfunctions and failures such as brake fade and excessive oil/coolant temps.
Road Course Timing – Competitors will be timed using AMB Transponders.
If you do not have an AMB Transponder you will need to purchase one and have it mounted prior to the event. If you do not have your transponder prior to registering for the event, please remember to go back into your registration and add your transponder number once you have one.
If you need a transponder for your car/truck feel free to contact us. We have them in stock along with the mounting clips.

Optima Ultimate Street Car Open Event – In order to secure the OUSCI invite, the Spirit of the Event Award winner must compete in at least one of the OPTIMA Search for the Ultimate Street Car qualifying events during the calendar year in which the award was received. Official Rules and complete details on "The Optima Search for the Ultimate Street Car Open" are available by clicking on this link http://driveusca.com/.
Entry Fees
Thursday - Cruise, T-shirt, Dinner, and Car Show - $30
FULL Event Pass (Cruise, Track, and Track Sprint) - $275
Click "Continue" below to see a detailed schedule of events and important safety requirements.
Event requirements
Be Safe and Have Fun!
Always keep in mind that this is a hot rodding event--not all out 10/10th racing. Our goal is to provide a venue for enjoyment and camaraderie. It just so happens that we collect times along the way and tally the results. Previous events have taught us that experienced, consistent drivers place well. Good equipment helps. A wide variety of cars, regardless of parts selection or power levels, have placed well in the past. Small or big block; stick or auto; air or steel spring, the equipment is really just a good excuse for a "Gearhead Gathering". Drivers are the key to safe, successful competition. Excessive driving practices coupled with inexperience and/or mistakes usually lead to poor times, spinouts, broken parts—and crashes. It pains us to disallow a car for a bad battery mount, bald tire, or reckless driving. We understand that enforcement can ruin someone's day, but we will fully enforce all rules of safety and driver conduct.
Download the full rules and regulations for the 2021 Motor State Challenge.
Download the rules for the Optima Search for the Ultimate Street Car Open, or the Optima Ultimate Street Car Invitational.
Download more info on the Optima Ultimate Street Car Invitational.
Host Hotel Contact Information:
The Host Hotel will be Fairfield Inn and Suites/Surfari Joe's Water Park, Exit 41 off I-94 at Watervliet, Michigan. When calling and making a reservation tell them you are with the Motor State Challenge Pro-Touring group. All room rates now include admission to the Water Park attractions. Rooms are limited so make your reservations today.
Fairfield Inn and Suites/Surfari Joe's Water Park,
www.surfarijoes.com
8258 Arnt Blvd
Watervliet, MI 49098
(269) 463-7946
Visit Fairfield Inn & Suites Website
Thursday, July 15th Motor State Check-In, Cruise Night, and Dinner
1:00 PM - Check-In Opens (Fairfield Inn)
1:30 PM to 4:30 PM - Meet and Greet
4:30 PM to 5:00 PM - Drivers/Participant Meeting (Lane Automotive Parking Lot)
5:30 PM - Cruise Departs (approx. 40-45 miles)
5:30 PM to ? – Cruise and Dinner (Weko Beach, Bridgman - catered by NOLA-ROUX Cajun Eatery)
Friday, July 16th Gingerman Raceway Road Course
7:00 AM to 7:30 AM - MSC/SCCA Staff Meeting
7:30 AM Technical/Safety Inspection
8:15 AM Drivers' Meeting
9:00 AM - 4:30 PM - Track day at GingerMan Raceway Road Course in South Haven, Michigan. Drivers will be divided into groups, based on experience. Novice drivers will keep speeds to a prudent rate. Experienced and Professional drivers will be able to run the course at a faster pace but will still be expected to keep safety at the forefront. All drivers will be required to wear a SNELL 2010 (or later) rated helmet. There will be absolutely NO fender to fender racing allowed on the course. PLEASE NOTE: Convertibles will not be allowed to participate on the Road Course unless they are equipped with structurally secure, roll-over protection (roll bar or cage).
Saturday, July 17th Track Sprint, Gingerman Raceway Road Course
7:30 AM to 7:30 AM - MSC/SCCA Staff Meeting
7:30 AM to 7:45 AM - Registration, Drivers Meeting, and Course Walk
8:00 AM - First Car on Track
Competition will begin at 8:00 AM and continue until 11:00 AM. Awards will be handed out after the Track Sprint event. Food and snacks will be available at the concession stand.
Join us for three days filled with good times, good friends and the chance to experience the technological creativity and excitement that defines Pro-Touring. Due to the nature of this event, participation registrations will be limited. To secure a spot, please register as soon as possible. All events will run, rain or shine.
IMPORTANT NOTICE: TRANSPONDERS
The Gingerman track day portion of the Motor State Challenge is timed using AMB/Mylaps transponders. Participants are responsible for having their own transponder. You must include your transponder number on the registration sheet and have a your transponder securely mounted to your vehicle in order to get lap times at Gingerman. We no longer have transponders available to use.
We have put together some special pricing if you would like to purchase one from us. Keep in mind that the transponders have to be "activated" so PLEASE DON'T WAIT UNTIL THE DAY OF THE EVENT to purchase your unit. If you have someone you can borrow one from that will work as well, you just need to have your Transponder number on your registration sheet before registrations closes on July 17.
PLEASE NOTICE
IF YOU WANT TO ASSURE YOUR LAPS GET TIMED AND RECORDED AT GINGERMAN FOR THE MOTOR STATE CHALLENGE, IT WILL NOW BE YOUR RESPONSIBILITY TO HAVE A TRANSPONDER ON YOUR CAR.
For Special AMB/MyLaps Transponder Pricing Contact
Lane Automotive n at: 800-772-2678
All events run rain or shine
2021 Motor State Challenge Competition Guidelines
The following Rules and Regulations must be followed in order to compete for points in the Motor State Challenge.
Rules and Regulations

1. All competitors must have a valid driver's license.

2. Competitors must sign an Event Waiver. Passengers must sign an Event Waiver. A parent/legal guardian must sign a Waiver for minor/passenger on a per-event basis. Any competitor found to have driven the course in any vehicle before signing the waiver will be disqualified from the event, with no refund of entry fee, and will be removed from the premises.

3. All competitors must fill out a Tech Worksheet and successfully PASS Tech Inspection in order to compete.

4. Any driver considered by the Event Chairman and/or Race Director to be under the influence of alcohol or narcotics shall be disqualified.

5. Any driver who drives unsafely at or near the event location, or displays unsportsmanlike conduct, shall be disqualified.

6. Children under twelve (12) years of age and pets shall be prohibited in the staging, grid, start/finish, and course areas.

7. Smoking is not permitted in grid, staging areas, or anywhere near food preparation and consumption areas.

8. For refueling of vehicles, there will be at least one 10-lb. minimum Class B fire extinguisher available in the event of a fire during refueling. Furthermore, No Smoking allowed within 75' of any vehicle being refueled.

9. All competitors/passengers must be properly belted while in competition.

10. All competitors/passengers must wear a Helmet with an approved (Snell) SA2010 or newer while in competition. Helmet must be free from cracks, blemishes, or large scratches. Motorcycle helmets are not acceptable. All drivers must wear long pants. A long sleeve shirt is recommended, but short sleeve shirts will be acceptable.

11. Eye protection/face shield/goggles must be worn in a car without a windshield.

12. Footwear: The shoe must cover the entire foot.

13. These rules are subject to each event's location and are subject to each track's rules and regulations. Therefore, the Motor State Challenge rules shall be in accordance with the GingerMan Raceway Rules. It is the sole responsibility of each participant/spectator to abide by the rules and regulations.

14. Each participant/spectator is responsible for any and all damages brought on by themselves or their vehicles at the event. Therefore, they are responsible for any damages, legal fees, and clean-up fees assessed by the track or event coordinators. This relieves Motor State and the SBR SCCA of all responsibility for damages by participants/spectators.

15. These rules may be changed or revised by the Event Chairman and/or Race Director and will therefore apply to the event.

Eligible Vehicle
1. Must complete a Tech Sheet and PASS Tech Inspection.

2. A minimum of 3-point seat belts are required in all cars. Installation and the use of a racing safety harness are strongly recommended for vehicles running in Time Trial Competition. Attaching hardware for belts must be in good condition, secure and tight. 3-4-or-5-point harness must be installed and routed per manufacturer specifications.

3. CONVERTIBLES PLEASE NOTE: A structurally sound roll bar or cage is required on all convertibles to run the road course event. The top of the roll structure may not be below the top of the driver's helmet when the driver is in the normal driving position.

4. All loose items, inside and outside the car, must be removed. Hand-held items, such as, but not limited to, cameras and cell phones, are considered loose items. This also includes non-secured floor mats.

5. Any cameras, if installed, must be securely mounted to withstand driving maneuvers.

6. Wheels must be safely affixed. All studs and lug nuts must be present, functional and tightened to manufacturer specs.

7. Tires - Participants must use DOT approved, non-competition, treaded (non-grooved) street tires (no competition radials, no R compound, drag radials, or shaved tread) with a treadwear rating of 200 or higher. Eligible tires must be: a) in sufficient supply and b) commercially available to the general public. Tires will be required to pass a technical inspection. Any modifications or chemical treatments to tires will be unacceptable. Competitors with tires showing any evidence of modification will be immediately disqualified from the event. Safety is of the utmost importance and MSC officials will not hesitate to disqualify questionable tires and/or tire selections. Ineligible tires for 2021 include the Kumho Ecsta V720 ACR and other models that do not meet the above stated criteria.
Tire Condition: Tires cannot show any signs of abuse, checking, or obvious signs of age or neglect. Tires must have a minimum of 2/32" tread depth at the start of the event and must not show excessive wear. All entrants must have tires with a manufacturer date within five (5) years of the date of the OSUSC event being entered.

8. Throttle return action shall be safe and positive.

9. No excessive fuel, oil, water, radiator fluid, or brake fluid leaks should be observed.

10. Brakes must have an adequate pedal, sufficient fluid in the master cylinder, and no apparent hydraulic leaks under pressure. Vehicles must have a brake mechanism acting upon each wheel.

11. Wheel bearings, shocks, steering, and suspension shall be in good operating condition.

12. Exhaust must exit behind driver or to the side of the car and be securely installed. Mufflers are required unless sound level at participating event does not require such.

13. All batteries shall be attached securely to the frame or chassis structure.

14. Fuel tank/cell must be securely mounted in a safe location and vented if required.

15. Fire Extinguisher – a minimum of a 2.5lb dry chemical, ABC rated unit must be securely attached and accessible. Mandatory for Road course.

16. All vehicles must display car numbers, provided in your event packet, and must be readable by timing and scoring, course workers, and grid workers.

17. No passengers allowed on the road course unless passenger is driving instructor or approved by Race Director.

18. All driver/vehicle combination entries must compete in the same class with the same vehicle throughout the entire event to be eligible for overall points placement (MSC Champion, 2nd, and 3rd). Participants will still be eligible to win individual fast lap awards but will forfeit overall points placement should they change vehicles after completing any portion of the event.

19. It is the sole responsibility of the Competitor for the safe condition and operation of their vehicle in competition or on event premises. The inspector, inspection facility, Motor State Challenge/SCCA staff, and/or its member's or staff cannot and will not be held liable or responsible for any vehicle. I understand that problems, malfunctions, or damage may occur in connection with the operation of this vehicle prior to, during, or after the Track Event. I understand that any of the above items may be inspected at any time during the event. If any of the items are found unsatisfactory, the vehicle will not be allowed on track and the entry fees will be forfeited.

20. These rules and conditions may be changed or altered per event by the Event Chairman and/or Race Director of the event and are subject to the competitor's responsibility to know all the rules and regulations.

PARTICIPANTS ARE SOLELY RESPONSIBLE FOR THE SAFE CONDITION OF THEIR VEHICLE No participant will be permitted to drive their vehicle on the track without first completing a safety inspection by our SCCA safety crew. On-site inspection is an additional basic safety and mechanical check. On the day of the event, if your car is deemed unsafe by the SCCA safety crew, your car will not be allowed on the track.
GingerMan Raceway
South Haven, MI
Download track map
Watch a video tour/lap
SCCA - South Bend Region - Solo