Motor State Challenge 2020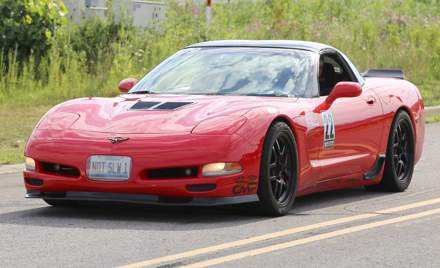 SCCA - South Bend Region - Solo
Thursday, Jul 16 — Saturday, Jul 18, 2020
GingerMan Raceway
,
South Haven

,

MI
Registration closed July 16, 2020 4:00 PM on July 16, 2020 4:00 PM EDT Registration ends July 16, 2020 4:00 PM on July 16, 2020 4:00 PM EDT Registration opens March 6, 2020 1:00 PM on March 6, 2020 1:00 PM EST Registration runs from March 6, 2020 1:00 PM to July 16, 2020 4:00 PM
Motor State Distributing, Lane Automotive and Allstar Performance Products
Present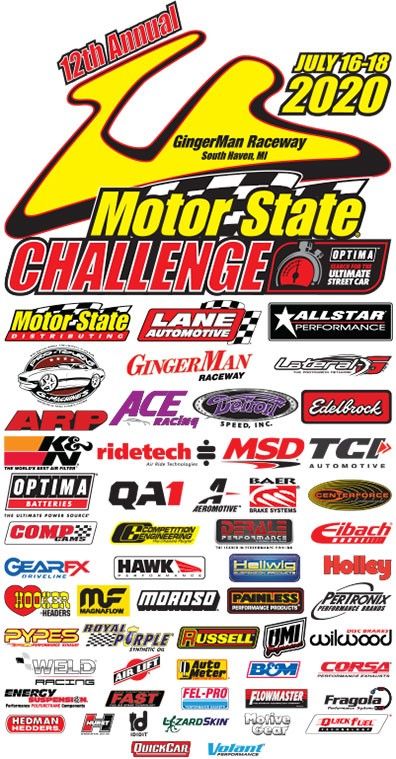 Primary Sponsors

 

Associate Sponsors

 

 

 

 
12th Annual Motor State Challenge, Optima Search for the Ultimate Street Car Open Event
The 2020 Motor State Challenge will once again see a division of the competition with two model year groupings - 1988 and Earlier and 1989 and Later - across three classes: standard, Manufacturer, and the new QA1 "#GoDriveIt" class. In addition, we will continue to have the non-competitive "Touring Group" class, which has no year boundaries and is not scored or timed.
Manufacturers participating in the event will be competing in the "Manufacturer Category" and are not eligible for prizes and giveaways, however they will compete in the "Manufacturer's Shootout" for the overall "Motor State Challenge Manufacturer Champion" trophies (Vintage and Late Model). Manufacturers will be assigned spots using the same criteria as all other competitors; therefore, they will be mixed within the established run groups.
A "Manufacturer" is considered any competitor who designs, builds, and sells parts that enhance the performance and/or look of a vehicle. This includes, but is not limited to, all vendors selling products through Motor State Distributing.
A "Manufacturer Vehicle" will be classified as any vehicle built and owned by the Manufacturer and driven by the Manufacturer, employee of the Manufacturer, or assigned driver of the Manufacturer. If the Manufacturer shares the vehicle with another driver, that vehicle will still stay classified as a "Manufacturer" vehicle.
The QA1 #GoDriveIt class is a timed competition open to any type of car or truck as long as it meets all of the requirements listed under Eligible Vehicle, with the additional requirement that it be driven to and from the event. Please note that if a vehicle is unable to complete the return trip after the event due to a breakdown, it would not be disqualified.
Participants in the #GoDriveIt class are also asked to document their trip by posting images to the #GoDriveIt social media page and tag them with #GoDriveIt #MotorStateChallenge2020 #QA1 and #MotorState. In addition to the standard points awarded for the timed competition, bonus points are awarded based on distance driven. See the scoring section for details.
We will do our best to match participants in groups with like skill level and speed.
GingerMan is a very open track with many safe run-off areas. It will still be stressed that you not let your speed exceed your skill level. With proper spacing and passing procedures, everyone will enjoy a safe outing with plenty of track time.
The GingerMan track day features road course hot laps without a speed regulating pace car. Timed sessions will be run for approximately 15 minutes each. Session duration is at the discretion of the SCCA race director. Since we're not limiting speed in the time trial groups, we will limit track time to prevent heat related malfunctions and failures such as brake fade and excessive oil/coolant temps.
Road Course Timing – Competitors will be timed using AMB Transponders.
If you do not have an AMB Transponder you will need to purchase one and have it mounted prior to the event. If you do not have your transponder prior to registering for the event, please remember to go back into your registration and add your transponder number once you have one.
If you need a transponder for your car/truck feel free to contact us. We have them in stock along with the mounting clips.

Optima Ultimate Street Car Open Event – In order to secure the OUSCI invite, the Spirit of the Event Award winner must compete in at least one of the OPTIMA Search for the Ultimate Street Car qualifying events during the calendar year in which the award was received. Official Rules and complete details on "The Optima Search for the Ultimate Street Car Open" are available by clicking on this link http://driveusca.com/.
Entry Fees
Thursday - Cruise, T-shirt, Dinner, and Car Show - $30
FULL Event Pass (Cruise, Track, and Track Sprint) - $275
Click "Continue" below to see a detailed schedule of events and important safety requirements.