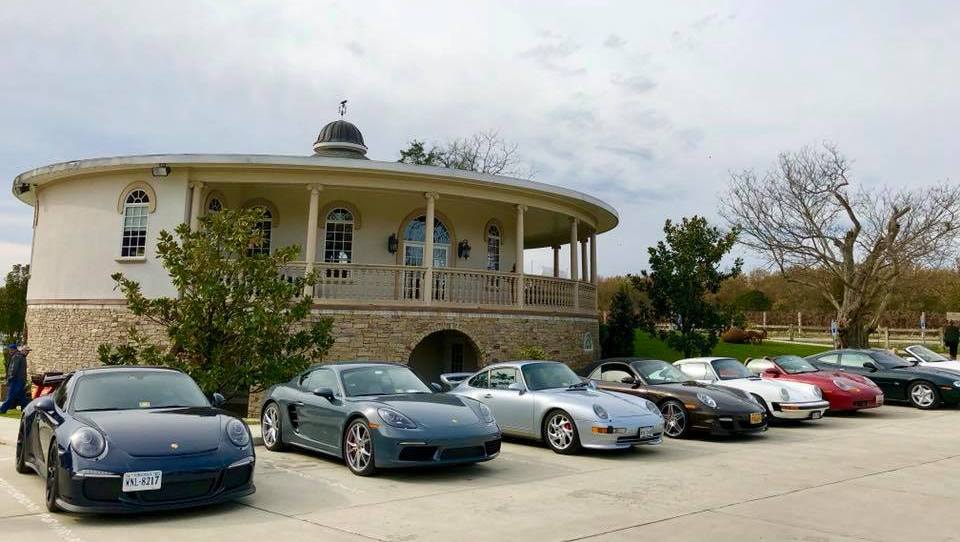 About this event
Join us on Sunday 11/15 for our last driving event of this long loong year!
When: Sunday November 15th, departing before 10 am from the Sterling VA area.
Where: Rally Point be provided to registrants.  
What: A scenic drive through Virginia back roads down to Bealeton, VA for our 7th visit to Morais Vineyards & Winery. We should arrive around 11:30 am.
Costs and Arrangements: Free to Drive with us.  There are no "tastings" permitted at the bar at this time,  but you will be able to purchase glasses, bottles, or flights of wine!  There will be bars set up upstairs as well as in the downstairs tasting room and outside.  There will be tables outside as well.
On Sunday Nov 15th Morais Vineyards will be hosting their Fall Festival featuring their wine, along with two food trucks (Puccio's Brick Oven Pizza and Paella Delicioso) and music!
There is NO CAR LIMIT and NO COST to drive to this event, but you must register no later than November 8.  so we know how many cars and people to prepare for.  
We will also be required to comply with Virginia and local requirements related to masks and social distancing during this COVID-19 era. At the winery,  please comply with the COVID-19 related restrictions within the venue. As with our other Drive and Dine events this year,  we will need to have more formal advance procedures than before.  All registered attendees will be provided a link so they can complete a virtual waiver online and via their smartphone, and all registered drivers MUST attend a virtual drivers' meeting the week before the event.  Information will be provided when you register.   No exceptions.   :)
SEE YOU NOVEMBER 15!
Event requirements
PLEASE NOTE NEW PROCEDURES FOR 2020:
We will be departing from a location near Sterling, VA (precise rally point will be shared the week before the event).  A COVID-19 waiver will need to be signed online, as well as our moving-event waiver (electronic version of the paperwork you signed at the rally point) as well as a waiver for children as needed.  Information on how to do this will be emailed to you prior to the event.
All Driver briefings are now held online the week prior to the event. They are MANDATORY for ALL participants, drivers and passengers alike. We will electronically provide you the latest Drive & Dine Rules, maps, and directions which you will be responsible for printing as needed.  Please advise in advance if you do not have a printer and we will make a hard copy as needed for you.
Members are encouraged to bring a Porsche, but may bring an interesting, alternative, but suitable vehicle.
APPLICATIONS/ACCEPTANCE
This event is limited by destination capacity, so please register early if you want to join us. 
PCA Potomac Drive & Dine rules will be followed for the safety of all participants. (Discussed at the Driver's Briefing). Watch the website for revisions.
We will notify you of your status by email. You are responsible for updating your profile in the MotorsportReg.com website to include your current contact information.
We initially list all registrants as "confirmed" for this event. When needed, we will change your status as soon as possible. We will provide formal notification of acceptance into an event by email prior to an event. If you haven't received any notification, check the MSR website for your status.
IF YOU CAN'T PARTICIPATE, IT IS YOUR RESPONSIBILITY TO CANCEL.
PAYMENT
PCA Potomac accepts only credit cards for payment. You are responsible for maintaining VALID CREDIT CARD INFORMATION in your profile.
Payment will be collected upon registration.
Billing problems result in notification by email with limited time to resolve the issue due to the short billing period. If the issue is not resolved, we may cancel you from the event.
Credit card and billing information uses secure connections and is protected by MotorSportReg.com. You are the only person who has access to your card number. We only see the last four digits for billing purposes.
We will not charge your card immediately.  We will run charges approximately 10 days prior to the event.
CANCELLATION
If you must cancel, please be courteous and cancel as soon as you can so we can plan appropriately
If you cannot cancel online, you must notify the Registrar by email and receive an ACKNOWLEDGMENT by email to verify that you have canceled.
Morais vineyards & winery
Bealeton, Va
More events from this organizer