MBCA - Legends of the Autobahn 2017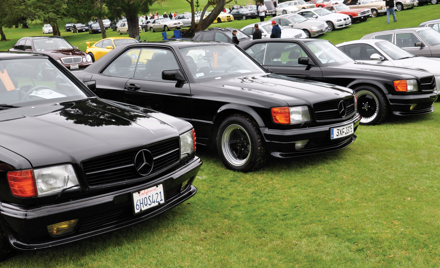 MBCA - Legends of the Autobahn
Friday, August 18, 2017
Nicklaus Club-Monterey
,
Monterey

,

CA
Registration closed August 7, 2017 11:59 PM on August 7, 2017 11:59 PM PDT Registration ends August 7, 2017 11:59 PM on August 7, 2017 11:59 PM PDT Registration opens February 28, 2017 9:00 AM on February 28, 2017 9:00 AM PST Registration runs from February 28, 2017 9:00 AM to August 7, 2017 11:59 PM
Early-bird registration ends on July 31st at 11:59PM.  After July 31st, a late fee of $15 for the Judged Concours and $10 for the Corral and Preservation Class will be applied. Late registration closes on August 7th! 
Welcome to the MBCA Legends of the Autobahn(r) 2017 presented by Michelin. The Mercedes-Benz Club of America invites you to be part of this very popular event. Co-hosted by MBCA, BMW Car Club of America, and Audi Club North America, this one-day MBCA national special event is the best venue to see classic Mercedes-Benz automobiles during Monterey Car Week. 
Join us this year we celebrate 50 Years of AMG!  Automobiles with AMG modifications will be displayed on the show field, along with AMG vehicles from Mercedes-Benz USA and Mercedes-Benz Classic Center.
We're also pleased to welcome back Keith Martin, editor and publisher of Sports Car Market, as emcee.  Legends of the Autobahn is presented at the prestigious Nicklaus Club in Monterey, California.
MBCA members are invited to show their Mercedes-Benz in the Concours, Corral, or the Silver Star Preservation Class:
Judged Concours:  All Mercedes-Benz models from 1997 and older are welcome in the eight judged Concours classes. Vehicles will compete for Best in Class, Best of Marque, along with People's Choice and other special awards. A $75 registration fee applies to cars in the Concours classes.

Class 1: 1886-1962 Vintage Cabriolet, Convertible, Roadster
Class 2: 1886-1959 Vintage Sedans, Coupes
Class 3: 1963-1971 Classic Cabriolet, Coupe, Roadster
Class 4: 1960-1971 Classic Sedan and Station Wagon
Class 5: 1972-1997  Modern Cabriolet, Convertible, Roadster
Class 6: 1972-1997  Modern Coupe, Sedan and Station Wagon
Class 7:  1967-1991 AMG Pre-Merger
Class 8:  1992-1997 AMG Post-Merger
Class 9:  1967-2017 Modern AMG, AMG Tributes/Clones, or Modified (cars displayed on the Concours show field, not judged. Automobiles will be eligible for Special Awards)

Display-only Car Corral: Mercedes-Benz models of all ages are welcome in Corral. The three car clubs will have separate Concours judging, but the corral area will combine all three marques. A $40 registration fee applies to cars entered into the corral.

A display-only corral for M-100 group members as been added (Grand 600, 300SEL 6.3 and 450SEL 6.9 automobiles). 

Silver Star Preservation: This special class is for members who want to show their well-preserved, largely original, and unrestored-since-new Mercedes-Benz on the Concours field, but not have it judged. It is intended for driver-quality cars that have withstood the ravages of time, climate, and daily driving. To enter this class, your car must be 25 or more years old, be in good working order, driven to this event under its own power, and be largely original (including engine and drivetrain). Partial refurbishments of various components are acceptable, but not complete restorations (those should register in a judged class 1-7).  An MBCA judge will evaluate the vehicle, and after it is certified, the owner will receive a special Silver Star Certificate in recognition of the preservation of originality and maintenance of functionality.  A $60 registration fee will apply for entries in the Silver Star Preservation Class. 
A breakfast buffet, lunch, and event shirts are optional and can be purchased during your registration on the following pages. 
You can also visit the special manufacturers' displays, food and beverage tents, a biergarten, club and vendor booths, and more. For 2017, more Food Trucks and restrooms are being added.
Register your car now, and spend a fun-filled day with other enthusiasts among beautiful cars!