About this event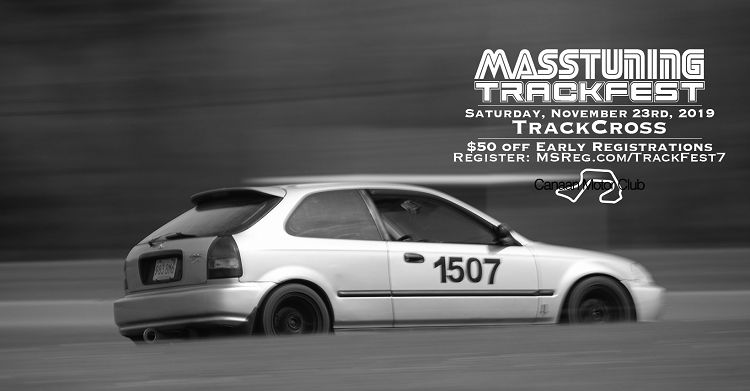 Canaan Motor Club has finally been repaved and we're celebrating with one last day of educational, high performance driving! No timed racing, no trophies. Simply a focus on safety and fun on a legal road course. This is a TrackCross car control clinic!
This track day is open to all, including novices in regular street cars. Registered drivers will have 2 hours of track time. There is a cap of 50 drivers.
This event is snow, rain or shine. Everyone including spectators is welcome to bring a tent, chairs, food, cameras and ask for ride-alongs. On-site camping will be available Friday night (must arrive between 5pm and 9pm).
Helmet rentals are available on a first come, first serve basis at $20 per day for anyone interested including both drivers and ride-along passengers.
There is also a MassTuning hotel group rate of $63+tax/night at the Super 8 in White River Junction! Room options are two double beds or one queen bed and breakfast is included.
Facebook event page: www.fb.com/events/449627489008891
Registration Fees:
Early TrackCross Registration: $99/day (limited to the first twenty drivers who register)
Regular TrackCross Registration: $149/day
Optional Helmet Rental: $20/day
Schedule:
TrackCross (Saturday)
7:00am – Registration
8:15am – Drivers' Meeting
9:00am – Advanced
9:20am – Intermediate
9:40am – Beginner
10:00am – Advanced
10:20am – Intermediate
10:40am – Beginner
11:00am – Advanced
11:20am – Intermediate
11:40am – Beginner
12:00pm – Lunch Break
12:30pm – Indoor Classroom
1:00pm – Advanced
1:20pm – Intermediate
1:40pm – Beginner
2:00pm – Advanced
2:20pm – Intermediate
2:40pm – Beginner
3:00pm – Advanced
3:20pm – Intermediate
3:40pm – Beginner
Event requirements
Driver Requirements:
DOT certified helmet and closed toe shoes will be required. Short pants and short sleeve shirts are allowed.
Drivers must attend the morning driver's meeting. Make prior arrangements with the event organizer before the day of the event if you absolutely can not make it.
Be alert and pay attention to all flaggers and track officials. If you do not, you will be sent off track. Repeat offenses will result in being ejected from the track.
At all times and in all run groups, passing is done only with point-bys and only in designated passing zones.


Track Requirements:
If your car is considered to be too loud, you will be given a warning and asked to either add a silencer insert or keep RPMs low on the track. This mostly applies to straight-piped, naturally aspirated cars.
If a catastrophic failure occurs, pull off the pavement, and onto the grass immediately. Respect the track surface.
Keep the pits clean. We operate on a carry in, carry out policy. You are responsible for all belongings and trash. Respect the facility.
All spills must be cleaned IMMEDIATELY.
Canaan Motor Club
Canaan, NH
Download track map
Watch a video tour/lap
More events from this organizer