Letzte Minute '20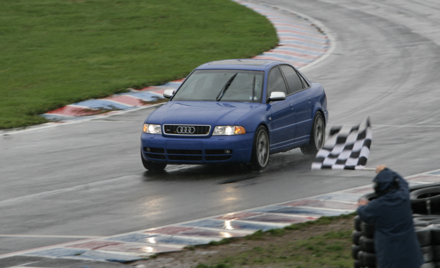 Audi Club NA - Northwest Chapter
Sunday, May 17, 2020
Ridge Motorsports Park, Road Course
,
Shelton

,

WA
Registration closed May 16, 2020 4:59 PM on May 16, 2020 4:59 PM PDT Registration ends May 16, 2020 4:59 PM on May 16, 2020 4:59 PM PDT Registration opens May 15, 2020 6:00 PM on May 15, 2020 6:00 PM PDT Registration runs from May 15, 2020 6:00 PM to May 16, 2020 4:59 PM
PLEASE READ CAREFULLY: This event is quite different compared to our typical HPDE events.
Audi Club Northwest (ACNW) presents Letzte Minute to take place Sunday, May 17th at Ridge Motorsports Park (RMP).
On May 14th, Washington state Governor Jay Inslee issued additional guidance for outdoor recreation in phase 1 and phase 2 to include participant-only motorsports.  The ACNW board believes the club is well prepared to meet and exceed state guidelines for track events and therefore has decided to pull together a last-minute event for this Sunday.
Of special note: PLEASE make sure and read the requirements on the next page, including the linked driver's handout. You will be expected to bring many things that are not usually required for our normal events.  In addition, you will be expected to comply with the requirements that will be provided in documentation prior to the event.  It is imperative that you read and follow these requirements so we can conduct a safe and successful event.  This is a difficult time, and ACNW is going to be hyper-responsive to both the state and the track requirements regarding the spread of COVID-19.  We all must take responsibility for making this a low risk event.   
We are structuring the event as follows:
Only solo drivers that have previously driven solo at an ACNW event may register. There will be no in-car instruction. Only the driver will be allowed in the car.
The number of participants will be limited to 50. No guests will be allowed. If the number of registrations is too small to make this event financially viable, we will cancel the event.
We will NOT be renting helmets at this event, so you will need to bring your own helmet that meets the minimum requirements. See next page for details.
The format will be open lapping. Each day will start with half the participants driving for the first 30 minutes of the day, and the other half will drive for the second 30 minutes of the day.  After that, anybody may drive whenever they want, for as long as they want; but we will meter the total number of cars on track to about 25. The track will be hot from 9:00AM-12:00PM and then 1:00PM-5:00PM both days.
Everyone who registers will first be placed on the waitlist, as we have been doing for the past year or more. We will then confirm up to 50 people into the event in order of registration time but prioritizing people that had registered for Matt Ammon Memorial Lapping Days at the beginning of the registration window.  In other words, don't wait to register.
Driving fees for this event are $325 for one day. Note that these fees are roughly 10% more than our usual fees, but you will get substantially more driving time than our typical event. As always, it is the Club's intent to structure fees so that, on average, we break even financially for a given event. Our calculations show that we should be able to (barely) break even for this event provided that we fill it at 100% capacity.
Lunch is not included in these fees.  We recommend that you bring your own lunch or drive off facility for a drive-through option in town.
If you have any questions about registration, your qualifications or anything else, send a message to the registrar or the event master Pat Martin.