Karting Members-Only Arrive and Drive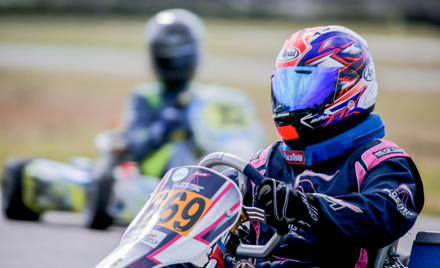 NOLA Motorsports Park
Friday, May 8 — Sunday, May 10, 2020
NOLA Motorsports - Kart Track
,
Avondale

,

LA
Welcome to Karting Member-Only May
Our Arrive & Drive Karting is OPEN for members-only to drive FREE HEATS for the Entire Month.
*free karting heats capped at 8 heats a week per member to maximize capacity for all of our members, so register early and reserve your spot on the track.
Karting members get intense perks year-round, and while we're reopening at a limited capacity, get exclusive access to the track. Sign up today and start taking your karting experience to the next level. All you need is reserve your heats here and make sure you have a Racefacer profile (where you'll sign our karting waiver).
SIMPLY REGISTER HERE FOR $0 TO RESERVE YOUR HEAT(S).
MAY HOURS
FRIDAY - SUNDAY  |  10am - 6pm
Register by the hour and we'll put you a heat based on capacity. Make sure to show up 30 minutes early as we will be operating differently to accomodate extra safety precautions to prevent the spread of COVID-19.
Heat Schedule
10:00AM - 11:00AM - 3 heats (30 driver capacity)
11:00AM - 12:00PM - 3 heats (30 driver capacity) 
12:00PM - 1:00PM - 3 heats (30 driver capacity)
1:00PM - 2:00PM - 3 heats (30 driver capacity)
3:00PM - 4:00PM - 3 heats (30 driver capacity)
4:00PM - 5:00PM - 3 heats (30 driver capacity)
5:00PM - 6:00PM - 3 heats (30 driver capacity)
(Schedule and Capacity subject to change)
Extra Safety for COVID-19
Of course, with COVID-19 precautions still a necessary part of life and business, we will be taking the utmost care to provide a safe and responsible outlet for your driving needs.
All waivers will be digital and sent to your personal cell phone or computer.
 
We will not be utilizing the indoor part of our karting center. Instead, we will be setting up outside so as to maximize airflow and distancing.
 
We are advising each racer to bring his or her own helmet. For those who need to use our helmets while their helmet is being delivered, we will be heavily disinfecting helmets and ensuring that we do not share helmets throughout the day
 
Our staff will be wearing masks at all times and will be regularly disinfecting equipment, screens, bathrooms, and doors. The front and back doors will remain open at all times to provide maximum airflow for drivers who need to access our restrooms inside the center.
So come out and take part in some extreme social distancing on the karting track. Start your membership today.
Karting Membership Experience Specialist
Kari Kitts - k.kitts@nolamotor.com