Introductory FV DriverzCup (open) Test Day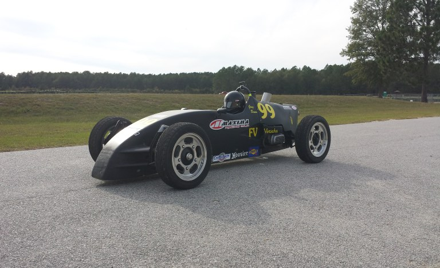 DriverzCup
Thursday, September 6, 2018
Roebling Road Raceway
,
Bloomingdale

,

GA
Registration closed September 4, 2018 11:59 PM on September 4, 2018 11:59 PM EDT Registration ends September 4, 2018 11:59 PM on September 4, 2018 11:59 PM EDT Registration opens June 14, 2018 11:59 PM on June 14, 2018 11:59 PM EDT Registration runs from June 14, 2018 11:59 PM to September 4, 2018 11:59 PM
Currently, the DZC event will consist of 5 (15 minute) sessions (time permitting) & a DZC Feature Race.  Winner of the DZC Feature will be the 2018 CHAMPION.  Additional classes/groups will be all "Formula Vee" - including DZC, Vintage Vee, regular FV, Challenge Cup, FST and FSV. Production cars are also  welcome to participate in this test day with Slingshot, Big Bore and Small Bore sessions (see proposed schedule next page).  If you are "FV" and  would like to TEST the DZC tires, please contact info@DriverzCup.com and make a request. We will do our best to find a set that you can test in at least one session .. maybe more. FST & FSV cars obviously would not be able to take advantage of this offer due to the different wheel lug pattern. 
This is planned to be a 'no frills' event dedicated to " SINGLE CLASS"  FV RACING - something that has pretty much disappeared from SCCA in recent years.  At this time, we have no plans for prize money or contingencies - just an event to race against just your own class. We encourage everyone to plan for a cookout of some sort where we all bring whatever we have as our 'social'. Additional details will be posted on DriverzCup.com as the event approaches and we get a better idea of how many entries we have.
This event is presented by Driverz Cup, LLC, FV related (FV, VFV, FST, DZC, FSV) participants in this test day are REQUIRED to also register for the VDCA 55th FV Anniversary event.
We are not accepting credit cards here on MSR for this event - You must make arrangements to deliver checks, money orders, or cash to Greg Bruns.  All entry fees will need to be processed (turned into REAL MONEY) before the event in order to pay for the track, so keep that in mind and set aside your money early :-). Greg is now also set up to receive funds via PayPal. For a small conveniance fee of 3%, you may pay your fee by going to PayPal.me/DriverzCup , enter the amount ($185 = $190.55 and $250 = $257.50) and you will be taken to PayPal where you can log in and complete the transaction. The track will have an ambulance and crew as well as at least one wrecker .. hopefully, we won't need either.
The entry fees are (15 minute sessions)
DZC = $250 => 6 sessions including the 2018 Championship event as the last session of the day.
"Other FV" = $185 => 5 sessions  (Vintage, FST, Challenge Cup, FSV) to run concurrent with all DZC sessions except the Championship session. 
Slingshots = $185 => 5 sessions
Small Bore 'Fenders' = $185 => 5 sessions
Big Bore 'Fenders' = $185 => 5 sessions
These prices beat normal event test day costs by measurable amounts.
Please register early so we can make the best plans for this event.
For the latest information, please go to 
http://www.DriverzCup.com