Instructor Summit with Ross and Data @Driving Club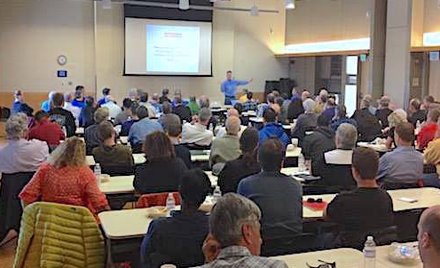 Instructor Summit
Saturday, Jan 18 — Sunday, Jan 19, 2020
The Driving Club at Road Atlanta
,
Braselton

,

Georgia
Registration closed January 17, 2020 11:59 PM on January 17, 2020 11:59 PM EST Registration ends January 17, 2020 11:59 PM on January 17, 2020 11:59 PM EST Registration opens December 17, 2019 12:00 AM on December 17, 2019 12:00 AM EST Registration runs from December 17, 2019 12:00 AM to January 17, 2020 11:59 PM

SATURDAY:  Instructor Summit with Ross Bentley powered by APEX Pro and sponsored by Winding Road Racing (9am - 4pm)
SUNDAY:  Basic Introduction and Data for Instructors and Drivers brought to you by Winding Road Racing (8am - 12 noon)
The Instructor Summit series of seminars and workshops was designed to bring forward thinking DE Instruction and best practices to current, legacy and future DE instructors.  This 1 day program is geared to bringing instructors and classroom curriculum theory together and put it into practice via workshop exercises.  You will learn best practices on meeting and greeting your driver for the first time (and put it into practice), effective in-car coaching and instructing techniques, successful after session downloads using a variety of verbal, paper and electronic track maps all the way up to supportive customer retention techniques.  Do you want to be both a better instructor and the one all your students brag about?  Would you like to discover what you might be doing that is actually getting you results contrary to your objectives?  This 1 day program is for you. Learn and develop skills that grow our industry and turn new drivers into long term road course driving fans.  
For new and legacy instructors looking for a platform to reset our build upon you'll be interested in the deep dive into proper and effective techniques used by Ross and coaching professionals in the Pro coaching industry.  Perhaps you "skipped" formal instructor training or would like a refresher---this program is for you.  Perhaps you are looking to become an instructor in the future----this program is for you.  Perhaps you didn't get all you wanted our of your instructor training---this program is for you.
Between learning modules we will speak to the role of safety, insurance, data and include an update on the various industry initiatives along w Motorsports Safety Foundation future programs.
Sunday's half day Intro to data workshop is based on successfully introducing drivers and instructors to the basics of data with focus on the Speed Trace, Longitudinal G, Lateral G and friction circle basics.  This workshop is hands on and converts the person knowing nothing or very little about data to a driver who knows the basics.  To date over 300 instructors and drivers have attended this workshop and have learned just the basics of data.  This program was purposely designed to have a high success rate by keeping it simple and far from complex. Instructors will have the ability to use data with their students to point out coasting, lazy brake initiation, not using all the tires grip and over braking prior to apex---some of the most common issues a new driver experiences and those common issues instructors see at the track.  Learn these basics as a building block to better driving and add data to your instructor tool box.  A laptop or smart phone or iPad is highly recommended.  We will be using AIM, APEX Pro and Track attack.  Any device or data can be used as the focus will be on the Speed Channel (the money channel), Longitudinal G and Lateral G.  It is recommended to download ISO APEX Pro free software, TrackAttack.io free PC or MAC software and/or AIM Race Studio. All are not required but having one of these will greatly enhance your learning and understanding.  APEX Pro for IOS is the simplest and quickest to download, it's free and no device is required to review data we will supply to you.  Road Atlanta data will be used for this workshop.
This program is open to everyone (including non-instructors) and shares driving and Instructing best practices currently in use in the BMWCCA, PCA, NASA, HOD, Chin, Ferrari Club, Audi Club and many, many other organizations.
Attendance for both events is limited to 150.
Partners for this event include Winding Road Racing and The Driving Club at Road Atlanta.  Consider attending Sunday's 1/2 day intro to data for instructors program to add data knowledge to your own driving therefore confirming you are driving optimally and therefore teaching proper concepts.  Instructors driving sub-optimally teach these same sub-optimum techniques.
A Pay Per View Live Stream is planned for this event and details will be posted in the future.
There is no host hotel for this event.
Special Thank you to Winding Road Racing at Road Atlanta.