GVC Taste of the Track I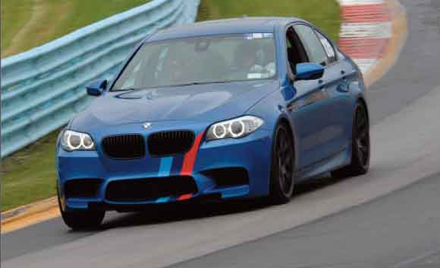 BMW CCA - Genesee Valley Chapter
Friday, April 27, 2018
Watkins Glen Int'l
,
Watkins Glen

,

NY
Registration closed April 20, 2018 11:59 PM on April 20, 2018 11:59 PM EDT Registration ends April 20, 2018 11:59 PM on April 20, 2018 11:59 PM EDT Registration opens March 10, 2018 12:00 AM on March 10, 2018 12:00 AM EST Registration runs from March 10, 2018 12:00 AM to April 20, 2018 11:59 PM
Welcome to GVC's "Taste of the Track"
A half-day intro to HP driving schools
Have you ever thought about taking a HP Driving School on a world-famous racetrack, but for one reason or another haven't pulled the trigger?  Maybe the opportunity never arose, or the timing was bad, or you think you don't have a suitable "track car".  Maybe you just weren't willing to shell out hundreds of dollars in fees, let alone the cost of lodging and meals, to spend an entire weekend of your precious time at a driving school when you have no idea what a HP driving school is all about, or whether it's something you would actually enjoy taking.  
Well, GVC has a program just for you!
Taste of the Track is a low-pressure, low-risk, and low-cost introduction to the sport of high-performance driving, open to members of the BMW Car Club of America.  Unlike a typical two-day HP driver's school, it only takes up an afternoon of your time. You won't need to shell out for one or two nights in a hotel, a couple of days of meals out, or three or four tanks of fuel for your car. Because Taste of the Track is run on a Friday afternoon on the first day of a regular three-day weekend driving school, you will not only get to see a full-scale driving school in action, but also directly experience the thrill of driving with your own highly-trained instructor on one of the most famous race tracks in the world.
Taste of the Track begins with check-in and on-site tech inspection at 11:00 AM, followed by a meet-and-greet with your GVC instructor and driving school staff over complimentary lunch in the WGI Media Center.  After lunch, you and your fellow "rookies" take a short guided tour of the track facilities and driving school paddock on the way to "ground school" in the Kendall Garage. First there's a brief Driver's Meeting (mandatory at all driving schools).  Next, the group attends a classroom session specifically geared toward Taste of the Track first-timers to go over the basics of high-performance driving, as well as driving school safety regulations and procedures.
After "ground school" the fun really begins!  You will hop into your instructor's car for a short ride-along on the track to familiarize you with the layout, and let you experience how a skilled, highly trained driver safely negotiates the Glen's historic 3.4 mile-long road course at speed. Then, you come back to the paddock to switch into your car for a half hour session driving the track with your instructor coaching you from the passenger seat.  You will learn about how to safely enter and exit the track, where and when to accelerate, brake, and turn according to the fundamental techniques of HP driving, all at a pace you are comfortable with.  At the end of the session, the group reconvenes in the classroom for a debriefing session, where you can share experiences with your fellow drivers, instructors and staff.
Complimentary perks include:
Event shirt
Mechanical assistance should you need it, provided on-site by experienced mechanics of The Little Speed Shop
Use of a loaner helmet (if you bring your own, it must be rated Snell 2010 or 2015, SA or M).
Schedule (times are approximate):
11:00 AM – Arrive at the track for check-in and on-site tech inspection (NOTE: On-site tech is simply a review of your pre-event tech inspection form to verify that it accurately reflects the condition of your vehicle; a complete pre-event tech inspection is required within the month prior to the event).  Bring completed pre-event tech and med forms, and your helmet if you have one to check-in.  If you plan to use one of our loaner helmets, you'll be provided with one at check-in.
12:00 PM – Meet-and-greet over lunch* with your instructors in the Media Center cafeteria.  
*Note:  Buffet lunch is included in the price for ToT participants. Guests may purchase lunch for $12 (cash at the door). 
1:00 PM –  Brief tour of the driving school paddock and Kendall Garage area.  A good time to use the facilities!
1:15 PM – Driver's Meeting:  Track rules (passing zones, passing technique, point-byes), flags and their meaning, getting your car ready for the track (tire pressures, wheel bolt torque, etc.).
2:00 – Classroom session
2:45 – Comfort break and vehicle staging
3:00 – Familiarization laps with your instructor  
3:15 - 3:45 – On-track driving session with you at the wheel, accompanied by your instructor
4:00 – Debrief with instructors and staff 
Taste of the Track is open to licensed drivers over 18 years of age.  Membership is NOT required for this event.  Not a member? Sign up on the BMW CCA website:  http://www.bmwcca.org
Makes a great gift!
Registration limited to 12 drivers!  ToT is a very popular program, so don't delay, sign up today.
For more information about our driving school program, please use this link to the GVC website:  GVC Driving Schools