FAST Open Autox - Jun 29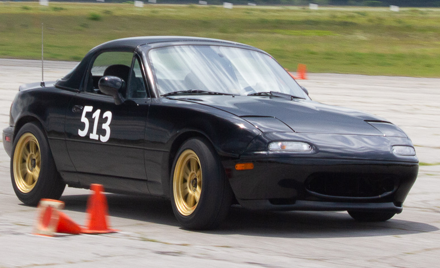 FAST
Saturday, June 29, 2019
Dunnellon - Marion County Airport
,
Dunnellon

,

FL
Registration closed June 26, 2019 11:59 PM on June 26, 2019 11:59 PM EDT Registration ends June 26, 2019 11:59 PM on June 26, 2019 11:59 PM EDT Registration opens May 31, 2019 12:00 AM on May 31, 2019 12:00 AM EDT Registration runs from May 31, 2019 12:00 AM to June 26, 2019 11:59 PM
This is a FAST Open event, and it's at Dunnellon. The SCHEDULE will be slightly different, be sure to check it!
We did an Open at Dunnellon back in early May, and it worked GREAT! Part of what makes it work is doing a slightly smaller event So, the entry limit is 48 DRIVERS per session! This gives us time for at least 4 and probably 5 runs.
We've lost access to our favorite chunk of concrete in Brooksville, but we're thrilled to have another airstrip available for these events! We're going to do our best to emulate the same great FAST Open experience that you're used to, so come check it out!
There are 12 events in the 2019 FAST Championship, and this is event #11. The competition has been INTENSE this season, and it's STILL not done yet! But, you don't have to give that too much thought. Just come have some fun!
This will be a Split Event. There will be an early session and a late session, each run independently. All drivers will run on the same course, and the two "separate events" will be combined for final scoring. Carefully select your option on the registration form to be sure you are signing up for the correct session.
IMPORTANT:
Dunnellon is a secure site, and we only man the gate for check-in at certain times. If you are late, no one will be there to let you in!
All drivers AND guests must be pre-registered, and must be fully licensed drivers, no exceptions.
We've been selling out events a lot this year, don't wait until the last minute (or hour, or day) to register!
Look at the SCHEDULE below for Check-in times. Don't be late, or you probably won't get in! (but, we can't let you in early, either) The gate is only manned at the specified check-in times! 
Note that "Lunch" is not on the schedule. Only those who are double-registered (both sessions as either a driver or a guest) will be served lunch.
CLICK "CONTINUE" BELOW AND READ THE SECOND PAGE OF EVENT INFO!
SPECIAL PROCEDURES: We are required to have an official escort to cross the active runway. You WILL NOT be able to come and go as you please, even at the end of the event. We must wait for the truck with the flashing lights and radio to escort us safely across that runway! 
DIRECTIONS TO SITE: Turn North off of CR-484 onto SW 147th Ct. take it all the way back (1 mile) and follow it around the curves to the left. Gather and wait at the stop sign. We must enter as a group, so be on-time and be patient. Regular airport traffic may be coming and going, so please don't block the road!
ENTRY REQUIREMENT: The only entry requirement is that you have a valid driver's license and a safe car. First-timers and novices are welcome!
Driver Registration - $40.00
Guest Registration - $9.00
NOTE: We do allow later registration subject to a late fee. Registration for every event will officially close at 11:59pm on the Monday prior to the event. After that, if registration is not full, it may be re-opened until 8pm Wednesday. Driver entries accepted after Monday will be subject to a $20 Procrastination Fee! Don't want to pay extra? Don't procrastinate! Of course, the biggest procrastination penalty of all is simply not being able to get into a sold out event... so, register early!
FAST Open Event Schedules
| EARLY SESSION | Begin | End |
| --- | --- | --- |
| CHECK-IN | 8:15 | 8:30 |
| Tech | 8:30 | 9:30 |
| Course Walk | 9:00 | 10:00 |
| Novice Walk | 9:30 | 9:45 |
| Driver's Meeting | 10:00 | 10:30 |
| Group 1 | 10:30 | 11:30 |
| Group 2 | 11:45 | 12:45 |
| Morning Drivers Leave | 1:00 |   |
| LATE SESSION | Begin | End |
| --- | --- | --- |
| CHECK-IN | 1:15 | 1:30 |
| Tech | 1:30 | 2:30 |
| Course Walk | 1:30 | 2:30 |
| Novice Walk | 2:00 | 2:15 |
| Driver's Meeting | 2:30 | 3:00 |
| Group 1 | 3:00 | 4:00 |
| Group 2 | 4:15 | 5:15 |
| Pack Up & Awards | 5:15 | 6:00 |
Click "Continue" for more info and registration!