FAST Open Autox - Apr 4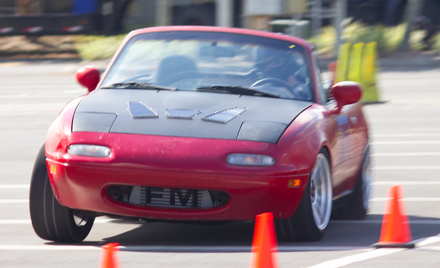 FAST
Saturday, April 4, 2020
Lakeland - Marchant Stadium
,
Lakeland

,

FL
Sorry, we had to cancel this event! Stupid virus.
Our Lakeland events have been extremely popular. You really ought to register early. The event will sell out long before the close of registration.
This will be a Split Event. There will be an early session and a late session, each run independently. All drivers will run on the same course, and the two "separate events" will be combined for final scoring. Carefully select your option on the registration form to be sure you are signing up for the correct session.
SPECIAL PROCEDURES:
DO NOT attempt to enter the main stadium entrance at Al Kaline Dr!
We can't park in or drive through the fenced area in front of the stadium, and you will not be allowed to access our parking area from that side.
Enter from the South via Gilmore Ave.
Be sure to sign in at the entrance to the parking lot, and be mindful of the active course area!
DIRECTIONS TO SITE: Turn East off of SR-33/Lakeland Hills Blvd at the traffic light at Bella Vista St, then left onto Gilmore Ave.
IMPORTANT:
While the parking lot here is not a secure facility, we still require all drivers to be pre-registered.
Guests aren't required to pre-register unless they wish to partake of our refreshments.
We must maintain perimeter control of the site, so all Guests must sign-in to enter.
Look at the SCHEDULE below for Check-in times. Don't be late!
If you arrive early for the Late Session, park in Guest parking while you wait. Parking is limited.
Note that "Lunch" is not on the schedule. Only those who are double-registered (both sessions as either a driver or a guest) will be served lunch.
CLICK "CONTINUE" BELOW AND READ THE SECOND PAGE OF EVENT INFO!
ENTRY REQUIREMENT: The only entry requirement is that you have a valid driver's license and a safe car. First-timers and novices are welcome!
Driver Registration - $47.00
Novice Driver Registration - $52.00
First-Time Registration - $57.00
Guest Registration - $10.00
NOTE: Registration for every event will close at 11:59pm on the Wednesday prior to the event. 
FAST Open Event Schedule

EARLY SESSION

Begin

End

CHECK-IN
7:30
8:00
Tech
7:30
8:30
Course Walk
8:00
9:00
Novice Walk
8:15
8:30
Driver's Meeting
9:00
9:30
Group 1
9:30
10:45
Group 2
11:00
12:15
Morning Drivers Leave
12:30
 
LATE SESSION

Begin

End

CHECK-IN
12:30
1:00
Tech
12:30
1:30
Course Walk
12:30
2:00
Novice Walk
1:15
1:30
Driver's Meeting
2:00
2:30
Group 1
2:30
3:45
Group 2
4:00
5:15
Pack Up & Awards
5:15
5:30
Click "Continue" for more info and registration!