FAST EnduroDuel - Dec 29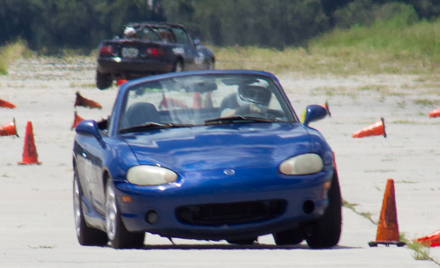 FAST
Saturday, December 29, 2018
Brooksville-Tampa Bay Reg Airpt
,
Brooksville

,

FL
Registration closed December 26, 2018 8:00 PM on December 26, 2018 8:00 PM EST Registration ends December 26, 2018 8:00 PM on December 26, 2018 8:00 PM EST Registration opens November 27, 2018 12:00 AM on November 27, 2018 12:00 AM EST Registration runs from November 27, 2018 12:00 AM to December 26, 2018 8:00 PM
FAST EnduroDuel 2018
This is going to be a very limited entry event... and it's going to be EPIC! First, some background...
An Endurocross is a multi-lap autocross. Instead of each run consisting of just one lap around a course, you'll do more like 4 or 5 laps per run. A FAST Enduro usually aims to do about 3-minute runs. Tires get hot. Engines get hot. Brakes fade. Drivers fade. It's a challenge to do a full event's worth of laps in just one run! It requires consistency and no major errors to win. It's huge fun, and it is one of the most popular FAST special events. The problem with an Endurocross? It is the absolute LEAST efficient way to run an autocross. Only one car on course rather than the typical two. Instead of starting a car every 25-30 seconds, we start one every 3 minutes. This limits the number of people who can attend, and usually limits us to 2 Enduro runs with a little single-lap practice at the beginning.
A FAST Duel is a unique tournament-style autocross event where two drivers compete on the same course at the same time with NO CLOCKS. Each driver starts on their own starting line with their opponent on the opposite side of the course. First one back to their own start/finish line wins! This is another extremely popular FAST special event. Times don't matter, all that matters is you and your opponent. It's the closest that autocross gets to head-to-head racing... until now.
The EnduroDuel combines both of those into one awesome event! Head-to-head competition for not just one lap, but THREE! It solves the problem of "one car on course at a time", so it makes more efficient use of time and give each driver a LOT more seat time!

Just like a regular Duel, you look across the course at the starting line and SEE your opponent. No clocks, no looking at time sheets and numbers. Just look over there, and there he is looking back at you. When you reach the half-way point, you can look across the course again... and there he is! Is he ahead? Is he behind? It's often hard to tell. Did he hit some cones or go off course somewhere? You just don't know! But, you just keep chasing him for 3 laps, trying to gain some distance. Come around to the finish... there he is again... and you can see... you might just finish first! Or... maybe it's obvious that you won't? But, you still keep hammering away because you don't know if your opponent coned out or not! You can still win... even if you don't cross the line first. Happens all the time!

You can't just win by getting the fastest run out of 3 or 4 or 6 runs. You have to be faster than your opponent on THAT run! And that run goes on for well over 2 minutes! That is EnduroDuel.
THIS IS A RESTRICTED ENTRY EVENT
The current Restrictions of this event are:
Minimum 5 events previous events WITH FAST.
Complete event info, rules and a FAQ can be found in the FAST EnduroDuel Rules. This is a double-elimination tournament style event, but each entrant is guaranteed a minimum of 6 runs. (three practice and three competition, drivers who lose their first two matches will get a bonus run)
Here is the FAST EnduroDuel Course Map:  PDF Version (one-page print) and JPG version (screen view). 
Further information may be found in the event discussion on the FAST forum.
IMPORTANT: This is an all-day event, and you must be signed in by 8:00am! Be sure to review the schedule below and be there on time and ready to rock!
Yes, the entry fee is steep. That comes with "limited entry". But, before you say "that's too much for an autocross", consider that you'll get 12 laps on course... more than twice the seat time that you'd get at a regular $40 FAST Open, PLUS lunch, PLUS the unique head-to-head Duel competition, PLUS the multi-lap Enduro experience. That's easily worth $80-100. And it's yours for the low, low bargain price of $74.95. Come on down to Honest FAST, where everybody... huh? Oh, right. Just get registered already. Before somebody else does. 40 entries max! 
Driver Registration - $74.99
Guest Registration - $7.99
|   | Begin | End |
| --- | --- | --- |
| CHECK-IN & TECH | 7:30 | 8:00 |
| Course Walk | 8:00 | 8:30 |
| Driver's Meeting | 8:30 | 9:30 |
| Group 1 Practice | 9:30 | 10:30 |
| Group 2 Practice | 10:45 | 11:45 |
| World Famous FAST Lunch | 11:45 | 12:30 |
| Brackets 1, 2 and start of 3 | 12:30 | 2:15 |
| Brackets 4, 5 and end of 3 | 2:15 | 4:00 |
| Finals | 4:00 | 4:30 |
| Teardown & Awards | 4:30 | 5:30 |
Click "Continue" for more info and registration!