FAST Classic - Jan 28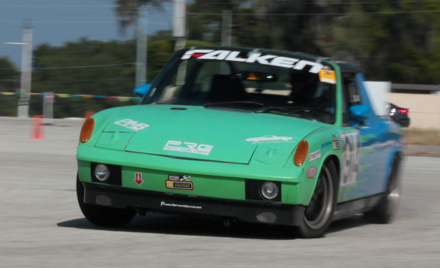 FAST
Saturday, January 28, 2017
Tampa Greyhound Track (South Lot)
,
Tampa

,

FL
Registration closed January 27, 2017 6:00 AM on January 27, 2017 6:00 AM EST Registration ends January 27, 2017 6:00 AM on January 27, 2017 6:00 AM EST Registration opens January 6, 2017 12:00 AM on January 6, 2017 12:00 AM EST Registration runs from January 6, 2017 12:00 AM to January 27, 2017 6:00 AM
Doin' the Tampa Greyhound Track again. These events are becoming more rare for us, so if you're itching for something different from the airstrip at Brooksville, don't miss it! The lot we're using is SOUTH OF BIRD STREET, at approximately 701 E Bird St.
FAST CLASSIC events are smaller and more casual events, which allows drivers to enjoy more runs (usually around 8, probably less due to the longer course) without any pressure. You'll get more seat time because we won't spend time doing a novice-level driver's meeting or a novice walk. Otherwise, it will be the same great FAST experience, including the World Famous FAST Lunch, and we'll be done by 2-3pm! These events are not included for points in the FAST Season Championship.
IMPORTANT - EXHAUST NOISE: We have a Exhaust Noise Limit, and this site is VERY close (650 feet!) to homes and we've already had noise complaints. With that in mind, if your car is loud, you may want to modify it to be quieter or bring a different car for this event. If you think your car might be loud, IT PROBABLY IS, and we will likely agree that it is loud. If WE think it's loud when you get on course, we'll have no choice but to end your first run and not allow your car on course for this event. We won't be offering refunds for this, so be honest with yourself!
IMPORTANT: Part of what makes these events work is the fact that we limit them to experienced autocrossers. First timers and those with less than 5 autocross events (with any club) will not be permitted. There will be no instructors, no novice walk, just good old-fashioned autocross with folks who know how to autocross.
ENTRY REQUIREMENT: All entrants must have at least 5 events of prior autocross experience. --OR-- Must have a qualified "buddy". See below. (If you attended the FAST Novice School, you are exempt from this requirement)
BUDDY SYSTEM: For Classic events, we will allow less experienced autocrossers, even first-timers, if they have a qualified FAST regular sponsor them. That's right, we're using the "buddy system". As the experienced buddy, you can only sponsor ONE driver, and you are responsible for them throughout the day. You will be paired with them in the same run group (they don't have to drive your car, but they can) so that you can ride with them and they can ride with you. And you may be paired with them on a work assignment. We have no formal novice training at a Classic event, so the responsibility falls to you to do a good course walk with them and show them the ropes. We hope a few people can have some fun with it!
Driver Registration - $49.50
Guest Registration - $7.50
|   | Begin | End |
| --- | --- | --- |
| Setup | 7:00 | 9:00 |
| CHECK-IN & TECH | 7:45 | 8:15 |
| Course Walk | 8:15 | 9:15 |
| Driver's Meeting | 9:15 | 9:30 |
| Group 1 | 9:30 | 10:45 |
| Group 2 | 11:00 | 12:15 |
| World Famous FAST Lunch | 12:15 | 12:45 |
| Group 3 | 12:45 | 2:00 |
| Pack Up & Awards | 2:00 | 2:30 |
| Post-Event Hangout? |   |   |
Click "Continue" for more info and registration!