Evolution Performance Driving School Phase One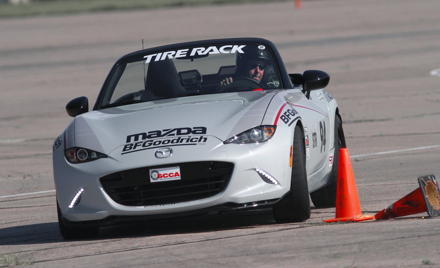 Evo Performance Driving School
Saturday, June 6, 2020
Rantoul Aviation Center
,
Rantoul

,

IL

Thanks to the Champaign County Sports Car Club, Evolution will be holding a Phase One Driving School at Rantoul Aviation Center in Rantoul, IL on Saturday June 6th. This Autocross Training program is great for any skill level, from seasoned veterans to the complete novice. The Phase One features approximately 24 runs with our team of National Caliber instructors, and each student will work with two different instructors throughout the day.
Two driver cars are welcomed at all Evolution Schools, although do require two entry fees. One driver will need to register as the Primary Driver, and the other as the Co-Driver. Both drivers will receive the same amount of runs as any other student. Two driver cars are split in the Run/Work order, to allow the car to get a break during the day. 
Site Directions 
MAP This site is in southern Rantoul and is accessible from US-45. You can get to US-45 from an exit on I-74 in Urbana, or you can enter Rantoul from the east or west on US 136, which is exit 250 on I-57. Once you're on US-45, look for Borman Drive where an old rocket stands tall. This will take you onto the old base area. Follow Borman to a fork, then take the right fork which is Arends Blvd. Follow Arends past the air museum and Grissom Hall until you see the sea of cones on your left.
You could also set your GPS to find the Rantoul National Aviation Center at 6 Aviation Center Dr., Rantoul, IL.
DO NOT under ANY circumstances drive, roll, park, walk, stand, or otherwise occupy space beyond the plane of the blue barrels. 
Encroachment upon active runway grounds is a punishable federal offense and could result in the loss of the site. This restriction applies to you and your belongings!
Schedule:
7:00 am Site Opens
7:30 am Tech Inspection
8:30 am Drivers Meeting (Mandatory)
8:45 am Instructed Sessions Begins
12:30 pm Working Lunch 
1:00 pm Instructed Session Continue
5:00 pm Wrap-up Meeting
Pricing for each of the Evolution programs at this location is set at $270. For more information on this, as well as other Evolution Performance Driving Schools, please feel free to contact Mike "Junior" Johnson at: Mike@EPDSInc.com.
For more information about the Champaign County Sports Car Club, please visit their site at: http://ccsportscarclub.org/
Cancellation Policy: 
A full refund less a $25 processing fee will be issued up until 30 days prior to an event or school. Within 30 days of an event or school, an Evolution Gift Certificate will be given to any canceling parties. Note: There will be no refund or Gift Certificate for cancellations within 14 days of an event or school.
Evolution has the right to refuse entry or remove a student from a class for any reason deemed necessary to maintain a safe environment. Those removed will receive no refund.