Drifting @ Skidpad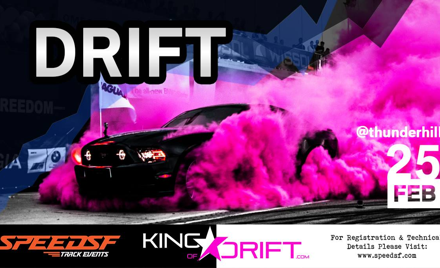 Speedsf.com
Sunday, February 25, 2018
Thunderhill Raceway Park
,
Willows

,

CA
Registration closed February 24, 2018 11:59 PM on February 24, 2018 11:59 PM PST Registration ends February 24, 2018 11:59 PM on February 24, 2018 11:59 PM PST Registration opens January 1, 2018 12:00 AM on January 1, 2018 12:00 AM PST Registration runs from January 1, 2018 12:00 AM to February 24, 2018 11:59 PM
Speed SF leaders have been hosting High Performance Driving Events for over a decade all over California.  Our staff is friendly and includes experienced track instructors, drivers and current race professionals.  We limit the driver entries in each run group to minimize traffic resulting in more quality track time.  Please come check us out, and invite a friend.  Thank you for your support. Our events usually located at Thunderhill Raceway Park, Sonoma Raceway (Sears Point), Mazda Raceway Laguna Seca, Buttonwillow Racway. For details, please visit Speedsf.com 
King of DRIFT at Thunderhill Raceway Park on Feburary 25th, 2018
What is it?
It's a solo drifting competition judged by internationally recognized drifters for the title of "King of Drift Tunderhill". Drivers of all levels are welcome. If you think you are strong enough to compete for this title, or if you just want to have fun while trying your best, please sign up!
Anyone who loves drifting is welcome to watch or participate!
How to Participate?
Go to the www.speedsf.com website and Register- ##########
Show up with any RWD Car that can drift atThunderhill Raceway Park on time for the start of the event.
Read our simple rules:
Competition style – Solo drifting;
The competition is for amateur drivers, but pro drifters are also welcome;
All drivers will get participant number at registration desk when they arrive;
Park yourcars on the dedicated parking space for the Drift Competition;
Driver's briefing: all drivers will gather near the registration desk;
Practice runs: drivers will form a line at the entrance to the skip dap one by one and do practice runs as shown on the diagrams;
Opening ceremony: all drivers will gather in the paddock area with their cars at the designated spaces and stand next to their cars;
Event host will announce drivers one by one.
After the opening ceremony drivers will drive back to their parkingspots;
Race start: carswill line upat the entrance one by one and performdrift runs as shown on the diagrams. Points will be awarded for each runby the judges;
All participating cars will finish Level 1 course before any car will be allowed to perform Level 2, and so on.
Important things to consider in order to get more points are:
Start drifting right before DG (drift gate) line
Come as close as possible to the marked cons
Drift with large angle
Change sides with as few corrections as possible
Maintain high speed
Do not make mistakes (follow designed line)
Stop the car within marked parking place as symmetrically to the edges as possible
All drivers will be allowed to perform all 3 Levels and collect points.
Top 8 drivers will get into theFinal Level, also they will be awarded a Prize Cup and a Diploma of finalists;
Top 8 will fight for the Podium in Final Level from 0 points (points from the final run will be the only points considered for the podium)
Winner will be awarded "King of Drift Thunderhill" Title, Prize Cup, Medal, Diploma &other Prizes.
The Jury
Jury will consistof three widely recognized drifters who will announce points at the end of each run.Points are from 0 to 10, and are awarded by each juror. Qualification for the Final will be done based on the sum of all points awarded to each driver for all performed runs by all jurors.
Event Scheduler for 25th of Feburary–"King of Drift Thunderhill" Event.
8:00 –10:00 AM – Registration
9:00 – 11:00 AM – Practice
11:15 AM – Driver's Briefing
11:45 AM – Opening Ceremony
12:15 PM –"King of Drift Thunderhill" Race Start
05:30 PM – Award Ceremony.
Important notice: All drivers can and are encouraged to register for the 24th of February separately, and practice for the competition that will take place on the 25th.