DIY + Cars'n'Coffee-type Display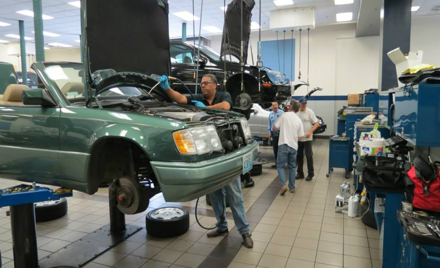 MBCA - Greater Washington
Saturday, May 20, 2017
Mercedes-Benz of Tysons Corner
,
Vienna

,

VA
Registration closed May 19, 2017 7:00 PM on May 19, 2017 7:00 PM EDT Registration ends May 19, 2017 7:00 PM on May 19, 2017 7:00 PM EDT Registration opens April 19, 2017 12:00 AM on April 19, 2017 12:00 AM EDT Registration runs from April 19, 2017 12:00 AM to May 19, 2017 7:00 PM
Do It Yourself (DIY) Session + Cars'n'Coffee-type Display
Mercedes-Benz of Tysons Corner Opens Work Bays to GWS Members
Saturday, May 20, 2017
9:00 a.m. to 1:00 p.m.
Mercedes-Benz of Tysons Corner
8545 Leesburg Pike, Vienna, VA 22182
$20 per DIY car, (Up to two hours of time on the lifts.Lifts are limited, first come, first served. All projects must be completed by 1:00 p.m.) You are welcome to display your beautiful Mercedes-Benz and attend as an enthusiast free of charge. Pete Engel is the person to contact for further information: harrdware@gmail.com
Come out to Mercedes-Benz of Tysons Corner - see the cars, and meet the staff for the Section's DIY event. If your vehicle needs a little TLC – something you can do on your own – you should put this event on your calendar, register, and come out to take advantage of the chance to work on your car in the comfort of a dealership's service bays. Change the oil, fix those squeaks... all those little tasks needed to keep your vehicle in good operating condition. Mercedes-Benz of Tysons Corner techs will be around. Please Note: the techs are not there to do the work for you, if they do help you, please be sure to tip them. Be sure to bring all tools and consumables (e.g. oil, brake fluid, paper towels, shop rags...) needed to complete your planned work. You may bring your own parts, or purchase them from Mercedes-Benz of Tysons Corner with the club member discount, so bring your membership card with you!
That said, this is not a guys-only event – we encourage women to come out and learn more about their cars. Even if you don't want to work on your car, a club tech session like this one is a perfect opportunity to spend quality time with other club members who share an interest in maintaining (or just talking about) Mercedes-Benz vehicles. This event is also a perfect chance for you to get answers to any questions you have about your Mercedes-Benz and its features.
Space is limited, so please no lift hogging, and come early to get a lift. Please plan to finish your project before 1:00 p.m., when we need to be out of the shop.The service bay doors will open at 9:00 a.m. and will go to those participants who are registered, on a first come, first served basis. Demand is usually high. To give everyone a chance to get into a service bay we ask that you limit DIY work to what you can finish in two hours, or less.
The parts department will be open and offering the MBCA discount during the event. Be sure to call 703-448-2202 at least ten (10) days in advance of the date to make sure parts you know you need will be available. You may also submit a parts request online via the below link:
http://www.mercedesbenzoftysonscorner.com/order-parts.aspx
As with any event, there are a few ground rules:
Plan to arrive early as lifts are filled on a registered attendee, first-come, first-served basis;
Check with the parts department in advance to make sure any parts and supplies you need will be available on the day of the event;
Learn as much as you can about your to-do list tasks before the event – a subscription to Alldata DIY can help with this;
Make your to-do list short enough so you can complete your tasks in the time alloted;
Bring all the tools and shop consumables you'll need to get the work done; and. The dealership will NOT lend tools.
Dress appropriately (e.g. no open-toe footwear) – bring grubbies and rags, because you will get dirty!
You are responsible for cleaning your workspace; please make sure you leave the dealership cleaner than it was when you arrived.
What you get at this event:
Access to vehicle lifts so you can work on all areas of your car like a pro;
Access to the parts department in case you need something you didn't anticipate; and
A great chance to meet other club members and engage in the very finest form of "Car Talk."
Please let us know what projects you will be working on and what model of car you will be working on.
This is a Mercedes-Benz dealership, and you are welcome to bring any Mercedes-Benz you want to work on, just be aware that they only stock Mercedes-Benz parts in this dealership.