CWSCC Ice Event #2 @ Lake Dubay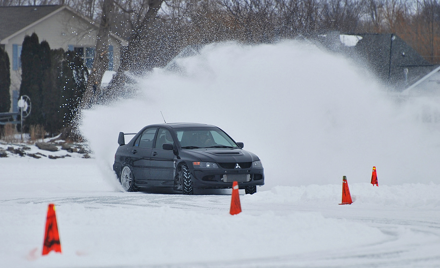 Central Wisconsin Sports Car Club
Sunday, January 14, 2018
Registration closed January 13, 2018 5:00 PM on January 13, 2018 5:00 PM CST Registration ends January 13, 2018 5:00 PM on January 13, 2018 5:00 PM CST Registration opens January 9, 2018 12:00 AM on January 9, 2018 12:00 AM CST Registration runs from January 9, 2018 12:00 AM to January 13, 2018 5:00 PM
That's right, Event#2 this Sunday at Lake Dubay.

Schedule:
9am – 10am – Registration Opens
9:00am – 10:00am – Open Practice
10:30am – Drivers Meeting
10:45am – First Car out
Event ends around 3-4pm

$20 for 2018 Members
$30 for Non Members
($20 to join)

Ice-Rally Classes:
AWD – All-Season Tires
AWD – Snow Tires
AWD – Spec Studded Tires
FWD – All-Season Tires
FWD – Snow Tires
FWD – Spec Studded Tires
RWD – All-Season Tires
RWD – Snow Tires
RWD – Spec Studded Tires
Unlimited Studded (Any Drivetrain)

We use the Landing on the intersection of Cty Rd DB and C.
--------------------
What is Ice-Rally?
Ice Rally is a form of automotive ice racing, but instead of racing wheel to wheel, it's a race against the clock for the quickest time.  Ice-Rally takes place on a frozen lake, with cones outlining a "Road Course" style circuit.  Any 4-wheel car, truck, or van is eligible to compete.  There are several classes based on chassis setup (AWD, FWD, & RWD) and tire type (All-Season, Snow, & Studded Tire).  Ice-Rally is the best "bang for your buck" netting you the most seat time for your dollar.  It will teach you to drive at the limits of traction which will increase driver's skills.  All that is needed to compete is a car, a DOT helmet, and the entry fee (Typically $15-$35).
A Typical Day…
Registration usually opens at 9am and ends about 10am.  Registration is usually done inside someone's car, so look for a line and some important people.  After you register, we allow open practice until 10:30am.  We have a Mandatory Driver's Meeting at 10:45am.  We split everyone into 2 groups based on their car class.  On a normal turnout, each group will get to run in 2 heats (running a total of 4 heats throughout the day) with 4-6 timed runs in each heat.   We will sometimes change the course layout half way through the event to prevent large ice ruts.  We will then take the average if your best time from each track layout.  Obviously quickest time in their class will win.  The event will typically come to an end around 4pm, and shortly after we will do a small award ceremony.