About this event
FULLY READ EVENT DESCRIPTION BEFORE REGISTERING!
Ensuring the safety of all participants and spectators has always been our top priority.  Please read to fully understand our additional safety protocols.  Anyone blatantly disregarding the rules will be asked to leave.
WE WILL CAP THE EVENT AT 60 DRIVERS
If you are sick, not feeling well, have a fever, coughing, at risk of illness, or have been in contact with someone with the virus, STAY HOME
If you have a face mask, bring it and wear it while you are outside of your vehicle.  We will have a limited number of masks available.
We will be checking your temperature after you sign the waiver
NO spectators allowed.  We love spectators, but now is not the time
Maintain 6+ feet from others not in your immediate household
We will have hand sanitizer available at common touch points.  Please bring your own if you have it.  We can't have too much.
Online registration and payment is REQUIRED
Bring your own helmet if you have it.  As always, we provide and require head socks ($2) to use our loaner helmets.  Loaner helmets must be disinfected between uses with provided materials
We will not have Novice Instructors for this event.  Ride-alongs are limited to immediate household members only
During the drivers meeting we will go over additional safety measures for all work assignments
Stay tuned for more detailed safety protocols.  We will email all participants in advance of the event.
The SCCA has provided event guidelines.  CLICK HERE TO VIEW THEM
If you have event specific questions, use the link on the right of this page to ask.
Schedule
8:00AM - 9:30AM Registration & Tech Inspection
9:15AM - 10:00AM Course open for walking
9:45AM Mandatory Novice Course Walk & Meeting
10:00AM Mandatory Drivers Meeting
10:30AM First car on course
~4:00PM Results 
Registration
SCCA Member : $35
Non-Member : $50
Follow us on Facebook and Instagram
If you are running for Season Championship Points, choose the correct PAX during Registration.
If you are driving, you will be assigned a work station.
Bring your valid SCCA Membership card and drivers license.
A limited number of loaner helmets are available.
100 dB sound limit.
Weekend Membership Forms MUST be filled out for all Non-Members driving or riding.
Everyone on site is REQUIRED sign the Liability Release Waiver and wear an Arm Band.
Contact the Event Chair with questions about Minors participating.
Event requirements
All cars must pass a Tech Inspection prior to running
Working seat belts and throttle return
ALL lug nuts present and tight
Battery securely tied down
Firm brake pedal
NO leaking fluids
Tires with measurable tread
ALL loose items removed, including hub caps
Clearly defined vehicle # and class on both sides
Closed toed shoes and Snell SA2005 or newer helmet (limited loaners available)
If you are running for Season Championship Points, choose your PAX accordingly
Drivers must be CRSCCA Members to be eligible for Season Championship Points

Novice class is the only exception - open to anyone

Drivers must complete at least 6 events to be eligible for Season Championship Points

Due to the current situation, this will be adjusted at the Solo Chair's discretion

Championship points will be awarded based on finishing position in PAX Groupings
Total number of trophies awarded per Pax Grouping will be based on the number of drivers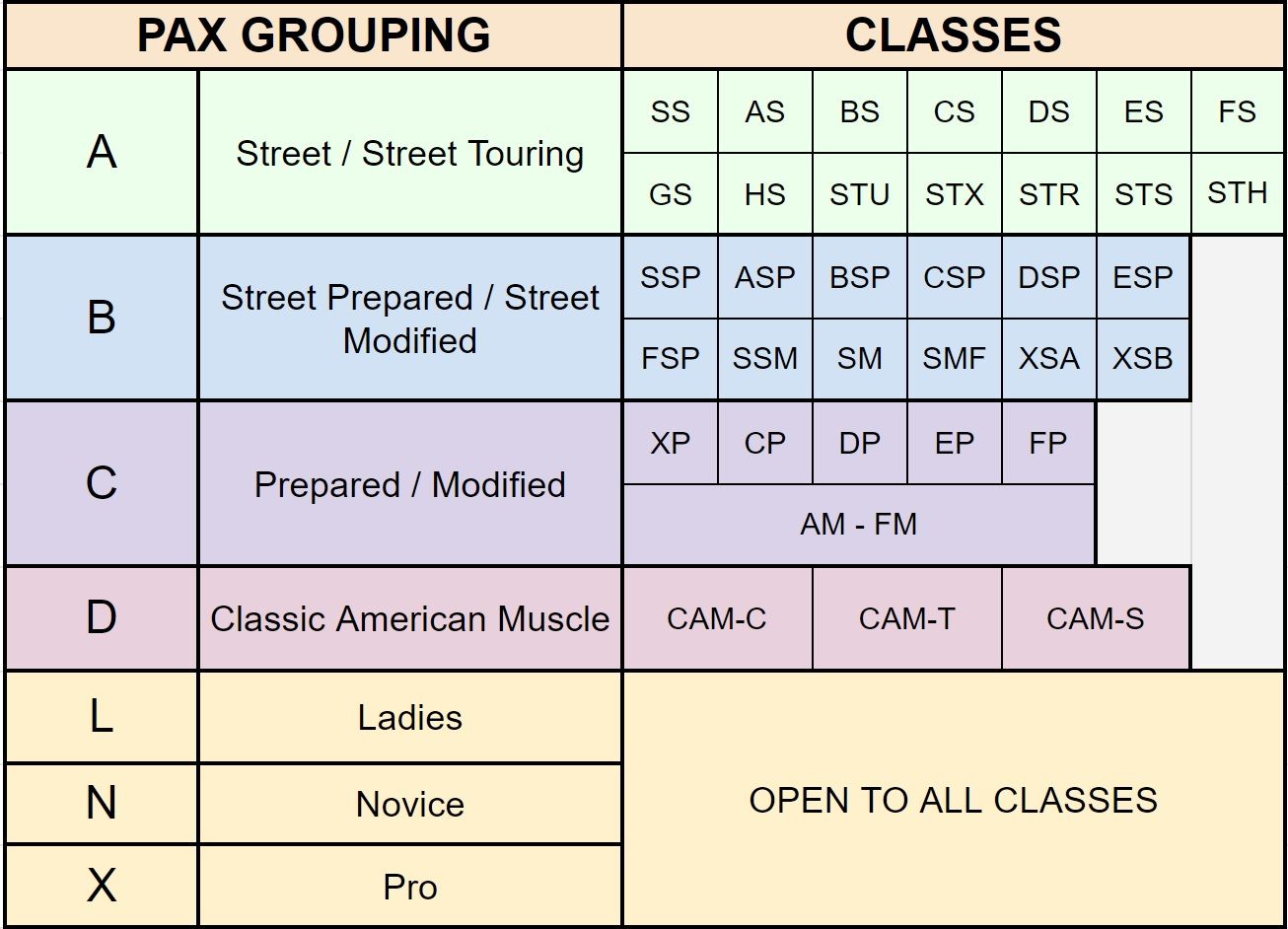 Dade County High School
Trenton, GA
More events from this organizer