Car Control Clinic & Into to Autocross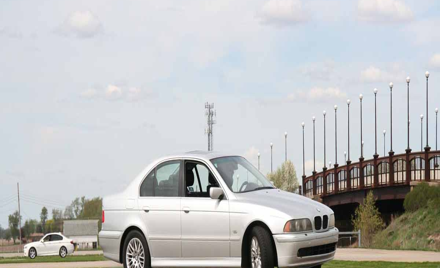 BMW CCA - Motor City Chapter
Sunday, May 3, 2020
Tire Rack Test Track
,
South Bend

,

IN
Welcome to the
MotorCity Chapter BMW CCA & Michiana Chapter BMW CCA
Join us for our 7th annual one-day Car Control Clinic &
Intro to Autocross event at Tire Rack Facility.
A moderate 3-hour drive from metro Detroit, Tire Rack offers
a challenging driving experience for novice and expert alike.
This year, the event will be held on Sunday, May 3rd, 2020.
What better way to spend a free Spring Sunday?
Click "Continue" below to start your registration now!
- - - - - - - - - - - - - - - - - - - - - - - - - - - - - - - - - - - - - - - -
Fast Facts
 
Location:Tire Rack Facility in South Bend,IN
Situated at 7101 Vorden Parkway, conveniently located
near Indiana Toll Road (I-80/90) and US-31.
 
Time: 8:00 a.m. to 4:15 p.m.
 
Event Type: This event is for new drivers, seasoned drivers as well as
those who want to improve their driving skills. The one day event
is spent learning, practicing and experiencing car dynamics through
a series of 3 key skills:

1) Smooth Steering on a Slalom Course - Understand how to navigate
your car smoothly through a set of cones. Recognize where you want your
car to go. You will learn how to drive where the cones aren't.

2) Threshold Braking - Learn how to control your car in an emergency
situation. You will understand more about your car's capabilities and
how to manage them. Learn how to successfully maneuver around obsticles
(just as if you have a deer in the headlights) while slowing your car.

3) Skid-Pad Activities - Drive on a skid-pad where you will have
the opportunity to experience your car breaking traction and then learn
how to regain traction in a safe environment. Feel the balance and learn
how to steer your car with the throttle.

The Tire Rack Facility is the perfect venue for young drivers,
seasoned drivers and drivers young at heart, to have the opportunity
to practice these maneuvers in a safe environment at the performance
limit of their car. It is a great first step or review for those who
want to autocross or drive on a race track. Even if you never participate
in one of these programs, many of the skills you learn will be useful
on public highways.
 
Amenities: In the morning, donuts/bagels and coffee will be served.
We'll take a break for a provided lunch mid-day.  All through the day,
we'll have bottled water to keep you hydrated!
 
Drivers: Need to be 16 years or older and carry a valid drivers license.
You will also need a Snell SA or M-rated helmet (2010 or newer).
We have loaner helmets available for those w/o helmets.
 
Vehicles: Our instructors will conduct a brief safety inspection the
morning of the event. Convertibles, targa or t-tops will be allowed.
 
Price: Registration cost of $45 for current BMWCCA members and non-member
guest participants until April 20 @ 11:59 p.m.. $60 thereafter with registration closing on April 29, 2020 at 11:00 p.m. Catered lunch is included in the cost of registration.
 
Additional Information: Available by sending an email to
socialmedia@motorcitybmwcca.org
 
What's Next: Click "Continue" to begin your registration!