Buying a Car On Line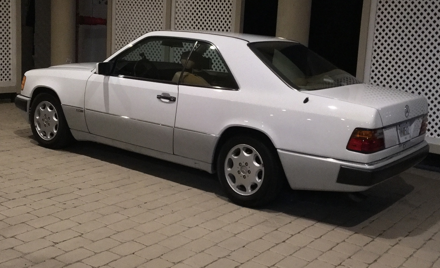 MBCA - Peachtree
Saturday, February 23, 2019
Gary Edwards
,
Lincolnton

,

GA
Registration closed February 20, 2019 12:59 PM on February 20, 2019 12:59 PM EST Registration ends February 20, 2019 12:59 PM on February 20, 2019 12:59 PM EST Registration opens December 1, 2018 12:00 AM on December 1, 2018 12:00 AM EST Registration runs from December 1, 2018 12:00 AM to February 20, 2019 12:59 PM
How to buy a car online. Hosted by Gary Edwards and Rusty Duncan.  We'll visit Gary's barn in rural Lincoln County where he will lead a seminar based on what he's learned buying cars on the internet, primarily on eBay.  After a sumptuous lunch, we'll then view a number of cars bought in this way and hear the good, the bad and the ugly about each of the transactions.  He'll discuss how to evaluate the deals and how to minimize the risk of buying cars on line.  The car pictured above is a Sportline 300CE 24 which was purchased in December 2018 off of ebay for $2,250.  This transaction and a number of others will be specifically discussed in the afternoon session.
The event will begin promptly at 10:00 AM.
Attendees are asked to bring a folding chair and to dress warmly as much of the presentation will be in the barn/car storage area.
Lunch and beverages will be provided.
The event location is 2060 White Rock Road, Lincolnton, Georgia.  Attendees should be aware that most navigation systems will direct you to a point around the corner from the driveway leading to the event.  You'll be on Partridge Town Road, and you'll be able to see the structure (a green roofed barn with residence above) but won't be able to find a driveway.  The driveway is on White Rock Road and is the closest driveway to the corner of White Rock Road and Partridge Town Road.  There is a green marker that says "2060" at the driveway.  Go up this driveway and park in the grass near the structure.
Lodging (in case someone wants to travel the previous evening) is available at Cullar's Inn (3.5 miles from event, basic but acceptable accommodations), 140 Elm Street Lincolnton, 706 359 6161, about $60 per night, or at the Fitzpatrick Hotel (20 miles away, renovated 1898 hotel, very nice) 16 W Square, Washington GA, 706 678 5900, $125 per night (ask for Mercedes club rate).