Buttonwillow Raceway TT ONLY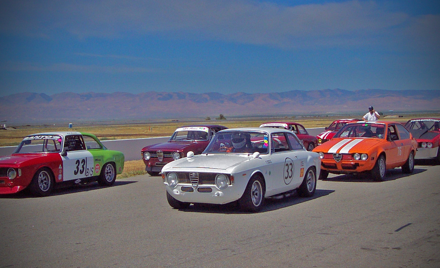 AROSC Racing, Time Trials, HPDE
Saturday, Apr 4 — Sunday, Apr 5, 2020
Buttonwillow Raceway
,
Buttonwillow

,

CA
EVENT HAS BEEN CANCELLED
REGISTERATION OPEN  FOR BOTH DAYS OR SATURDAy SUNDAY ONLY.
Buttonwillow is a great track with lots of twists and turns to challenge  drivers of all levels. The weather this time of year will be perfect for putting down some great lap times!


We will run the full track, configuration 13 CW, which includes the Bus Stop on the back section. This will level the playing field a bit between the high horsepower cars and the smaller, lighter cars.  THIS IS AN EVENT SPONSORED BY SPEED VENTURES.  The Alfa Romeo Club will have it's Headquarters in Garage #5.  If you are signed up AROSC you are eligible for an award provided you have a verifiable time.  Be at Garage #5 at 5:00 pm each day for Award Presentations.
Our Run Groups:
-      Novice TT Group:  Passing only on straights and only with a point-by. This is for people with less than 10 track days or who think they would be uncomfortable with less restrictive passing. 
-      Intermediate TT Group:  Passing is allowed anywhere on track but only with a point-by. This is for people who have about 10 to 20 track days.
-      Advanced TT Group:  This is for people with 20-plus track days or race school experience. SAFE passing allowed anywhere on the track, point bys recommended.
Saturday Night dinner at the Willow Ranch, 7 PM or so. Bench racing, tall tale telling, great food and friends!
Accommodations - Vagabond Inn Ask them for the Alfa Romeo club rate of $45.99 single, $49.99 double.
You can find more details at: www.AROSCHPD.org
AROSC - Taking it to the track since 1972!