BMWCCA PSR HPDE @ PACIFIC May 8 2020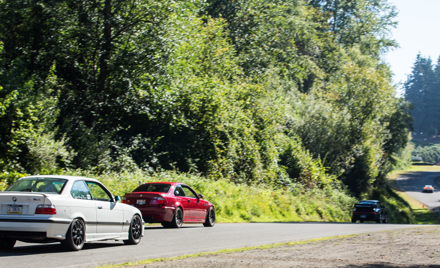 BMW CCA - Puget Sound Chapter
Friday, May 8, 2020
Pacific Raceways
,
Kent

,

WA
Greetings Drivers and Instructors,
Yes it has been a long winter . . . and hopefully you have all adapted to our new reality that includes working from home and social distancing. But from a "glass half full" perspective, I'm looking ahead to the opportunity to get a hall pass for our HPDE solo event on May 8. The details:
When - May 8, 2020
Where - Pacific Raceway
Who - Instructors, A & B drivers and C drivers approved by the DEC and CDI
What - Three run groups, solo only, no in-car instruction or passengers
How - registering will get you wait listed, all drivers will be charged $250 for the event, the event will be limited to 49 drivers unless the state restrictions are loosened. There will be no CCC.
As of this writing, we are working with the track caterer to provide box lunches to make sure we keep lines down and avoid too many drivers grouping together.  You are encouraged to bring your own snacks and water. It is unlikely we will have tents available so plan accordingly with hats and sunscreen.
We regret there are limitations on participation but we will do our best to put on this event while operating under parameters that keep everyone safe both on and off the track. No guests allowed.
All drivers will be required to provide a tech sheet from a reputable service shop that confirms your car is safe for this event. 
This is your chance to ease back into the sport after the off-season and reconnect (from 6+ feet) with your track friends. Registration is open at MSR.
Mitch
BMW CCA PSR CDI 
Registration for this event is limited to current BMWCCA members. If you are not a member, please go to http://bmwcca.org to sign up and receive a valid membership number. Event registrations will not be confirmed until membership can be validated by the Registrar.
 
Cost: $250   Registration fees include box lunch.  Registration will close at 1700 Monday, May 04, 2020 or when the event reaches capacity.
 
FOR THIS EVENT, WE WILL NOT HAVE INSTRUCTORS IN THE CARS WITH ANY DRIVER.   ALL REGISTRATIONS WILL BE WAIT LISTED UNTIL THE CHIEF DRIVING INSTRUCTOR/SENIOR DRIVING INSTRUCTOR GIVE THE GO AHEAD TO SIGN UP. 
WE WILL NOT HAVE A D GROUP FOR THIS EVENT.  
BMWCCA Puget Sound Region has provided High Performance Driving events at Pacific Raceway and other tracks for more than 40 years. We have a very good safety record and an experienced corps of volunteer Instructors. Track events have long been a part of the Club experience; so much so that track driving is really part of the Club's DNA.
Mission
To make high performance driving safe, fun and accessible to all Club members.
Values
 Safety—first and foremost, we strive to keep our members safe.
 Fun—we strive to make high performance driving fun.
 Educational—our track events are schools and have an emphasis on learning.
 Welcoming—we want our track events to be friendly and to be welcoming all our members.
 Approachable—we strive to make our track events approachable and to minimize obstacles that might discourage participation.
 Inclusive—our track events are open to Club members of all skill levels and with all types of automobiles.