BMWCCA PSR HPDE @ PACIFIC July 2017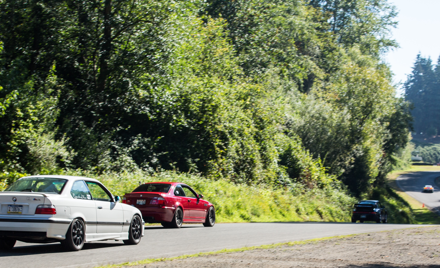 BMW CCA - Puget Sound Chapter
Friday, July 14, 2017
Pacific Raceways
,
Kent

,

WA
Registration closed July 11, 2017 5:00 PM on July 11, 2017 5:00 PM PDT Registration ends July 11, 2017 5:00 PM on July 11, 2017 5:00 PM PDT Registration opens December 26, 2016 12:00 AM on December 26, 2016 12:00 AM PST Registration runs from December 26, 2016 12:00 AM to July 11, 2017 5:00 PM
BMWCCA PSR presents our July 14, 2017 High Performance Driver Education Event at Pacific Raceways in Kent Washington
BMWCCA members are invited to join us for a fun and educational day at our local race track!  Whether you want to improve your day to day driving skills or want to get the most out of your "Ultimate Driving Machine," you will find what you need at our track events.
Want to improve your daily driving skills?  Want to prepare for HPDE participation?  Start Here:
High Performance Driver Education: $245 for registrations through Sunday, July 9, 2017, $295 for late registrations received after July 9.  Registration fees include lunch.  Registration will close at 5 pm Tuesday, July 11 or when the event reaches capacity.
Attendees are assigned to groups by the Chief Driving Instructor, based on the skills and abilities of the participant and the vehicle.  Here is an outline of each group:
D Group (NOVICE):  If you are an experienced driver with little or no time at Pacific Raceways, you may find yourself assigned here to start and then being recommended to a more experienced group by your instructor.  If you are brand new to the sport and have completed a Car Control Clinic, this is where you will begin to learn the skills to safely operate your vehicle around the road course with the assistance of an instructor.  Limited "let by" areas allow faster vehicles to safely overtake those who are a bit slower.   D Group is a great place to become comfortable with how your vehicle feels and handles at speeds greater than you can maintain safely on a public highway.  As your ability and comfort level increases, your instructor may recommend that you move into....
C Group (Low Intermediate):  This group is generally experienced with the track and the vehicle.  Participants will work with instructors to perfect their driving line and master the skills necessary to safely navigate the vehicle around the course at speed.  Performance skill like "heel and toe" are addressed, as well as development of effective traffic management techniques.  Depending on the instructor, participants may be signed off to "solo" in this group.  When you have gained the skills and confidence, the instructor may recommend that you move into....
B Group (High Intermediate):  Ok, you know your way around the track and have demonstrated the ability to do so safely at speed.  Now it is time to work with your instructor to learn and master advanced driving techniques and lines.  It is common for drivers to "solo" in this group and they set a fast pace.  Faster, more experienced drivers will enjoy a few more "let by" zones in this group. Some drivers choose to stay in this group, but with the recommendation of your instructor and the Chief Driving Instructor, you may advance to:
A Group (Advanced):  This a group of very experienced drivers who love to drive their cars at speed.   Instructors are available to help learn and master new skills, but many drive "solo".  Our volunteer instructors are welcome to participate during these sessions.  If you are interested in becoming an HPDE instructor, the Chief Driving Instructor looks for Instructor Candidates in this group.