BMWCCA-GGC Autocross Winter Fun Run - 12/8/2018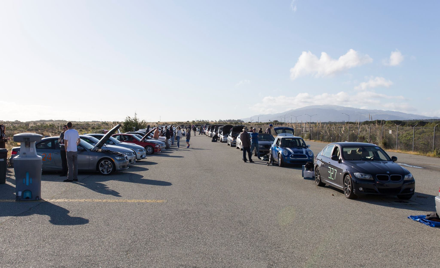 BMW CCA - Golden Gate Chapter - Autocross
Saturday, December 8, 2018
Marina Airport
,
Marina

,

CA
Registration closed December 2, 2018 12:00 PM on December 2, 2018 12:00 PM PST Registration ends December 2, 2018 12:00 PM on December 2, 2018 12:00 PM PST Registration opens November 5, 2018 12:00 PM on November 5, 2018 12:00 PM PST Registration runs from November 5, 2018 12:00 PM to December 2, 2018 12:00 PM
Join the BMWCCA - Golden Gate Chapter for a Winter Fun Run Autocross event at Marina Airport on Saturday December 8, 2018.
Photo Credit: Dennis Bronnikov
HOW TO SIGN UP
Step 1
Read ALL of the content in this event listing to make sure you understand the event requirements, including: event location, waivers, membership requirements, payments, cancellation policy, tech inspection checklist, timeline, helmet requirements, waitlist, and guest policy. Additional information will be provided in the confirmation e-mail you receive after signing up and even more will be sent after registration closes.
Step 2
BMWCCA membership is required to participate. If you're not an active member of BMWCCA, you will need to join or renew your membership. We prefer you do this yourself at bmwcca.org, but if you like, you may tick the box later in the sign-up process and we'll take your money and pass it along to BMWCCA National on your behalf. Please make sure you understand the cancellation/refund policy described on the next page.
Step 3
We will charge your credit card to hold your spot. We see a fair amount of "declined by your bank" transactions each month, so please be certain your billing information is current. If we cannot charge you, we cannot guarantee a spot for you at this event. 
NOTE: We do not accept on-site signups. If you show up at the event without being registered here, you will not be allowed to participate.
PLEASE READ
LUNCH IS OPTIONAL. If you want us to order you a sandwich, be sure to make your selection on the registration page.
NO ON-SITE OR LATE SIGN-UPS WILL BE ACCEPTED!
This event is private and for registered participants and accompanied guests only. No one will be permitted entry to the site after 08:15am.
Snell 2010 or newer certified helmets (M or SA) are required for all GGC autocross events. WE NO LONGER ACCEPT SNELL 2005 HELMETS. Check the sticker inside your helmet and make sure it is valid. If this is your first 2018 event with GGC, or you do not have a GGC inspection sticker on your helmet, we will need to inspect and sticker your helmet at check-in. We have a small number of loaners available if you need to borrow a helmet - no charge.
All cars are welcome and unlike our driving schools, stock convertibles are accepted - roll cages are not required. We do not allow SUV/SAV vehicles to participate, however. If you would like to participate and do not own a car, you may share a car with a friend.
Please check your individual insurance policy for coverage details with regards to participating at this event.
Staff will be on site around 7am to start course setup. Tech inspections will start around 7:30am. Registration will be open from 7:30-8:15am. A mandatory driver/guest meeting will start PROMPTLY at 8:30am. PLEASE ARRIVE EARLY
Event Description
Join us for our annual Course Rewind event at Marina Airport. This is a fun-run style event where we bring back a favorite course from the previous season and run it again! This is a non-compete event, but we will have the timing system up and running. 
The GGC autocross team will choose a course from a previous season for us to run for fun.
We do not require previous high performance driver training or experience, but completion of one of our Car Control Clinics or similar training is highly recommended. First timers and inexperienced autorcrossers are welcome at this event. Because this is a fun-run event, we will not have our full compliment of coaches available, but we will do our best to provide in-car coaching to all who want it.
No special car preparation is needed, in fact, we recommend you bring the car you drive on a daily basis. Doing so will give you a greater appreciation for your car's capabilities and improve your driving skills in the process.
Our events are very social and we welcome all makes of cars, not just BMWs and MINI. Unlike some other clubs, we don't limit registrations from other marques. Everyone has the same chance of getting in! You're likely to see a sprinkling of vehicles from Porsche, Mazda, Honda, Lexus, Lotus, even Aston Martin and Corvette!

Event cost is $55 per participant. An optional sandwich lunch is available for $8.
Click the button below and get signed up!
Questions? Please write us.