BMWCCA-GGC Autocross #5 - 08/13/16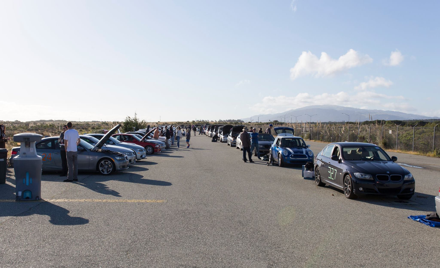 BMW CCA - Golden Gate Chapter - Autocross
Saturday, August 13, 2016
Marina Airport
,
Marina

,

CA
Registration closed August 10, 2016 12:00 PM on August 10, 2016 12:00 PM PDT Registration ends August 10, 2016 12:00 PM on August 10, 2016 12:00 PM PDT Registration opens July 25, 2016 12:00 PM on July 25, 2016 12:00 PM PDT Registration runs from July 25, 2016 12:00 PM to August 10, 2016 12:00 PM
Join the BMWCCA - Golden Gate Chapter for 2016 Autocross #5 at Marina Airport on Saturday August 13, 2016.
Photo credit: Allen Stauffer
HOW TO SIGN UP
Step 1
Visit the GGC Classification System to verify your existing classification, or to select a driver number and classify your car for your first 2016 event with us. Motorsportreg (MSR) is not connected to the GGC classification system. The GGC system is the keeper of the unique driver numbers and car data and every driver must have their own account, driver number, and car classification from the separate GGC system. As a convenience we maintain your permanent number in MSR, but you must first claim one from the GGC system. 
Access the online classification system here: http://www.ggcbmwcca.org/autocross/ 
Classification system FAQ here: http://ggcbmwcca.org/driving-events/autocross/autocross-classification-system-faq/ 
WARNING: If you fail to complete this step before you register, you will be placed on hold until you do. We will not process your payment until we can verify your car classification and your spot is not guaranteed until we process your payment. If you do not classify before registration closes, or before it sells out, your registration will be cancelled.
Step 2
Read ALL of the content in this event listing to make sure you understand the event requirements, including: event location, driver numbers/classifications, waivers, membership requirements, payments, cancellation policy, tech inspection checklist, timeline, helmet requirements, waitlist, and guest policy. Additional information will be provided in the confirmation e-mail you receive after signing up and even more will be sent after registration closes.
Step 3
If you're not an active member of BMWCCA, you will need to join or renew your membership. BMWCCA membership is required to participate. We prefer you do this yourself at bmwcca.org, but if you like, you may tick the box later in the sign-up process and we'll take your money and pass it along to BMWCCA National on your behalf. Please make sure you understand the cancellation/refund policy described on the next page.
Step 4
We will charge your credit card to hold your spot. We see a fair amount of "declined by your bank" transactions each month, so please be certain your billing information is current. If we cannot charge you, we cannot guarantee a spot for you at this event. 
NOTE: We do not accept on-site signups. If you show up at the event without being registered here, you will not be allowed to participate.
PLEASE READ
LUNCH IS OPTIONAL

. If you want us to order you a sandwich, be sure to make your selection on the registration page.

This event is private and for registered participants and accompanied guests only.

No one will be permitted entry to the site after 08:15am.
Snell 2005 or newer certified helmets (M or SA) are required for all GGC autocross events. Check the sticker inside your helmet and make sure it is valid. We have a small number of loaners available if you need to borrow a helmet - no charge.
All cars are welcome including stock convertibles - roll cages are not required. We do not allow SUV/SAV vehicles to participate, however. If you would like to participate and do not own a car, you may share a car with a friend.
Please check your individual insurance policy for coverage details with regards to participating at this event.
Staff will be on site around 7am to start course setup. Tech inspections will start around 7:30am.

Registration will be open from 7:30-8:15am

.

A mandatory driver/guest meeting will start PROMPTLY at 8:30am. 

PLEASE ARRIVE EARLY!!!

 First car out around 9:30am.
DRONES or anything resembling a drone ARE NOT permitted at any GGC Autocross event. Do not bring one, do not ask to fly one.
GGC Autocross Policies, Procedures, and Rules: http://ggcbmwcca.org/forums/topic/2016-autocross-season-policies-procedures-and-rules/
Event Description
Our autocrosses are a competitive environment where a cone track is setup in a big parking lot or airfield. We put cars into classes based on a formula (considering weight, torque, modifications, and several other factors), and drivers compete against other cars within their class. Though there is an element of risk, hazards to participants and property are not expected to exceed those encountered in normal, legal highway driving. Due to the length of our courses we allow only one to two cars on the course at any one time (opposite sides). Cars race against the clock, not side-by-side.
We do not require previous high performance driver training or experience, but participation in a Car Control Clinic or similar training is highly recommended. First timers and inexperienced autorcrossers will be assigned a driver coach to ensure they get the most out of their autocross day.
No special car preparation is needed, in fact, we recommend you bring the car you drive on a daily basis. Doing so will give you a greater appreciation for your car's capabilities and improve your driving skills in the process.
Car classes are split into three run groups. Participants drive one session, work one session and have the other session off. Every participant (except those 65 or older) is given a work assignment which may include: course workers, trailer workers, start, finish, and grid positions, or driver coaches.
Generally, drivers can expect 6-7 runs per event depending on many factors including course length and registration count. Your first run is a practice run. Successive runs are official and your fastest timed run is your fastest run of the day. Downing cones results in the addition of one second to your time for each cone hit - hitting cones is bad for your times! Often we have time available at the end of the day for "fun runs" which are unofficial post-competition timed runs. During fun runs you may drive your own car or swap cars with friends... it's a good opportunity to beat your buddy's best time in his car!
Our events are very social and we welcome anyone and all makes of cars, not just BMWs and MINI. Unlike some other clubs, we don't limit registrations from other marques. Everyone has the same chance of getting in! 
Click the button below to get signed up! Our events have been selling out quickly, so get signed up early. We can accept a maximum of 100 drivers.
Questions? Please write us.