Thu, Jul 16, 2020
Bertil Roos 1/2 Day & 1 Day Road Racing Adventure
Pocono Raceway
About this event

The Bertil Roos Racing School Half Day and One Day Adventure Programs are perfect for motorsports enthusiasts to get a taste of what road racing is like, or to learn more about their favorite sport.
Registration Fees
1/2 Day Road Racing - Morning
$600
1/2 Day Road Racing - Afternoon
$625
One Day Road Racing
$1350
A High-Speed Schedule For An Adrenaline Driven Sport!
Upon registration completion, the programs will begin with an introductory classroom that will teach students about the fundamentals of driving a race car on track.  Materials covered range from apexes and brake points, to entry and exit speeds, as well as basic track etiquette and rules. After this classroom, students will immediately take to the track in our school street cars. This segment will allow the students to gain an in depth preview of the track they will be on; and driving the street cars themselves will allow our instructors to make an initial assessment of their driving from the passenger seat. After this segment has concluded, students will undergo a brief transitional classroom that teaches them our use of flags on track, and the operation of our race cars. Once this final classroom is complete, the students will be conducting the rest of their program in our race cars for two or four 20 minute sessions, depending on the program.
Learn At YOUR Speed, Not Someone Else's!
We at the Bertil Roos Racing School believe that students learn best at their own pace. We are one of the few schools in the world that do not use the lead-follow method of track time teaching. We allow a controlled version of passing during on track sessions so that students may drive our race cars at their own pace but not have to worry about dangerous passing situations.
Get the Most Out Of Your High-Speed Day!
Students will be able to get the most out of their day via detailed critiquing by our instructors. Between on track sessions, students will have an opportunity to rest and hydrate while they receive valuable feedback from our instructors. This is also an opportunity for students to pick at our instructors' brains after having been on track in the racecars themselves.
Custom Made Formula Cars Built For Safety And Speed!
It doesn't get more real than this! When you enroll in one of our race programs, you'll be strapped into a real 150 hp Formula 2000 race car. When properly driven, our cars will accelerate from 0-60mph in 4.2 seconds, reach 130mph in the draft, pull up to 2g's in the corners, and stop on a dime.
The reclined seating position, open cockpit, and Indy-style body work provide you with a unique experience. Your view of the track mimics what the pros see when they are battling it out, head-to-head, on TV. Wide tires and front and rear wings make sure your butt is firmly glued to the track as you rocket around, lap after lap.
Safety, of course, is our highest priority. Our cars have been designed and engineered to be among the safest in the industry. The body panels are form-fitted to a stiff chassis and welded steel roll cage to ensure our drivers experience the fastest, safest laps of their lives.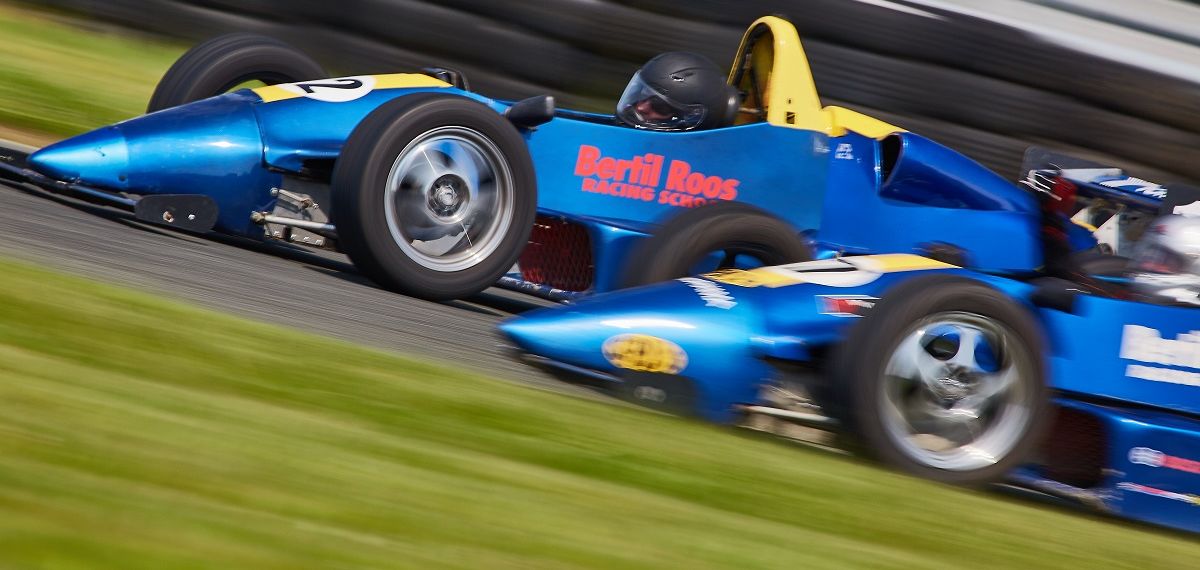 Rain? Of Course We Race In The Rain!
The Bertil Roos Racing School will continue with the scheduled program rain or shine. Drivers whom experience a day in the rain will learn that driving in wet conditions is an art all on its own, and is more fun than it sounds. Driving in wet conditions is an opportunity to gain a good amount of car control experience and and really learning to feel what the car is doing. The only weather that will cause an event cancelation is stormy or extreme weather conditions. Please refer to our website (racenow.com) or call our office to learn about our weather-related cancelation policy.
 
Don't Miss Out! Pick The Best Program For You And Sign Up TODAY!
Half Day Road Racing Adventure AM.....8:30AM - 12:00PM.....$600
Half Day Road Racing Adventure PM.....12:30PM - 5:00PM.....$625
One Day Road Racing Adventure.....8:30AM - 5:00PM.....$1350
Event requirements

The Only Requirement is yourself and dressing for the occasion! Please also review the following as well prior to the event.
The Bertil Roos Racing School will provide loaner safety equipment to our students at no extra charge. If a student wishes to bring their own equipment, he/she must first have it approved by one of our instructors. Motorcycle helmets with an "M" are not permitted. Only helmets with a SNELL SA rating will be approved for use in our cars.
Closed-toed shoes are required. Boots are not recommended as they will not fit well in the cockpits of our cars. Loose, comfortable, but not baggy, clothing is recommended for the best comfort in our cars. Gloves are also recommended for driving our cars, but not required.
We recommend that all students review the provided important information packet, textbook, and track map prior to attending the program. This allows for a better understanding and reference throughout the program.
We ask that all attending students try to gain some familiarity with a standard/manual car transmission prior to attending our program. Our racecars' transmissions are standard and non-synchronized. Prior familiarity will allow operating our cars to be much less stressful.
All minors under the age of 18 participating in our event must be accompanied by a consenting adult. A valid driver's license is required to drive our racecars, but the Bertil Roos Racing School will make exceptions based on past driving experience. Please call our office to request an exception.
Any and all spectators are welcome but must sign our liability waiver during registration for our program. All spectators must also remain within the approved areas on track. Any children must be kept under strict supervision. Any pets brought to the event must remain on a leash or within a vehicle. Rules regarding spectators and pets are put in place for the safety of the spectators, the students/participants, and our staff. The Bertil Roos Racing School reserves the right to ask anyone whom neglects to adhere to our safety regulations to leave the event, however an initial warning will be given upon the first infraction.
Pocono Raceway
Long Pond, PA
Download track map
Watch a video tour/lap
Bertil Roos Racing School
More events from this organizer