BCA Fun Runs at ORP - Add Sunday! - (AX on Track)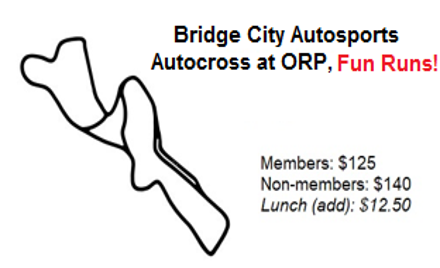 Bridge City Autosports
Sunday, June 21, 2020
Oregon Raceway Park
,
Grass Valley

,

OR
Registration closed June 19, 2020 10:59 AM on June 19, 2020 10:59 AM PDT Registration ends June 19, 2020 10:59 AM on June 19, 2020 10:59 AM PDT Registration opens March 5, 2020 12:00 AM on March 5, 2020 12:00 AM PST Registration runs from March 5, 2020 12:00 AM to June 19, 2020 10:59 AM
This event has been added by Bridge City Autosports to fullfil a huge response to our BCA/WMC AX2 event.
BCA has decided to host an additional fun-run day on track.
This event will be held at Oregon Raceway Park (Grass Valley, OR) on Sunday May 24th, 2020. This event is NOT for points.
Start time and schedule will be the same as a normal Bridge City Autosports event - there is only one registration period for everyone in the morning from 7am-8:30am, we will begin running at around 9am. A full schedule will be posted later.
We will run the full track tying together sweeping corners with autocross elements along the straights.
CAMPING, TOILETS, AND SHOWERS ARE AVAILABLE ON-SITE AT NO CHARGE.
No walk-ups will be accepted.
Roll bars are highly recommended in open-top cars
Passengers will be allowed in all closed-top vehicles, or open-top vehicles with roll bar/harnesses. Hardtops do not count as a closed-top as they do not provide structural rigidity. Open-top cars without rollbar/harnesses may only have an approved instructor ride along. 
This will be a fun event - but it will pose some challenges. Number one challenge is the course walk. This will be less like autocross in that it will not be a parking lot full of cones, and you wont have to think about what direction to go. We will do a single parade lap before beginning the day, and that will be the course walk. We will make sure that things are visible from a distance before arriving at them - LOOK AHEAD. We will make sure that cones are marked clearly, and not placed in spots to trick you when coming around a potentially blind corner. We will do our best to make sure that things flow.
We will have a cap of 60 people. In an ideal world, we have calculated that, if full, we will get 4 or 5 runs in the morning, and 4 or 5 runs in the afternoon. We will only be breaking up into two run groups. Work sessions will be a bit longer. Keep in mind that this is a several mile course, so your actual time in grid will be reduced because you will spend more time on course. Conversely, it will be increased by the number of cars in grid. That should mean that the wait time between finishing and starting the next run will be fairly similar to a normal event. 
We will shuttle people out to their work stations. We expect that due to course design there will hopefully be less cone action than normal - nothing overly tight. This will help keep things flowing. We will also have single flaggers spread about between stations in case of spinouts.
May it be your best year ever, and always remember to enjoy the ride!
Please remember to have your vehicle ready for tech inspection the morning of the event, if you do not participate in the annual tech program. 
There will be a lunch break around 12:30pm with lunch available as an option during registration.